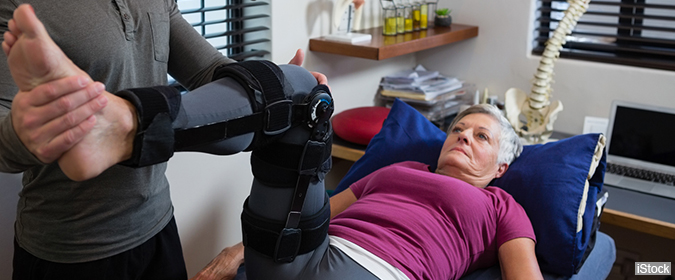 Restoring strength and mobility to your new joint is essential following a total knee replacement, known as knee arthroplasty. In the United States, patients who receive artificial knees are usually referred for rehabilitation at a clinic or other medical facility after the procedure-a practice that is uncommon in many other countries. Australian researchers decided to test whether participating in a formal rehabilitation program after knee arthroplasty gets patients back on their feet faster.
The study included 165 men and women who had successful knee arthroplasty. About half were randomly chosen to be admitted to a rehabilitation hospital for 10 days, where they received two daily sessions of physical therapy and class-based exercises; after discharge, they performed an eight-week program at home under a clinician's supervision. The second group received only a home-based exercise program.
The results, which were reported last year in JAMA, showed that after 26 weeks, patients in both groups could walk the same distance, on average, and their pain levels were similar. The authors note that about 5 to 10 percent of patients are too sick or not ready to go home right after arthroplasty and need inpatient care. However, if you have knee replacement surgery without complications and would prefer rehabilitation at home, ask your doctor if that's an option.