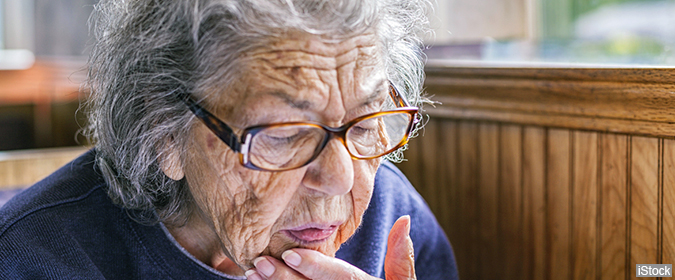 Older people with visual impairment have an elevated risk of cognitive decline, according to a studyreported in 2018 inJAMA Ophthalmology.
Researchers in Maryland tracked 2,520 people (ages 65 to 84) enrolled in the Salisbury Eye Evaluation Study. The researchers assessed the participants' vision and cognitive function four times over an eight-year period. They found that not only were baseline visual acuity (the ability to discern shapes and details of objects) and cognitive scores related, but so were changes in the scores, suggesting that people with the greatest loss in vision were also likely to have the biggest drop in cognition.
The researchers hypothesized that poor vision reduces older adults' ability to participate in activities that help to maintain their well-being and leads to a decrease in brain stimulation that could become a risk factor for cognitive function decline. Thus, preventing major eye disorders and treating correctable visual impairment (for instance, with glasses or surgery) are likely to be important strategies for mitigating age-related cognitive declines, they concluded.
Because most eye disorders cause no symptoms in their early stages, many people are unaware when one first develops. That's why periodic visits to an eye-care specialist are crucial to detect conditions early enough to allow for effective treatment.
Regular eye checkups are essential if you are over age 65; advancing age is associated with the development of many serious conditions, such as glaucoma, age-related macular degeneration, and cataracts. Regular checkups are also important if you have any risk factors-especially diabetes-for a serious eye disease or if you are in fair or poor general health.