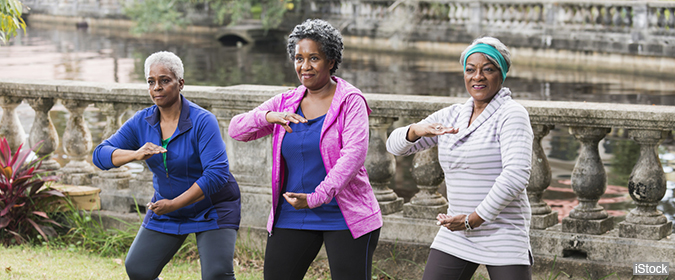 Preventing falls is an important way to help prevent fractures in people with osteoporosis. A recent study adds to the body of research suggesting that the practice of tai chi can reduce the risk of falling.
An analysis of 10 clinical trials published in the Journal of the American Geriatrics Society in 2017 found a 40 percent reduction in falls within three to six months of starting tai chi, compared with usual care or other interventions. The frequency of the one-hour sessions ranged from one to three times per week.
While tai chi is less beneficial for maintaining bone mineral density than higher-impact weight-bearing exercise such as running or tennis, it can help prevent falls and thus fractures by improving balance, neuromuscular coordination, and postural stability.
In a more recent trial, published in JAMA Internal Medicine in 2018, a therapeutic tai chi program was found to be more effective at reducing falls than either a simple stretching and breathing routine or a multimodal exercise program that consisted of aerobic activity combined with strength, balance, and flexibility exercises.
The study examined 670 men and women ages 70 and older. Participants were randomly assigned to one of the three exercise programs, scheduled twice weekly for 60 minutes. Over six months, half of the participants fell, but far fewer fell in the tai chi group (85) than in the other groups (112 in the multimodal exercise group and 127 in the stretching group).
Many community and senior centers and adult education programs offer tai chi programs at little or no cost, and many doctors are encouraging their patients to try this form of exercise.