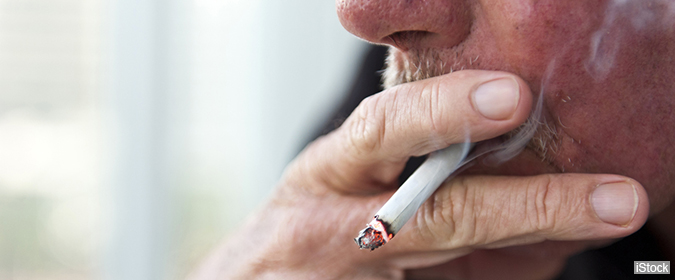 Men with localized prostate cancer who continue to smoke while undergoing treatment for the disease are more likely than nonsmokers to experience biochemical recurrence and other adverse outcomes after treatment, an analysis of previously published research finds.
Tobacco smoke has been linked to cancers of the genitals and urinary organs, though whether it plays a role in prostate cancer is uncertain. To better understand the effect of smoking on prostate cancer, researchers reviewed data from 11 studies involving 22,549 men who had undergone radical prostatectomy or radiation therapy for localized prostate cancer (disease that has not spread beyond the gland). Of that group, 4,202 (18.6 percent) were smokers at the time of treatment. On average, these studies followed the men for six years.
Compared with nonsmokers (never and former smokers) at the time of treatment, current smokers were 40 percent more likely to experience a biochemical recurrence, that is, a rise in prostate-specific antigen that suggests cancer has returned. In addition, cancer was significantly more likely to spread in current smokers, and they were nearly twice as likely to die of the disease.
There is some encouraging news, and it offers one more reason to kick the habit. Although the data are limited, they suggest that prostate cancer is less likely to spread in former smokers and that men who quit have a lower risk of dying of the disease. The findings were published in the July 1, 2018 issue of JAMA Oncology.