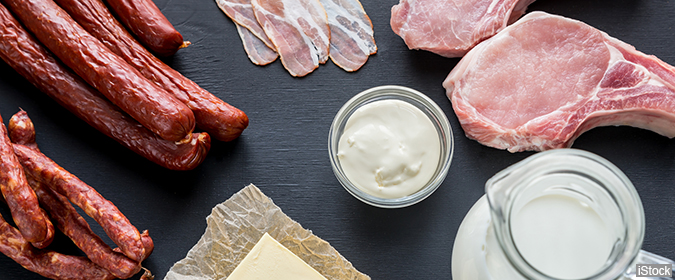 Limiting consumption of saturated fats, which are found primarily in animal foods, is important for overall health and cardiovascular disease prevention. A 2017 study suggests that saturated fat may also be associated with more aggressive prostate cancer.
This population study, published in March in Prostate Cancer and Prostatic Diseases, included 1,854 men, ages 40 to 79, who were newly diagnosed with the disease. After adjusting for total fat, the researchers, from the University of North Carolina at Chapel Hill, UCLA, and other institutions, found that men with the highest saturated fat intake were 50 percent more likely, overall, to have more advanced disease, compared to those with the lowest intake. No significant effects were seen with other types of fat, including polyunsaturated fats and trans fats.
"A number of biologic mechanisms may contribute" to the findings, the authors wrote, including that saturated fat, as commonly found in animal foods, increases blood cholesterol levels-and elevated cholesterol has previously been linked to more aggressive prostate cancer, though in this study, the use of cholesterol-lowering statins did not significantly lessen the effect of saturated fat on disease aggressiveness. On the other hand, an earlier study in The Prostate found that among 1,000 men diagnosed with prostate cancer, those on statins were 80 percent less likely to die from the cancer over a 10-year period compared to nonusers.
How can you limit your intake of saturated fat? Choose lean meats, skinless poultry, and nonfat or low-fat dairy products (which also saves calories).