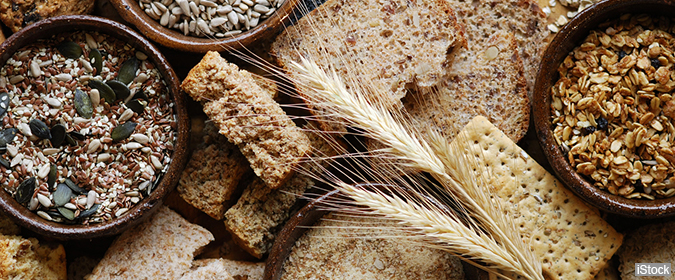 Trying to get more whole grains into your diet but don't like the taste or texture of 100% whole-grain foods? The new "50%+ Stamp" from the nonprofit Whole Grains Council (WGC), which launched in the spring of 2017, can help steer you to something in between that might better suit your taste buds. It indicates that at least half the grains in a product are whole grain and gives the specific amount in grams per serving (a minimum of at least 8 grams).
More than 11,000 products from more than 400 companies carry the WGC's 100% Whole Grain Stamp (which indicates that all the grains in the food are whole grain and that a serving has at least 16 grams of whole grains) or its Basic Stamp (the food contains at least 8 grams of whole grains per serving).
The Dietary Guidelines for Americans recommend that at least half your grains be whole grains. For a person eating 2,000 calories a day, that is at least three servings a day, for a total of 48 grams of whole grains.
The Whole Grain Stamp is a voluntary program, and manufacturers must pay for the right to use the label. Thus, many grain products that don't carry a stamp may still be excellent choices. You can view the full list of stamped foods (or do a search by category of foods) at https://wholegrainscouncil.org/find-whole-grains/stamped-products.