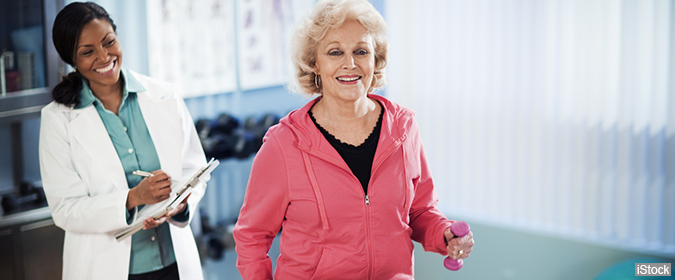 When you live with chronic obstructive pulmonary disease (COPD), shortness of breath is often a daily reality. A flight of stairs or a walk to your car can become a huge obstacle when you can't get enough oxygen into your lungs and exhale enough carbon dioxide.
Pulmonary rehabilitation, a program that incorporates exercise training, education, and disease-management strategies, helps people with COPD and other respiratory illnesses like asthma breathe easier and enjoy a better quality of life. It also includes emotional support to help with the stresses of living with a chronic illness.
The current treatment guideline recommends that people who are hospitalized for COPD enroll in a pulmonary rehabilitation program within three weeks after they're discharged. Medicare will cover the cost for those who qualify. Yet only a tiny percentage of people who could benefit from pulmonary rehabilitation take advantage of it, research finds.
According to a study of nearly 224,000 Medicare recipients, published last November in the Annals of the American Thoracic Society, just 1.9 percent of people who were eligible for pulmonary rehabilitation received it within six months after their release from the hospital. A full year after their hospital stay, only 2.7 percent of people had participated in this program. Those who did receive pulmonary rehabilitation waited an average of 95 days to start the program.
A few factors stand in the way of receiving pulmonary rehabilitation, according to the study-including age, location, and income. People who were over 75, who lived more than 10 miles from a rehabilitation facility, or who were of low income were less likely to participate. Having been hospitalized in the past also reduced the likelihood of getting pulmonary rehabilitation, which means many of the people who need this program most don't access it.
The study couldn't determine whether the low rates were because doctors weren't referring their patients to pulmonary rehabilitation or if people with COPD chose not to participate. However, other research suggests that doctor referrals are low.
What is pulmonary rehab?
Pulmonary rehabilitation teaches a combination of endurance and strength-training exercises that improve oxygen efficiency while strengthening skeletal muscles and the heart. Breathing techniques are another important part of this program. Practicing pursed-lip and diaphragmatic breathing helps to increase the amount of oxygen you can take in with each breath.
Excess weight and malnutrition can both be issues if you have COPD. During rehabilitation, you learn how to maximize the amount of nutrition in your meals and get advice on trimming down if you need to lose weight.
Pulmonary rehabilitation also teaches other disease-management strategies, including tips on taking your medications, advice about vaccinations, and guidance on using supplemental oxygen to help you breathe. If you still smoke, the program staff will recommend a smoking cessation program such as nicotine replacement, medication, or therapy to help you quit.
In short, research finds that a pulmonary rehabilitation program has many benefits for people with COPD. It can help reduce shortness of breath and fatigue, increase exercise ability, and improve quality of life. Taking part in this type of program may also reduce your chances of being readmitted to the hospital for another COPD flare-up.
Getting started
If you've been hospitalized for COPD, ask your doctor whether you can take part in a pulmonary rehabilitation program. The ideal time to start is within three weeks after you're discharged from the hospital and your condition is stable enough to reap the benefits of exercise therapy, according to the 2017 guideline from the European Respiratory Society and the American Thoracic Society, which was published in The European Respiratory Journal.
Pulmonary rehabilitation is offered in hospitals, outpatient facilities, or at home. Research hasn't identified which setting provides the best results, but many of the studies involved outpatient programs. You generally attend the program two to three times a week for eight weeks or more. Medicare should cover the cost of 36 sessions-or up to 72 sessions if your doctor deems them necessary.
Pulmonary rehabilitation is generally considered safe for most people with COPD. However, it may not be a good idea under certain circumstances, such as if you have uncontrolled heart disease.
Before you start rehab, a doctor or nurse tests your breathing and ability to exercise. Then the rehabilitation staff will custom design a program for you. After your program finishes, you can continue doing your exercises at home, or visit the rehabilitation center periodically for follow-ups.