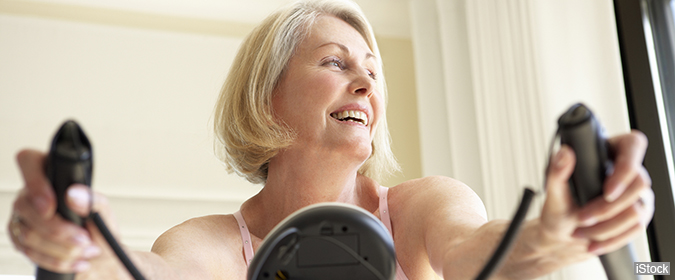 If chronic obstructive pulmonary disease (COPD) leaves you feeling tired and breathless, exercising may be the last thing you want to do. But it's near the top of the list of things you should do to alleviate your symptoms.
While exercise does not directly improve lung function, by conditioning your muscles it helps build your endurance level, which, in turn, improves how well your body uses oxygen. That means you won't have to use as much energy to breathe, and you'll be able to do more before you start feeling tired.
Pulmonary rehab
Many people with COPD benefit from exercise training that is part of a comprehensive pulmonary rehabilitation program. Typically, such programs are available through a hospital on an outpatient basis, and they meet three times a week for eight weeks. The exercise portion of most programs focuses on endurance exercises to build leg strength, such as walking and stationary cycling.
Some programs also include resistance exercises, using elastic bands or very light weights, to build leg strength. Improved leg strength helps make it easier to perform typical daily activities like preparing meals, housekeeping, and grooming, which can help you maintain your independence. Some research also suggests that improving leg strength may reduce your risk of falling. As with leg strength, building upper arm strength with resistance training makes performing daily activities easier.
Many doctors recommend pulmonary rehabilitation for people with moderate to severe COPD. Additionally, the 2015 Global Initiative for Chronic Obstructive Lung Disease (GOLD) has determined that pulmonary rehabilitation benefits patients in all stages of COPD. And evidence from several studies has shown that participants in pulmonary rehabilitation programs improved significantly compared with those who received no intervention.
Findings reported in June 2016 in the journal Thorax suggest that advancing age shouldn't be a deterrent to pulmonary rehab. The study enrolled 816 elderly patients with COPD in an eight-week pulmonary rehabilitation program comprised of an hour-long supervised session of resistance and aerobic exercise combined with 45 minutes of education twice a week. Participants were also required to complete a home-based training session once a week. The average age was 70 and one-fourth of the participants were considered frail as determined by a physical and self-reported assessment.
The researchers found that participants in the frail group were less likely to complete the pulmonary rehabilitation course. Those who did, however, scored well on indicators such as exercise performance, physical activity, and health status. By the end of rehab, more than 60 percent of those who were previously considered frail no longer met the criteria for frailty.
To find a rehab program nearby, ask your doctor for a referral. Or contact the American Lung Association (800-LUNGUSA) or the American Association for Cardiovascular and Pulmonary Rehabilitation (312-644-6610).
Exercising on your own
Most people with COPD who don't have a pulmonary rehab program nearby or lack insurance coverage for such a program can and should exercise on their own.
In fact, a study several years ago of 252 people with moderate to severe COPD-half of whom underwent outpatient rehab and half of whom had home-based rehab-found that both groups reported having less trouble breathing when performing daily activities after participating in an eight-week program.
The findings, which were reported in the Annals of Internal Medicine, also showed that both groups felt their overall health status had improved.
For this study, participants performed various strength-training exercises (a maximum of three sets of 10 repetitions each for 30 minutes) and aerobic exercise (stationary cycling for 25 to 30 minutes) three times a week for eight weeks. But regular walking also can be a component of a home-based exercise program.
If you're not used to exercising, begin walking slowly at a very comfortable pace for a short period (try starting with five to 10 minutes daily) three to five days a week. Do not increase your walking time until you can walk the entire time without stopping to rest.
When you can walk without stopping, increase your walking time by one to two minutes each week. Make your goal walking 30 minutes without stopping-many people with severe lung disease are able to reach this goal over time. Try not to let bad weather stop you-you can always walk around your local mall if you can't exercise outdoors.
Beyond walking
There are many daily physical activities that provide your body with exercise, including gardening, golfing, or even shopping. If you like ballroom dancing, swimming, yoga, or Pilates, ask your doctor if they're good options for you. It helps to choose activities you enjoy; that way you'll be more likely to stick with them.
The key to performing these activities safely is to pace your breathing in coordination with the activity. You can learn more about paced breathing through pulmonary rehabilitation or a COPD support group. Ask your doctor for a referral or check with the American Lung Association or the American Association for Cardiovascular and Pulmonary Rehabilitation.
Before you start-or stop
Before you start an exercise program, remember these two important caveats. First, if you haven't previously exercised, check with your doctor before starting to be sure it's OK. Your doctor can also tell you what types of exercises are best and how much you should do.
Second, if your doctor prescribed oxygen for regular use, be sure to use it when you exercise. Oxygen will help relieve breathlessness, making it easier for you to exercise.
Also, don't forget that if you stop exercising regularly, all the gains you made will be lost. So if you're exercising as part of a pulmonary rehab program, you'll need to incorporate your exercise routine into your daily life after the program ends.
One option is to ask if your program has a maintenance plan that allows you to continue exercising with others with COPD. Alternatively, the program staff can design a program for you to continue at home.
If you've been a home-based exerciser from the start, try some new exercises so you don't get bored with the same old routine. If you need motivation, try exercising with a friend. You'll likely end up motivating each other.