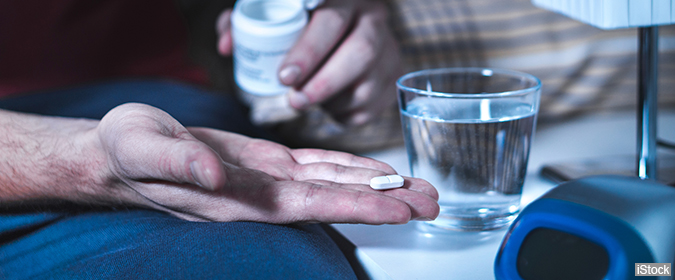 Taking certain medications to control hypertension before bedtime will not only improve nighttime blood pressure control but may also modestly reduce the risk of developing diabetes, suggests a study from Spanish researchers. Since diabetes is a prime concern for people with high blood pressure, any steps that could cut your risk are worth a closer look.
Blood pressure normally peaks at midday and drops at night. But that nighttime dip doesn't occur in some people with high blood pressure. And research indicates that having elevated blood pressure while you sleep-called nondipping blood pressure- significantly raises your odds of developing diabetes. It's also a risk factor for stroke, heart attack, and kidney disease. Past research has suggested that taking hypertension medications at night is associated with somewhat better blood pressure control and a reduced risk of heart attack, stroke, or heart failure among nondippers.
To find out whether taking antihypertensive drugs before bed also reduces diabetes risk, the researchers recruited 2,012 men and women (average age, 53) to participate in a six-year clinical trial. All subjects had high blood pressure, but not diabetes, at the outset. Half the subjects took their blood pressure medication before bedtime, and half took it upon awakening. At the study's end, the bedtime group had better nocturnal blood pressure control as well as only half the risk of developing type 2 diabetes, compared with the morning group.
In this study, published in 2017 in Diabetologia, the drugs that provided the most protection against diabetes when taken in the evening were angiotensin II receptor blockers (ARBs) and angiotensin-converting enzyme (ACE) inhibitors. The one beta-blocker included in the clinical trial, nebivolol (Bystolic), was about equally effective. However, nighttime dosing of calcium channel blockers, alpha blockers, and diuretics didn't show similar benefits. An earlier study by the same authors found that taking antihypertensive drugs at bedtime guards against heart disease, too.
The American Diabetes Association recommends that patients take one or all of their blood pressure medications at night. But before you make any changes to your drug-taking regimen, clear it with your doctor first. He or she may have you taking your medications in the morning for good reason, such as preventing too-low blood pressure that may cause a fall if you get out of bed during the night.
If your doctor OKs nighttime doses, but you find it difficult to get into the evening habit, consider going back to taking your medications in the morning. All in all, the best time of day to take your blood pressure medications is when you know you'll remember to take them. This can be accomplished by linking medication use with some activity. For example, you can link taking your medication with brushing your teeth. Adherence should be the major driver for medication timing.