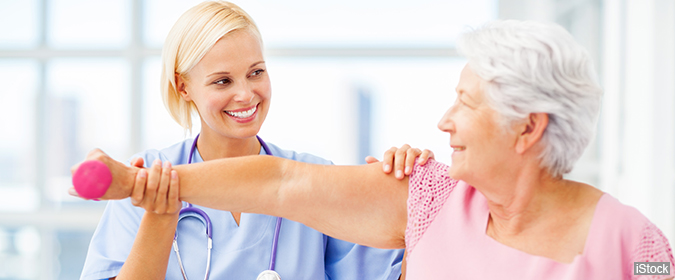 Depending upon the part of the brain impacted, a major stroke can have devastating effects, particularly on a survivor's motor skills. Given the challenges of coping with the subsequent disabilities, physical rehabilitation is a core part of post-stroke recovery. The goal is to help patients regain as much of their pre-stroke function as possible.
More than two-thirds of stroke survivors receive rehabilitation services-including physical therapy-after being discharged from the hospital. Various approaches to physical rehabilitation are available, with most of them requiring that patients repeat movements and functional tasks over and over. This helps the brain and muscles relearn motor skills impaired by the neurological damage.
According to guidance from the American Heart Association/American Stroke Association (AHA/ASA), physical rehabilitation should begin as soon as possible after a stroke to maximize the effectiveness of any approach.
The groups also advise that interventions are most effective when delivered in a specialized inpatient rehabilitation facility with a multidisciplinary team of health providers experienced in post-stroke care.
At such inpatient centers, at least three hours of rehabilitation-including physical therapy, occupational therapy, and speech and language therapy-are provided daily. Medicare covers patients who are likely to improve and return home. Patients who have more severe disability would be transferred from the hospital to a skilled nursing facility or a long-term care facility.
Patients who can handle physical rehabilitation should discuss their goals in therapy with their physiotherapist, who can then determine the best approach to take, based on the stroke survivor's needs, capabilities, preferences, and available resources. Persistence, determination to improve, and realistic goal-setting are also important elements of successful physical rehabilitation.