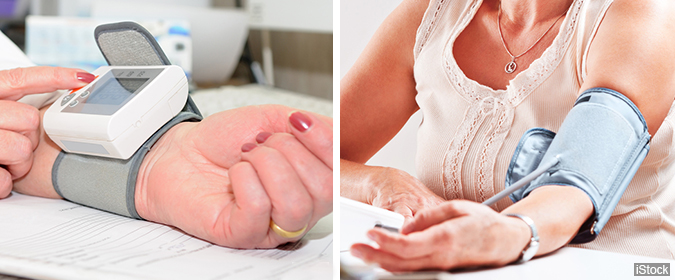 Are you considering purchasing a wrist blood pressure monitor? If you answered yes, you should know that they are not as accurate as traditional arm monitors-and the American Heart Association does not recommend them.
In a study published in 2016 in the journal Hypertension, researchers trained 721 people to use a wrist device to measure their blood pressure at home. They were also trained on how to use a traditional blood pressure cuff that wraps around the upper arm. As a reference, the researchers measured the participants' blood pressure in a doctor's office using both devices.
When the participants used the wrist devices at home, 86 percent of them had systolic (first number) and diastolic (second number) readings that were off (higher) by at least 5 mmHg compared with their arm measurement. And almost three-quarters of those participants had readings at least 10 mmHg higher compared with the arm. The researchers surmised that the artificially high readings were due to participants' inaccurate positioning their wrists, which must be at heart level (not in the person's lap or on a low table or armrest) to generate a correct reading.
Other studies have found that the wrist devices themselves yield inconsistent measurements. In a small study in 2013 in Blood Pressure Monitor, wrist and arm devices (one worn on each arm) were used to automatically measure participants' blood pressure over a 24-hour period. Both the systolic and the diastolic measurements from the wrist monitor were significantly off at certain times compared with the arm monitor. Another study, published in 2010 in the Journal of Clinical Hypertension, found significant differences between the arm and wrist when blood pressure measurements were taken three times on more than 250 subjects.
There are some people for which measuring blood pressure at the wrist presents an advantage: people who are so obese that an arm cuff cannot be properly wrapped around their arm. They are also used on women who have undergone breast cancer surgery. Other people should stick with standard upper-arm monitors.
Keep in mind that conventional blood pressure readings are often done incorrectly, thus yielding inaccurate results. See Blood Pressure: Getting It Right for tips on getting a proper measurement.