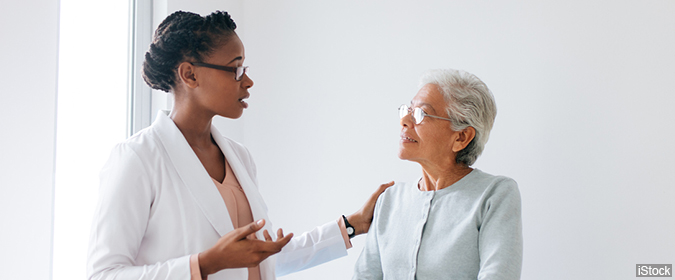 Much research shows that blood pressure measurement, as typically done in medical settings, is often not as accurate as it should be and that many people may thus be misdiagnosed as having-or not having-hypertension. Usually the results err in being too high, meaning that people may be put on medication unnecessarily. To address this problem, this spring the American Heart Association (AHA) released guidelines about the proper measurement of blood pressure, its first update on the subject since 2005.
The guidelines discuss proper cuff size and placement on the arm, as well as arm and body position, all of which can affect results. Ideally, you should sit in a quiet room and wait three to five minutes calmly before being tested. Neither you nor the practitioner should talk during the test. You should sit on a chair with your back supported, feet flat on floor, and forearm supported by the practitioner (or resting on a table) at your heart level. Crossing your legs, sitting with your back unsupported, letting your arm hang too low or holding your arm up by yourself can raise blood pressure. The cuff should be placed on bare skin (shirtsleeves should not be rolled up because this may create a tourniquet effect). Using a cuff that's too small for a large upper arm will give an erroneously high reading. Your bladder should not be full. Caffeine, exercise, and smoking should be avoided for at least 30 minutes before testing.
If your blood pressure is found to be elevated initially, it should be measured again later in the visit. To confirm a diagnosis of hypertension, ambulatory or home testing is recommended. Ambulatory testing calls for wearing a device that measures blood pressure typically for 24 hours and is the gold standard for accuracy.
Unattended testing
One change in the 2019 guidelines is a new emphasis on automated office blood pressure (AOBP) measurement, preferably unattended. With such testing, after resting quietly for a few minutes, the patient sits alone in a room while hooked up to an electronic monitor that automatically measures blood pressure at least three times and averages the results. Having no medical staff present helps reduce "white-coat hypertension" caused by anxiety in the presence of doctors or nurses, and also prevents talking, which can boost blood pressure. An analysis of 31 studies, published in JAMA Internal Medicineearlier this year, concluded that AOBP measurement is as accurate as awake out-of-office ambulatory testing.
Health care providers in the U.S. have been slow to adopt AOBP testing, but in Canada, where official hypertension guidelines recently endorsed unattended AOBP, more than 40 percent of family physicians use it routinely, according to a 2017 survey. As the AHA noted, "its adoption into primary care has proved feasible in Canada with minimal increases in staff time and effort." It stated that, because of the current shift away from manual blood pressure measurement and the recommendation to obtain multiple readings at a single visit, plus the greater accuracy of unattended readings, unattended AOBP using a validated device is the "preferred approach" for measuring blood pressure in medical offices.
For now, if you are in the U.S., it's unlikely that AOBP is being done in your doctor's office, though that may change in the near future. Meanwhile, however your blood pressure is measured, talk with your health care provider about your results and ask any questions you have about how the test is being done.