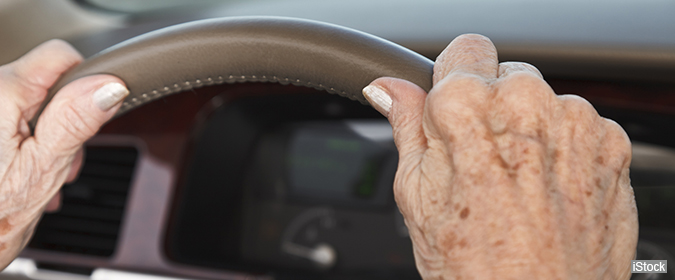 Pain, fatigue, reduced range of motion in the joints, loss of muscle strength-experiencing any one of these arthritis-related symptoms can make driving challenging.
In fact, according to a study in The American Journal of Occupational Therapy, many drivers with arthritis report that symptoms affect their ability to perform even the most basic driving maneuvers, such as steering, checking blind spots, reversing, and responding to sudden changes. Fortunately, in many cases, there's no need to give up the car keys.
Although self-driving cars appear to be on the horizon, they're not an option just yet. In the meantime, by purchasing a vehicle with arthritis-friendly features or by making adaptations, you'll be able to maintain your independence without putting your safety or that of others at risk.
Buying a new car
If you are ready to purchase a new vehicle, here are some important features to keep in mind. These will be more or less relevant to your individual situation, depending on which joints give you the most trouble.
Automatic transmission
Remote key fob and starter
Running boards and assist handles on sport utility vehicles and vans
Adjustable steering wheel (up and down and telescoping)
Fully adjustable seats (height, distance from pedals, tilt, and lumbar support)
Adjustable pedals
Padded steering wheel
Easy-to-grasp controls within easy reach
Dashboard-mounted, push-button ignition switch
Seat belts that are easy to reach, lock, and release
Cruise control
Easy-to-use door handles
Easy-to-adjust mirrors and sun visors
Easy-to-access trunk or rear door
Shorter turning radius for ease in maneuvering
Before you begin car shopping, give some thought to the aspects of driving that cause you discomfort or could limit your driving ability. For example, if getting in and out of a car is troublesome, it might be easier to slide out of leather than cloth seats. Or if bending is an issue, it's best to avoid a vehicle that's low to the ground.
Take your time in the dealers' showrooms to evaluate carefully the vehicles under consideration. Before making the final decision, be sure to give each vehicle on your short-list a complete test drive. This includes backing up, parking, changing lanes, turning sharp corners, driving at high speeds, and riding in the passenger seat.
Additional modifications
If you are severely disabled by arthritis, several kinds of modifications can be made to certain types of vehicles. Some can be made to vans or selected sedans but not to other types of vehicles.
As a result, if you are significantly disabled, it's important to consult a specialist in driver rehabilitation before you shop for a car.
The specialist will assess your abilities and disabilities and offer advice about the types of modifications that may be helpful. The abilities assessment will cover visual acuity, visual perception, strength, flexibility and range of motion, decision making, reaction time, and performance behind the wheel.
Some of the modifications available include a left-side accelerator and brake pedal or hand controls if you are unable to use your right leg. Other devices include special mirrors, extended gearshift levers, and reduced-effort steering wheels.
Be sure to purchase your adaptive devices from a reputable dealer and have them installed by a qualified technician.
Additional considerations
Adaptations for automobiles can be quite expensive, but financial assistance may be available through government agencies and nonprofit groups. Ask your driver rehabilitation specialist about potential sources of aid, or call your state or local vocational rehabilitation agencies. Your health or disability insurance also may offer coverage.
Be sure to check with your tax accountant to determine whether any of the costs are deductible as medical expenses. Also, don't forget to notify your car insurance carrier about any features added to your vehicle. You will likely need to carry more insurance in order to cover these items.
Finally, don't be afraid to discuss your driving difficulties with your physician or to seek the services of a rehabilitation specialist.
Some people fear that admitting their physical limitations behind the wheel will ultimately cost them their driver's license. However, if you are otherwise fit to drive, having the right vehicle with some adaptations should allow you to continue driving and, most important, to continue driving safely.