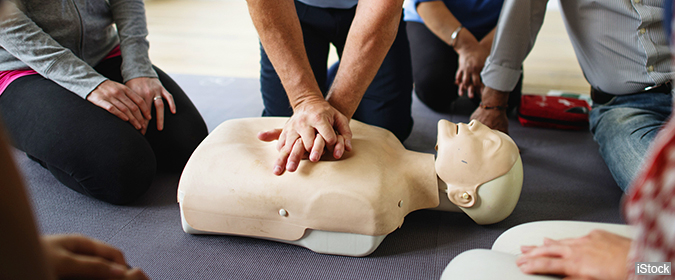 When cardiac arrest strikes, quick action from a bystander can have a lasting impact, research shows.
It's long been known that people who experience cardiac arrest have better odds of surviving if bystanders jump into action. That means performing CPR chest compressions and, if possible, using an automated external defibrillator (AED). But most studies have looked only at shorter-term survival.
A recent study looked at the effects over a longer period, finding that cardiac arrest victims who received bystander aid were more likely to be alive, free of brain damage, and out of a nursing home one year later.
The findings are based on a study of more than 2,800 Danish adults who'd suffered cardiac arrest outside of a hospital and survived to the 30-day mark. Of people who'd received no bystander resuscitation, 15 percent died within a year. But that figure was cut to 8 percent among those who'd gotten CPR from a bystander-and only 2 percent among those who'd been treated with an AED.
Similarly, bystander action prevented cases of brain damage and nursing home admissions, cutting the rate from almost 19 percent to 8 and 12 percent (with AEDs or CPR, respectively).
The findings, which were reported last year in The New England Journal of Medicine, suggest that public efforts to improve management of cardiac arrest would have a significant benefit. And if you're at risk for cardiac arrest (especially if you've had a heart attack), it makes sense for people living with you to learn CPR.