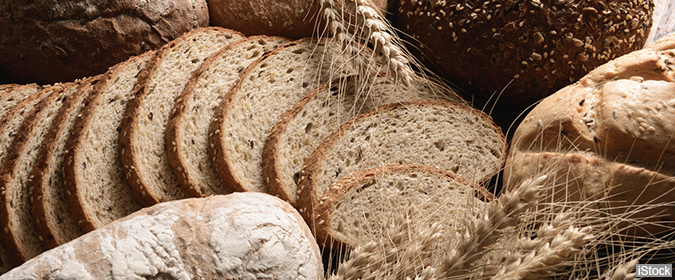 Two analyses have added support to the heart benefits of whole grains.
An analysis of 14 studies involving 786,000 people, published in the journal Circulation, found that each daily serving (about one slice of whole grain bread) was associated with a 7 percent decline in death rates. People who ate three servings a day had a 20 percent lower all-cause death rate, including a 25 percent lower cardiovascular death rate and 14 percent lower cancer death rate. Though the studies controlled for factors such as age, weight, smoking, and additional dietary variables, it's possible that there are other things about people who eat whole grains that contribute to better health.
An analysis of 24 clinical trials, published in the American Journal of Clinical Nutrition, found that people who added whole-grain foods to their diets (usually 2 to 4 ounces a day) saw reductions in total and LDL cholesterol of 2 to 5 percent, with the biggest improvements coming from oats. Whole grains are rich in fiber, vitamins, minerals, and other compounds that help improve cholesterol levels. Observational studies have consistently linked whole grains with a reduced risk of cardiovascular disease.
Want to get more whole grains into your diet? More than 11,000 products from more than 400 companies carry the nonprofit Whole Grains Council's (WGC) 100% Whole Grain Stamp (which indicates that all the grains in the food are whole grain and that a serving has at least 16 grams of whole grains) or its Basic Stamp (the food contains at least 8 grams of whole grains per serving). If you don't like the taste or texture of 100% whole-grain foods, the WGC's "50%+ Stamp," which launched in the spring of 2017, can help steer you to something in between that might better suit your taste buds. It indicates that at least half the grains in a product are whole grain and gives the specific amount in grams per serving (a minimum of at least 8 grams).
The Whole Grain Stamp is a voluntary program, and manufacturers must pay for the right to use the label. Thus, many grain products that don't carry a stamp may still be excellent choices. You can view the full list of stamped foods (or do a search by category of foods) at tinyurl.com/findwholegrain.
Keep in mind that certain grains are always considered whole and do not need to include the word "whole" to reflect that. Examples include brown rice, quinoa, buckwheat, bulgur, millet,amaranth, and rolled oats or oatmeal.