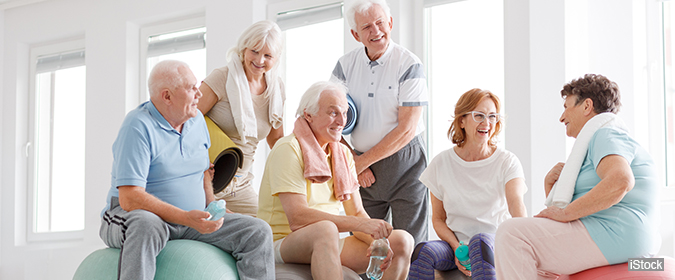 THE FINDINGS: Working out in groups with people of similar age motivates older adults to stick with an exercise routine, according to a study published this spring in Health Psychology.
Canadian researchers assigned 627 mostly inactive adults, with an average age of 72, to one of three group-fitness classes at YMCA locations in Vancouver. Seventy-one percent of the participants were women. (The researchers had hoped to recruit more men, but they weren't successful in finding enough willing male participants!)
One group consisted of men and women of similar age in a class led by an instructor of similar age who was specially trained for the study. A second group worked out with people of similar age but the same gender and a specially trained instructor of similar age. A third group took a typical YMCA class with a mix of older and younger adults and genders, but the instructor didn't receive specialized training. All took moderate-intensity classes with an option to attend three classes a week. The two groups of similar age were also invited to socialize over coffee with their fellow exercisers after classes.
At the end of the study, which lasted 24 weeks, the participants in the similar-age, mixed-gender group attended an average of about 34 classes-about three more than the similar-age, same-gender group did and nine more than the mixed-age, mixed-gender group.
WHAT ELSE YOU SHOULD KNOW: The participants in the similarly aged groups were so enthusiastic about their new exercise classes that they successfully petitioned the YMCA to continue to offer the age-specific classes even after the study ended.
WHAT YOU SHOULD DO: If you've been unsuccessful in sticking with an exercise program on your own, consider looking into locally offered fitness classes. A social connection may be what you need to keep you motivated. Many local community centers and YMCAs offer classes specially designed for older adults.