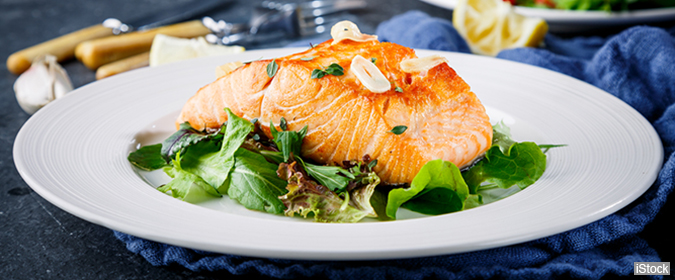 The Dietary Guidelines for Americans recommend that adults eat about 8 ounces of fish (or shellfish) a week. Compared to people who don't eat fish, those who do tend to live longer and enjoy lower risks of cardiovascular disease, and they may even boost their brain health. Fish is the best source of two omega-3 polyunsaturated fats- eicosapentaenoic acid (EPA) and docosahexaenoic acid (DHA)-linked to health benefits. Fish also contains vitamins, minerals, and other fats that may work with the omega-3s to protect the heart and overall health. Rich in protein and low in saturated fat, fish can also replace less-healthful foods in your diet, such as red meat. Keep in mind that there are different ways to choose the "best" fish, depending on your priorities (omega-3s, mercury levels, environmental issues-or all three). Here's what to look for:
For the Most Omega-3s
Levels of omega-3s (EPA/DHA) vary by species, variety, and even season, so figures represent estimated ranges per 3-ounce cooked portion:
More than 1,500 milligrams: herring, wild (Atlantic and Pacific); salmon, farmed (Atlantic); salmon, wild (king); mackerel, wild (Pacific and jack)
1,000 to 1,500 milligrams: salmon, canned (pink, sockeye, and chum); mackerel, canned (jack); mackerel, wild (Atlantic and Spanish); tuna, wild (bluefin)
500 to 1,000 milligrams: salmon, wild (sockeye, coho, chum, and pink); sardines, canned; tuna, canned (white albacore); swordfish, wild; trout, farmed (rainbow); oysters, wild and farmed; mussels, wild and farmed
200 to 500 milligrams: tuna, canned (light); tuna, wild (skipjack); pollock, wild (Alaskan); rockfish, wild (Pacific); clams, wild and farmed; crab, wild (king, Dungeness, and snow); lobster, wild (spiny); snapper, wild; grouper, wild; flounder/sole, wild; halibut, wild (Pacific and Atlantic); ocean perch, wild; squid, wild (fried); fish sticks (breaded)
Less than 200 milligrams: scallops, wild; shrimp, wild and farmed; lobster, wild (northern); crab, wild (blue); cod, wild; haddock, wild; tilapia, farmed; catfish, farmed; mahi-mahi, wild; tuna, wild (yellowfin); orange roughy, wild; surimi product (imitation crab)
For the Least Mercury
Mercury is an especially prime concern for pregnant women, women who might become pregnant, and young children, because this heavy metal can harm the nervous system, especially during development. Here's guidance from the FDA and EPA:
Best choices (eat 2 to 3 servings a week): anchovies, black sea bass, butterfish, catfish, clams, cod, crab, crawfish, croaker (Atlantic), flounder, haddock, hake, herring, lobster, mullet, oyster, mackerel (Atlantic or Pacific chub), perch, pickerel, plaice, pollock, salmon, sardines, scallops, shad, shrimp, skate, smelt, sole, squid, tilapia, trout, tuna (canned light), whitefish, whiting.
Good choices (eat only once a week): bluefish, buffalo fish, carp, Chilean sea bass, croaker (Pacific), grouper, halibut, mahi-mahi, monkfish, rockfish, sablefish, sheepshead, snapper, Spanish mackerel, striped bass, tilefish (Atlantic), tuna (albacore or yellowfin, canned or fresh), weakfish.
Avoid (for young children, pregnant women, and women who might become pregnant, because of mercury): bigeye tuna, king mackerel, marlin, orange roughy, shark, swordfish, tilefish (Gulf of Mexico).
For Environment and Health
The Monterey Bay Aquarium's Seafood Watch Program rates seafood on its environmental and health impacts. The following "Super Green List" meets guidelines for being ocean-friendly, high in omega-3 fats, and low in contaminants (mercury, PCBs, pesticides): Atlantic mackerel ("purse seine," using a net like a bag, from Canada and the U.S.); freshwater coho salmon (farmed in tank systems in the U.S.); Pacific sardines (wild-caught); salmon (wild-caught, Alaska); salmon, canned (wild-caught, Alaska). Other good choices are albacore tuna (troll- or pole-caught, from the U.S. or British Columbia) and sablefish/black cod (from Alaska and Canadian Pacific).