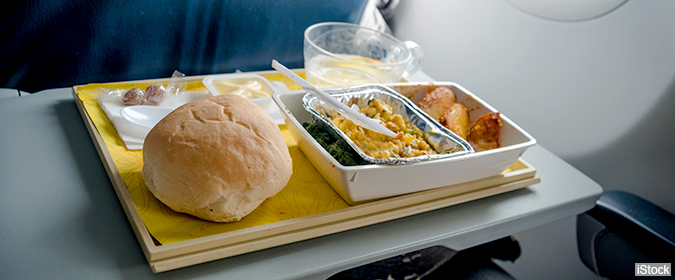 As you plan your next airplane trip, your priority is probably to find the best price and schedule. Have you ever thought to compare airlines on the healthfulness of the food they serve? You may be thinking, "Yeah, right, what food?"-but most domestic flights at least offer meals and snacks for purchase, and some airlines have never stopped providing complimentary food in economy class or are bringing back the service on longer flights. (Business and first class as well as international flights almost always offer complimentary food.)
The website DietDetective.com, founded by the director of the Hunter College NYC Food Policy Center, has been rating the "best" and "worst" airline foods every year since 2009, assigning them "Health Scores," from 0 (lowest) to 5 (highest), as well as reporting on calories, personal favorites, suggestions about what to order (and what to avoid), and other musings such as how sustainable the foods are and how committed the airlines seem to be about providing healthier fare. Here are some highlights from the 2017-18 investigation, which evaluated the economy-class food aboard 12 domestic airlines flying within the U.S.
Delta and Virgin America (now owned by Alaska Air) tied as "healthiest" (score of 4.0), followed by Air Canada and JetBlue (tied at 3.75), Alaska Air (3.5), United (2.75), American (2.5), Frontier Air (2.25), Southwest (2.0), Spirit (1.75), and Allegiant Air (1.75). Hawaiian Airlines ranked lowest (1.0).
Only Virgin offered nutrition information on board for its menus, though you may be able to find it for other airlines on their websites or on the websites of the food companies they work with. For instance, Delta partners with Luvo to provide more healthful options such as whole-grain wraps and breakfastbowls (tinyurl.com/Luvo-Delta).
Some surprisingly healthy options offered as individual snacks, in snack packs, or as meals on select flights include Greek yogurt, guacamole, hummus, kale or farro salads, quinoa wraps, and brown-rice bowls.
But there are still plenty of high-calorie, fatty, and salty offerings including pizza, mac and cheese, and the usual cookies, pretzels, and egg-bacon-and-cheese breakfast sandwiches.
DietDetective.com lists the calories of everything-and how many minutes it takes to walk them off. For instance, it will take 43 minutes to walk off the 197 calories in Hawaiian Airlines' Hummus & Pita Chips snack and 242 minutes to walk off the 1,120 calories in its Island Princess Mele Macs-which is probably longer than your entire flight.
One choice that's often better (and cheaper) than airline food is to bring your own healthy fare.