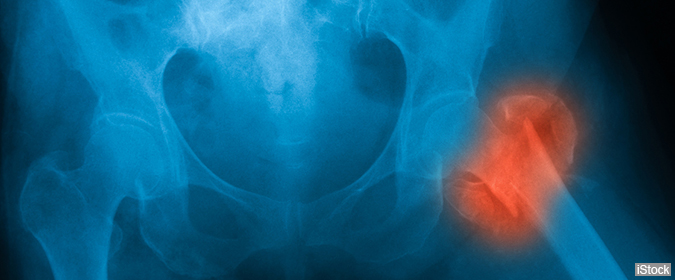 Although weight-loss surgery clearly provides health benefits, it also has some risks-including an increased risk of bone loss and fracture. Recent research suggests that the risk may vary by type of bariatric procedure and that it persists up to five years after the operation.
To study the effects of two kinds of bariatric surgeries on fracture risk, researchers examined health plan claims data from more than 15,032 people who had undergone either Roux-en-Y gastric bypass or adjustable gastric banding (the most commonly performed procedures in the United States) between 2005 and 2013.
Of the 281 nonvertebral fractures reported postsurgery, most occurred in the patients who had undergone gastric bypass. When compared with gastric banding patients, those who had gastric bypass had a 43 percent increased risk of suffering a fracture, particularly of the hip or wrist. Fractures began to occur two years postsurgery-after the patients' weight had stabilized-and the risk increased over time.The increased fracture risk may be related to changes in the gut or fatty tissue hormones or an increased risk of falls after gastric bypass.
The findings were published in 2017 in the Journal of Bone and Mineral Research.
If you are considering weight loss surgery, talk to your surgeon about your fracture risk and what impact that may have on the type of procedure you choose. If you've already had it, be sure that your bone health is regularly monitored.