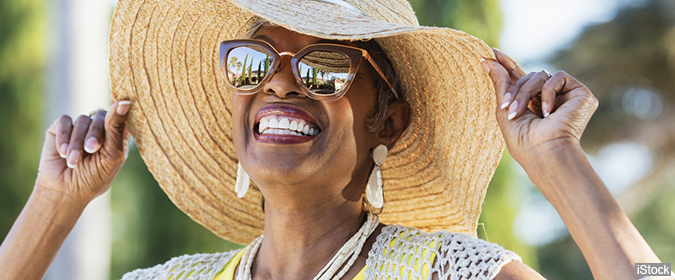 The importance of protecting your skin from the sun's ultraviolet (UV) rays is well known. But It's just as important to protect your eyes and eyelids. Over time, the sun's rays can damage your vision, leading to cataracts and even vision loss. The highest radiation risk for eyes is in the morning and mid-afternoon when the sun is lower in the sky.
Sunscreen is a great option for protecting most of your face and body from UV rays. But sunscreen shouldn't be used on your eyelids, because it can cause irritation if it gets into your eyes. Here's what you can do to protect your eyes and eyelids:
1.Wear glasses that block UV rays. For sunglasses, the National Eye Institute recommends choosing a pair that blocks out 99 to 100 percent of both UVA and UVB radiation. If you wear regular prescription glasses of any sort, make sure that the lenses are rated to block both UVA and UVB.
2.Choose styles with large lenses to block as much light as possible. Wraparound styles with a close fit help prevent light from entering on the sides.
3.Wear a broad-brimmed hat for additional eye protection. The American Cancer Society recommends a hat with a two-inch or wider brim that wraps all the way around the hat. A dark, nonreflective underside to the brim can also help reduce UV rays reflecting up onto your face from water, snow, and other reflective surfaces.
4. Replace sunglasses every so often. Some research suggests that UV protection can deteriorate with sun exposure, although there aren't any hard-and-fast guidelines.