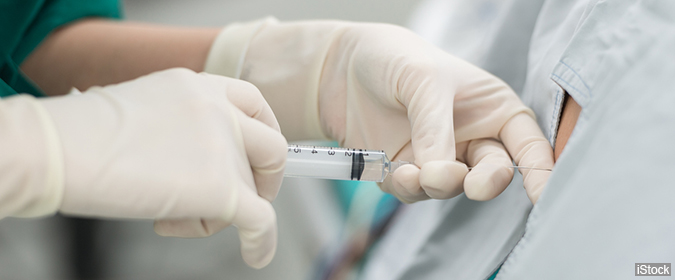 In people suffering from vertebral compression fractures due to osteoporosis, vertebroplasty (injection of acrylic bone cement to stabilize the fracture) is no better at relieving pain than injection of pain relievers, according to a study reported in 2018.
In the VERTOS IV clinical trial, 180 people age 50 and over with pain from compression fractures lasting up to nine weeks were randomized to undergo vertebroplasty or a sham injection of analgesics. At one year, pain relief and disability levels were similar in the two groups.
In addition to pain, compression fractures can lead to spinal deformities and disability over time. But they can also heal naturally, which might have been responsible for some of the improvement in the sham group, along with the effects of the local analgesics, said the researchers. The findings were reported in The BMJ.
Given the potential risks of vertebroplasty, such as a temporary increase in pain, infection, and leakage of the cement beyond the vertebrae, the technique is best reserved for people with pain that lasts long term. Up to nine weeks, analgesic injections are less expensive and carry less of a risk than vertebroplasty for acute fractures. These injections can be combined with traditional remedies such as bed rest, oral pain relievers, and a back brace.