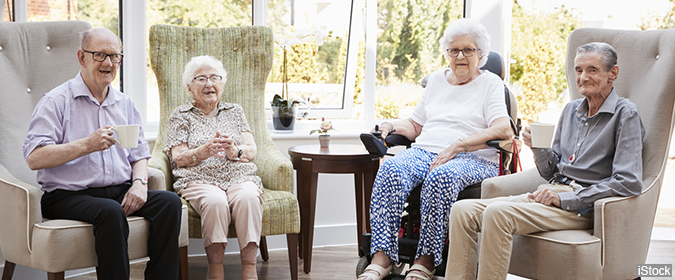 For most people, social interaction is crucial for wellbeing. Yet many individuals with dementia get very little.
At the Alzheimer's Association International Conference in Chicago in 2018, Clive Ballard, M.D., of the University of Exeter Medical School in the United Kingdom, reported on a potential solution for encouraging more interaction-at least for people in institutional settings such as long-term care homes. He described a simple nine-month online training course that coached staff at 24 homes (with 280 residents) on how to interact more-and more meaningfully-with residents, boosting the average of two minutes a day of interaction to 10 minutes or more.
Based on modules developed in the United Kingdom's five-year Improving Wellbeing and Health for People with Dementia program, the Improving Staff Attitudes and Care for People with Dementia e-Learning (tEACH) study aimed to bolster staff attitudes about caring for their charges with dementia, improve residents' mental health, increase their feelings of well-being, and lessen agitation (as measured in part by antipsychotic drug use). To encourage the positive interaction, the staff learned how to ask residents about their interests and how they would like to be cared for, for example. Although not yet published, the results of two randomized trials comparing outcomes to usual care were positive, according to the presenters at the conference.