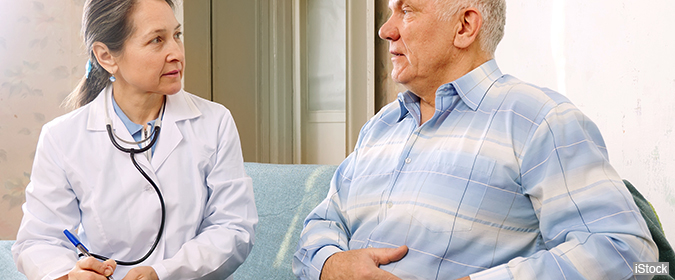 The evolution of drug therapies for inflammatory bowel disease (IBD) over the past couple of decades has been a game changer for people with Crohn's disease (CD) and ulcerative colitis (UC). While older drug therapies may have been able to control symptoms, the more sophisticated agents actually move patients toward disease remission and better outcomes in the long term.
The newer drugs include the immunomodulators azathioprine (Imuran), mercaptopurine (Purinethol), and methotrexate, as well as three classes of biologics: the tumor necrosis factor (TNF) inhibitors adalimumab (Humira), certolizumab (Cimzia), and infliximab (Remicade); the alpha 4 beta 7 integrin inhibitor vedolizumab (Entevio); and the IL12/23 inhibitor ustekinumab (Stelara).
A question gastroenterologists hear frequently, especially from patients who are feeling better, is whether the patient can discontinue drug therapy. Indeed, doctors ask themselves this same question.
Concern about health risks
The reasons patients express for wishing to stop or de-escalate their treatment are understandable. Many people are uncomfortable being on lifelong or long-term medication, particularly drugs administered by injection. Also, these drugs, which reduce inflammation by targeting the immune system, are not without some serious risks. For example, immunesuppressing drugs are associated with an increased risk for infections. Most are easily treated, but some can be serious.
Biologics have been associated with a very slight increased risk for melanoma, and there is concern that combination therapy with a biologic and an immunomodulator may drive cancer risk, lymphoma in particular, although it is a very uncommon complication. Biologic use is not associated with increased mortality, as is the case with prednisone.
Immunomodulator use increases the risk of non-melanoma skin cancer, even after discontinuing the drug. The risk is greatest in young and elderly men and when the drug is used for longer than two years. Thus, regular skin examinations and use of a sunscreen are recommended.
Besides the concerns about health risks, the costs for these medications are significant, particularly for biologics, which can be a burden to people with poor coverage or other reimbursement issues.
What about relapse?
The counterargument is that many people who discontinue drug therapy will experience a flareup of their disease, despite its having been in remission at the time. Most studies document a relapse in about one-third of all patients within the first year after stopping treatment; by two years, that proportion rises to about one-half.
Longer-term consequences are unclear for biologics, but the relapse rate following discontinuation of immunomodulators, when they are the sole treatment, approaches 75 percent at five years. Many patients who relapse will require corticosteroid therapy, and occasionally will face surgery.
There is also concern that patients who discontinue treatment with biologics and relapse will not respond as well, or at all, to that agent again. Fortunately, most patients who relapse can successfully restart therapy with the same drug about 80 percent of the time, or switch to one of the other biologics now available. However, it is uncertain whether a good response can be maintained as effectively as in patients who are in remission and are on continued therapy.
Who is susceptible?
The underlying problems that resulted in IBD are still present when drugs are stopped, so it should not be surprising that most patients who are followed long enough after cessation of drug treatments generally relapse.
At this point, researchers are trying to identify which patients are more likely to relapse after discontinuing treatment. An analysis of 27 studies on the discontinuation of TNF inhibitors in patients with IBD, appearing in the journal Alimentary Pharmacology & Therapeutics in 2015, identified a host of factors that might make people more susceptible to relapse. These included being age 25 or younger; smoking, which s also associated with greater therapeutic needs and a higher recurrence rate after surgery; very serious IBD, such as fistulizing perianal CD and chronic refractory pouchitis, a complication of ileal pouch surgery.
Other studies have shown that patients are more likely to relapse if they are male, had a longer history of disease before starting biologics, or were patients with CD who had multiple surgeries. Also, patients who had to have their medication dose increased to achieve remission or who had previously taken other biologics are at greater risk of relapse if the drug currently being used was effective and then discontinued.
Another study of CD found that the location of the disease (Crohn's can occur in any part of the colon, ileum, or stomach) can help predict the likelihood of relapse. Having ileal disease or disease deeper in the small intestine increased this risk. Importantly and, perhaps, disappointingly, they found that achieving mucosal healing and clinical remission did not make a patient less vulnerable to relapse. But other studies show the opposite.
Researchers have also identified some markers (the type identified by lab workups) that suggest a patient would be more susceptible to relapse. Low hemoglobin levels at the time of drug therapy discontinuation, as well as high leucocyte (white blood cell) counts, elevated levels of C-reactive protein, and an elevated stool marker of inflammation called calprotectin, are risk factors.
Working with your doctor
At this point, not enough clinical evidence is available to establish specific guidelines or rules for discontinuing treatment with biologics and immunomodulator therapies in patients with IBD. Thus, a decision to do so needs to be individualized.
If you end up taking a break from drug therapy, it does not mean taking a break from the gastroenterologist. Although there is no established guidance for optimal monitoring of people who have discontinued treatment, keeping an eye on biomarkers that indicate a patient might be headed for relapse is recommended.
Specifically, patients who discontinue treatment should get their C-reactive protein and calprotectin levels measured every two to three months. If levels of these biomarkers have increased, an endoscopy, if possible, to evaluate for disease activity is warranted. It is likely that resuming treatment before a patient develops symptoms could lead to better outcomes.
Although more research is needed to establish safety and efficacy, one concept being explored by patients and their doctors is the practice of tailoring treatment in patients who have achieved remission by either lowering the drug dosage or by treating patients intermittently rather than stopping entirely. Time off from immunomodulators could reverse the development of lymphoproliferative disorders, such as B- and T-cell lymphomas. And periodically eliminating TNF inhibitor therapy would have the advantage of lowering a patient's medication costs.
Finally, although the availability of newly approved biosimilar agents won't reduce a patient's need for ongoing drug therapy, these too could significantly reduce costs. The drugs, which are highly similar but not identical to existing biologic agents, are used in Asia and Europe because of their lower cost. Four biosimilars are approved for use in the United States. They have been found to be as safe and effective as the original drugs.
Ultimately, the decision to discontinue or de-escalate IBD therapy comes down to weighing the risks and benefits. Patients and their doctors need to consider the patient's disease history, personal preferences, and comfort level with the risks of relapse and its associated complications. If therapy is de-escalated or discontinued, clinical and lab monitoring is essential and parameters should be established for resuming therapy.