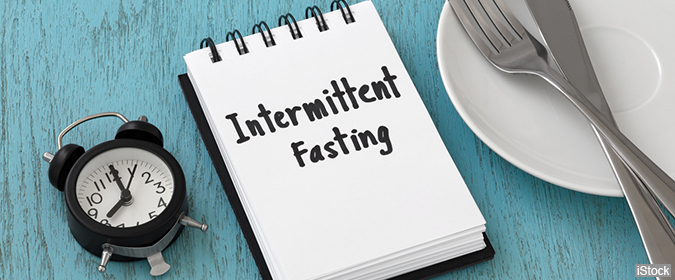 Losing weight is one of the best things you can do to help lower your blood glucose level if you're overweight or obese and have diabetes. But that's often easier said than done. Intermittent fasting-severely restricting calories for a short time and then returning to normal eating habits-might be easier than daily calorie restriction for many people. But does it work as well as daily dieting to lower hemoglobin A1c (A1c) levels and reduce weight?
To find out, researchers recruited 137 adults with type 2 diabetes who were overweight or obese (BMI 27 or higher) and randomly assigned them to follow a continuous calorie-restricted diet or an intermittent fasting diet for one year. Intermittent fasters consumed 500 to 600 calories daily for two days each week and then returned to their usual diet for the other five days. The continuous dieters consumed 1,200 to 1,500 calories daily. Both groups consumed about the same number of calories over the course of a week.
Both intermittent and continuous dieting lowered A1c levels; 0.3 percent and 0.5 percent, respectively. The intermittent fasters even lost a little more weight, suggesting, say the authors, that the approach "may be superior for weight loss." The findings were published online July 20, 2018 in JAMA Network Open.
An important caveat: Before you consider intermittent fasting, talk to your doctor, especially if you are taking medication that's likely to cause hypoglycemia (sulfonylureas and insulin).