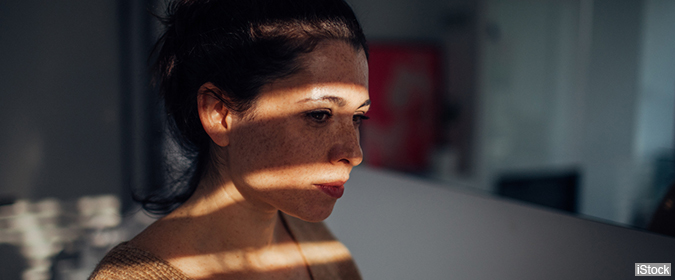 What leads someone to attempt suicide? And what can be done to offer a lifeline to people who are desperate enough to consider ending their own lives?
Both questions have become more urgent than ever with the release of troubling new statistics on suicide from the Centers for Disease Control and Prevention (CDC). Between 1999 and 2016, suicide rates increased by about 25 percent across the country, with nearly half of all states seeing a rise of more than 30 percent, according to findings published in the Morbidity and Mortality Weekly Review in June. Nearly 45,000 Americans died by suicide in 2016. Adults between 45 and 54 are among those most likely to take their own lives. The second highest suicide risk is among Americans 85 and older.
Evidence suggests that older people contemplating suicide are more likely to have a plan and to actually attempt suicide than their younger counterparts. Older individuals, especially those who are frail or isolated, are less likely to be found and rescued and more likely to die from a suicide attempt.
Though some studies have suggested that most people attempting suicide have a mental illness, the CDC found that less than half have a known mental health condition, such as bipolar disorder, depression, substance abuse, anxiety disorders, or post-traumatic stress disorder. That percentage may be deceiving, however, since some people who attempt suicide may have psychiatric disorders that were not diagnosed or being treated at the time of their death.
Most experts agree that suicide is not the result of a single factor. More likely, a cluster of factors leads someone to end his or her life, and mental health may or may not be a component in driving an individual's action.
Know the signs
Although it's not possible to predict who will attempt suicide, you should be concerned and consider seeking help if someone you know exhibits the following behaviors that the National Institute of Mental Health says may be warning signs of a possible suicide attempt. And if you recognize any of these signs in yourself, talk to someone right away:
Talking about death, wanting to die, or wanting to kill themselves
Talking about feeling empty, hopeless, or having no reason to live
Planning or looking for a way to kill themselves, such as searching online, stockpiling pills, or newly acquiring potentially lethal items (firearms, ropes)
Talking about great guilt or shame
Talking about feeling trapped or feeling that there are no solutions
Feeling unbearable physical or emotional pain
Talking about being a burden to others
Using alcohol or drugs more often
Acting anxious or agitated, being unable to sleep, or sleeping all the time
Showing rage or thinking about seeking revenge
Experiencing dramatic mood swings
Withdrawing from family and friends
Giving away important possessions
Saying goodbye to friends and family
Putting affairs in order, making a will
Where to find help
People contemplating suicide often isolate themselves both psychologically and socially. They don't want to admit to suicidal thoughts for fear of being labeled mentally ill or being forcibly hospitalized. But even when people are willing to ask for help, they may not know where to turn.
The National Suicide Prevention Lifeline (NSPL) can provide immediate, confidential assistance, toll-free, at 1-800-273-TALK (8255). Counselors can provide emotional support and direct you to local resources if needed.
To find local mental health and treatment services, call the Substance Abuse and Mental Health Services Administration (SAMHSA) Treatment Referral Helpline at 1-800-662-HELP (4357). You can also search for facilities online at findtreatment.samhsa.gov.
How to help someone at risk
If you know someone who is isolated and lonely or going through a serious life crisis and might be at risk of suicide, reach out to him or her. Ask if there's anything you can do, and urge the person to seek help. If you suspect someone might cause deliberate self-harm, here are a few things you can do:
Be direct, supportive, and nonjudgmental. Ask the person if he or she is considering suicide. Do not act shocked if the answer is yes. Listen carefully and help the person focus on his or her reasons for living. Never promise to keep suicidal thoughts confidential.
Find out if he or she has made plans to attempt suicide. Does the person have access to methods of attempting suicide, such as a firearm? If so, get emergency help and, if possible, remove any objects that can be used to cause self-harm.
Help the person remain socially connected with you and others. Social isolation and a low sense of belonging are associated with suicidal thoughts.
Provide resources he or she can connect to for ongoing support. Connect the person with places to turn when in crisis, such as the Lifeline, mental health professionals, and support groups. You can also download a smartphone app, MY3, which helps keep people connected to resources and counselors who can help.
Check in regularly to see if the person is using resources or needs more assistance. Evidence shows that even a simple gesture like sending a caring postcard is associated with potentially decreasing suicide risk.
You can find more ways to help a distressed friend or family member on the NSPL website at www.bethe1to.com.
How to help yourself
If you are having suicidal thoughts and feeling desperate:
1. Call 911.
2. Call 1-800-273-TALK (8255).
3. Go to an emergency room.
4. Tell someone who can find help for you.
5. Stay away from guns, medicines, and other items you might use to hurt yourself.
If you're not in immediate danger of harming yourself, talk with a trusted doctor, close relative or friend, or clergy member. Your doctor may recommend medication, psychotherapy, or both. Distress that has you thinking about suicide should be treated by a mental health professional.
Learn to recognize which of your thoughts or feelings might lead to suicidal impulses, and seek help as soon as those warning signs appear instead of waiting until suicidal impulses take hold. Keep on hand the contact information of those who can help you through a suicidal episode. Avoid alcohol and drugs; people who take their lives often act on impulse, and such substances can contribute to impulsiveness. Don't put off seeking help or think you can handle your feelings on your own.
Cognitive behavioral therapy and problem-solving therapy, which can help you change negative thinking and cope with stressful life events, are common types of psychotherapy used for reducing risk of self-harm.