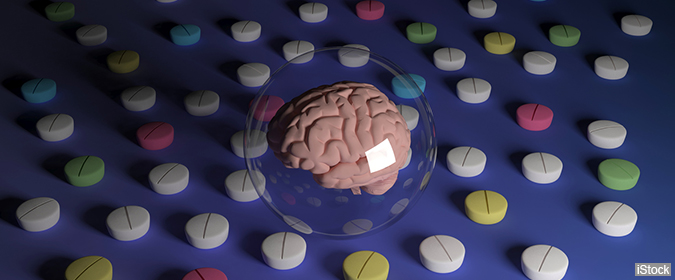 Treating depression, anxiety, insomnia, or pain in older people is a balancing act. Doctors often prescribe multiple medications to manage these conditions. But taking the drugs, especially in combination, can be dangerous, increasing the risk of falls, cognitive impairment, drug interactions, and even death.
Despite these risks, the number of older Americans taking at least three drugs that affect the brain has more than doubled in a decade, according to an analysis published online in February 2017 in JAMA Internal Medicine. The drugs include antidepressants such as fluoxetine (Prozac), sleep drugs such as zolpidem (Ambien), tranquilizers such as diazepam (Valium), and pain medications such as oxycodone (OxyContin).
What the data showed
Researchers from the University of Michigan and VA Ann Arbor Healthcare System reviewed records from office visits of 97,910 patients age 65 and older in the U.S. from 2004 to 2013. The data were collected from a representative sample of doctors' offices by the Centers for Disease Control and Prevention (CDC).
During that time, the doctor visits in which three or more brain-affecting, or psychotropic, drugs were started or continued increased from 0.6 percent to 1.4 percent of visits. The researchers applied those percentages to the entire U.S. senior population to estimate that visits involving multiple brain-affecting drugs increased from 1.5 million to 3.68 million. (The use of multiple medications by a single patient is known as polypharmacy.)
Rural practices, where access to psychiatric care or pain management is limited, accounted for the largest increase in brain-affecting prescriptions. In nearly half those visits, the patient did not have a mental health or pain diagnosis, leading the authors to conclude that in some cases, those drugs may be overprescribed.
The reasons why
A patient's preference for visiting a primary care practice-or the lack of access to a specialist, such as a psychiatrist-may account for the increase in prescriptions for brain-affecting drugs by primary care doctors. Also, efforts have been made to encourage primary care doctors to treat more mental disorders, given how common such illnesses are. In their review, the researchers found that in rural areas (where there is less access to nondrug alternatives), treatments such as psychotherapy, stress management, physical therapy, and professional pain management were not offered at most visits. This may explain, in part, why people living in rural areas are more likely to be prescribed multiple brain-affecting medications.
The analysis revealed that polypharmacy significantly increased for individuals who had a pain diagnosis, which was attributed to the overall growth in the prescribing of opioids. Many people turn to prescription opioids-pain relievers such as oxycodone, acetaminophen/hydrocodone (Vicodin), and acetaminophen/ oxycodone (Percocet)-to treat chronic pain. Over time, opioid use can lead to physical dependency and withdrawal symptoms. Little high-quality evidence is available that supports the long-term use of opioids for chronic noncancer pain. Yet more than 16,000 people die from prescription pain reliever overdoses each year, according to the CDC. Unfortunately, little research exists for alternatives, which has led to an overreliance on opioids.
Reduce your risk of bad reactions
If you are taking more than one prescription drug, there are steps that you can take to reduce your risk of dangerous interactions or side effects. The American Geriatrics Society offers the following suggestions:
Keep a list of your medications, including prescription and over-the-counter drugs and supplements such as vitamins. Show this list to your doctor at every visit so that he or she can prescribe medicine that won't interact with anything you're taking.
Ask your doctor about the medications you're taking and what kinds of adverse effects to watch for. Call your doctor immediately if you experience a bad reaction.
If you're concerned that a drug you're taking is either not working or not necessary, talk with your doctor. Do not stop taking the medication without consulting the doctor first.