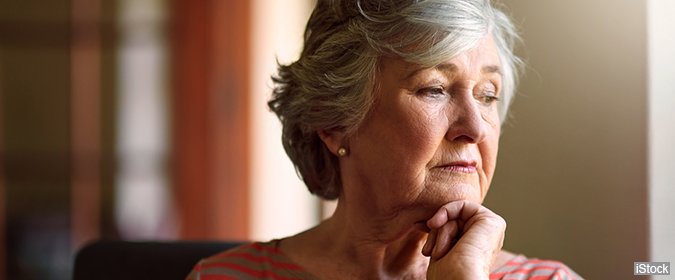 Depressive symptoms are common in dementia patients, and several large population studies have found a link between the two. But a May 2017 study in JAMA Psychiatry that looked at the phenomenon more closely found that new symptoms of depression in older, but not middle-aged, adults may be predictive of dementia.
The study involved 10,189 people, most of whom were followed for about 28 years. Investigators assessed their depressive symptoms at the study's start when participants were 35 to 55 years old. Follow-up assessments were performed every five years, and health records provided dementia diagnoses.
Of all dementia diagnoses made during the study, 73 percent were reported in the last five years of follow-up, and those diagnoses were associated with depressive symptoms in late life (average age, 70 years) but not midlife (average age, 50 years). The association between the conditions was evident only when depressive symptoms emerged in the decade prior to a diagnosis of dementia, during which time the depressive symptoms accelerated.
These findings suggest that depression, rather than causing dementia, may also represent the preclinical phase of the disease or that depression and dementia have common causes. Further research is needed to determine why they occur together in so many patients-and whether treating depression in dementia patients can improve cognitive functioning.