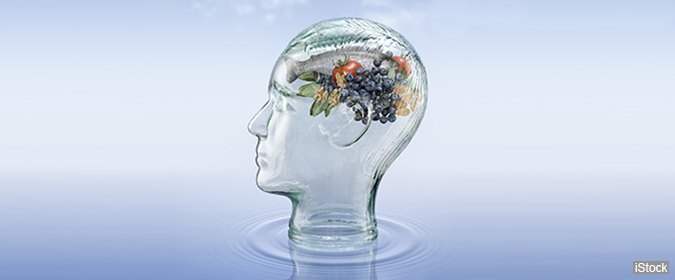 It sounds almost too good to be true, but two recent studies have suggested that a pretty commonsense diet, appropriately called MIND, can help prevent or delay age-related cognitive decline and reduce the risk of developing Alzheimer's disease. Done by the same researchers at Rush University Medical Center in Chicago, both studies appeared in 2015 in the journal Alzheimer's & Dementia and were funded by the National Institute on Aging.
MIND stands for Mediterranean-DASH Diet Intervention for Neurodegenerative Delay. As that awkward name indicates, the diet is a hybrid of the Mediterranean and DASH (Dietary Approaches to Stop Hypertension) diets. Both diets have been shown to reduce the risk of cardiovascular disease and have also been linked to protective effects against age-related cognitive decline. The researchers said they picked elements from the diets "based on the most compelling findings in the diet-dementia field."
The MIND diet features whole grains (at least three servings a day), leafy greens (at least six servings a week), other veggies (daily), nuts (at least five servings a week), beans (at least three servings a week), berries (at least twice a week), poultry (at least twice a week), fish (at least once a week), olive oil (as the primary oil), and wine (5 ounces a day). It advises limiting or avoiding red meats, fried and fast foods, butter, stick margarine, cheese, and pastries and other sweets. Berries are the only fruit specified on the diet because they have been most strongly linked to cognitive health.
The observational studies followed more than 900 people (average age 81, mostly women, without dementia at the start) for an average of nearly five years. The first study found that participants whose diets came closest to the MIND guidelines did best on annual cognitive testing-scoring, in effect, 7 1/2 years younger than those who ate least like MIND. The second study found that the most MIND-like eaters were about half as likely to develop Alzheimer's as those adhering least to the guidelines. The researchers controlled for age, sex, education, weight, physical activity, and cardiovascular-related conditions.
A previous study by the same researchers found that the MIND diet scored better than either the Mediterranean or DASH diet alone in terms of preserving cognitive health. As the researchers noted, because these were observational studies, "a diet intervention trial is required to establish a causal relation between diet and prevention of cognitive decline." The necessity for that was made clear by two recent clinical trials in the Journal of the American Medical Association, which found that physical exercise and omega-3 supplements provided no cognitive benefits in older people, contrary to the positive findings from many observational studies.