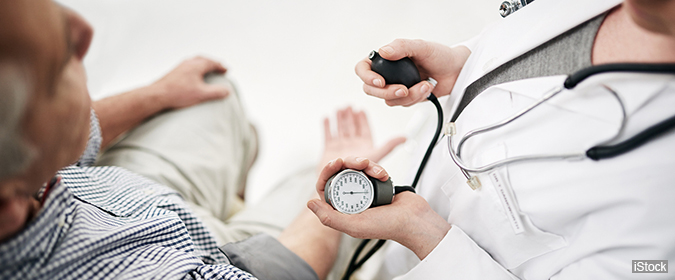 A large, randomized trial known as SPRINT MIND indicates that intensely lowering elevated blood pressure could reduce the risk of mild cognitive impairment (MCI), a slight but noticeable decline in memory and thinking skills that in some people might be a precursor to dementia.
Researchers looked at medical data from 9,361 trial participants ages 50 and older whose systolic blood pressure (the top number of a blood pressure measurement) was between 130 and 180 mmHg. They randomly assigned the participants to one of two groups. The first group used standard treatment to achieve a target blood pressure goal of less than 140. The second group used more intensive treatment to achieve a target of less than 120. Both groups underwent treatment for approximately three years.
Researchers followed up with each patient nearly six years after the start of the study. They found a 19 percent lower rate of new cases of MCI in the intensive blood pressure treatment group. In actual numbers, 287 of 4,678 participants in the intensive group and 353 of 4,683 in the standard group developed MCI. There was no significant difference between the groups in developing dementia, but the researchers point out that the study length was too short for full-fledged dementia to be linked to blood pressure control. The SPRINT MIND study has been extended for another two years to help determine the effect of tight blood pressure control on dementia. The results were published online January 28, 2019 in JAMA.
WHAT ELSE YOU SHOULD KNOW: No single trial offers the last word, especially regarding a question that has been under investigation for more than a decade. Dozens of previous trials have looked at whether lowering elevated blood pressure can help reduce MCI and dementia risk, but results have been mixed.
WHAT YOU SHOULD DO:Control your blood pressure-for the primary reason that doing so will lower your risk for stroke, heart attack, and other health consequences. Although it's still too early to tell whether tight control can fend off MCI or dementia, there is good evidence that people with chronic hypertension are more likely to develop cognitive impairment and dementia later in life. Consult with your doctor to decide how intensive your treatment should be; intensive control isn't suited to everyone. Drugs used to drive blood pressure below 120 may lead to adverse effects, such as dizziness, which could cause falls, and the risk of reversible kidney damage.