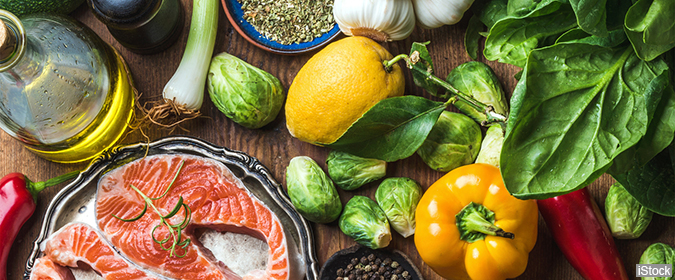 Following a Mediterranean-style diet-with plenty of fruits, vegetables, whole grains, and healthy oils such as olive oil, and only very modest portions of red meat and refined foods-has been shown to reduce the risk of cardiovascular disease. And there's growing evidence that it may also be linked to a reduced risk of developing neovascular age-related macular degeneration (AMD).
Following a Mediterranean-style diet has previously been associated with slower progression to advanced AMD. A newer study, published in Ophthalmologylast year, adds to that evidence.
Researchers from the European Eye Study analyzed data from 4,753 patients (average age, 73) who filled out questionnaires about what they'd eaten in the previous 12 months. The answers were used to assign participants a Mediterranean Diet Score (MDS) of 0 to 9, based on how closely they followed the principles of the diet. Points were awarded for eating a spoonful or more of olive oil, one or more servings of vegetables, or one or more servings of fruit a day; high intake of whole grains; low intake of refined grain products; and keeping meat to a minimum, among other criteria.
Compared with participants having the lowest MDS scores (4 or less), those with a score higher than 6 were 50 percent less likely to have neovascular AMD.
More research is needed to confirm this link, but there's already a lot of evidence that a Mediterranean diet is good for overall health.