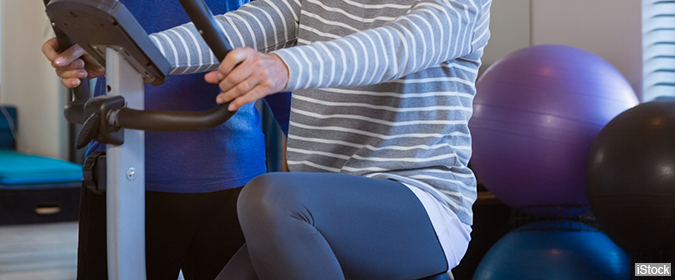 Canadian researchers have validated advice that doctors give patients with knee osteoarthritis (OA): Getting regular exercise will reduce pain and improve function. But their research also emphasizes that an effective regimen should include aerobic exercises, such as cycling or brisk walking, along with strength-building exercises.
The research team identified 26 studies examining the role of strength training in people with knee OA. Patients in these studies used various forms of strength training, which can include ankle weights, exercise bands, and fitness machines. Overall, the researchers concluded that any form of strength training reduces pain and improves daily functioning in people with knee OA. The findings were reported in May 2017 in the journal Clinical Rehabilitation.
In a companion paper, the team looked at studies of patients with knee OA who trained aerobically two to six times a week for varying lengths of time at each exercise session. While there has been less research on the benefit of aerobic exercise on arthritis patients, the findings suggest that aerobic exercise-especially cycling on a stationary bike-can ease knee OA symptoms and improve quality of life. The benefits are magnified when aerobic exercise is combined with strength training.
The benefits of exercise fade quickly if you don't exercise regularly, so it's important to adopt a regimen you can stick with; ask your doctor to recommend some options. Working out with a trainer or a friend can help you stay with your plan.