Description
The No-Nonsense Guide to Staying Well
Just for Women!
Introducing a new authoritative report from the editors of the
University of California, Berkeley Wellness Letter
To your grandmother-and others of her generation-getting older was a thing to fear.
They risked broken bones any time they fell … their skin became wrinkled and covered with "liver spots" … their eyesight dimmed … hearing diminished … and many lost their lives to lung cancer, breast cancer, diabetes, or other serious illnesses.
But thanks to incredible breakthroughs in medical treatments, pharmaceuticals, early detection diagnostic tests, and nutrition, the outlook is considerably rosier for women today.
Although heart disease remains the number one killer of both men and women in the United States, there are now simple things you can do at home to lower your risk of cardiovascular illness by as much as 50%.
A simple vaccine is now available that prevents young women from becoming infected with the human papilloma virus (HPV). And clinical trials have proven that the vaccine does in fact protect most women from cervical cancer, which is caused by HPV.
Although breast cancer remains the second leading cause of cancer death in women, the mortality rates from breast cancer have declined steadily for more than two decades, most notably among women under age 50. Among the factors credited for this drop: improved methods of treatment as well as earlier detection through screening.
As a result, women are living longer … staying healthier … and enjoying more productive lives than ever before.
For instance, the average woman in the U.S. today has a lifespan of 81 years. By comparison, a woman born in the early 1900s had an average lifespan of only 47 years-likely dying before her fiftieth birthday.
And there's more good news almost every month-from innovative ways to maintain bone density in your senior years to reviving lost sex drive in menopausal women. In fact, there are so many more health options for women today than when your grandma was a girl, the choices are almost bewildering.
From talk shows to women's magazines, to the internet and the bookstore, there's no shortage of news and information on women's health. But how do you sort through it, so you can make more informed decisions about your own diet, exercise, treatment, and medications?
Fortunately, there's an authoritative resource-from one of the world's most respected public health institutions-that you can turn to for evidence-based guidance on how women can live longer, more active, and healthier lives. And you may preview it in the privacy of your home.
The 2019 Women's Health Wellness Report
Your No-Nonsense Guide to Staying Well
* * * * * * * * * *
With thousands of books … articles … websites … magazines … and clinical studies published every day, no single person can keep up with all of the new developments in women's health. It would be a full-time job-and I'm guessing you already have too much to do.
Also, unless you're an M.D. yourself, do you really have the background to separate the good science from the hype in modern medicine today?
That's where the Wellness Report series from one of the most respected health institutions in the world, the School of Public Health at the University of California, Berkeley can help save you time and money while living longer with optimal health and wellness.
Our editorial advisors, all M.D.s or Ph.D.s or both, with impressive credentials in their specialties, conduct exhaustive searches of the medical literature on a particular topic-in this case, breakthroughs in women's health.
They then review the research to ensure that it's based on scientifically sound methods … and to confirm the accuracy and reliability of the findings.
Next, our editors painstakingly convert medical jargon, formulas, and statistics into clear, plain English. I know you'll find it fascinating reading-and useful.
Here's a sampling of what you'll discover in our 2019 Women's Health Wellness Report.
The five strategies that can cut your risk of developing breast cancer.
The role that gender, genetics and lifestyle play in maintaining healthy bones.
Why heart attacks are often missed in women, and the telltale symptoms you must not ignore (some are different from those in men).
Should you take medications for osteopenia, a precursor of osteoporosis?
Should all former smokers be screened for lung cancer?
The debate over mammograms continues. Read our bottom-line advice.
Is hormone therapy safe after all? The evolving evidence that all menopausal women should know about.
New blood pressure guidelines have changed the cutoffs for hypertension, expanding the number of women who qualify for treatment. Are your numbers still in the normal range?
Steps you can take to decrease your chances of getting vaginal infections, itching, and burning.
Why ovarian cancer screening may do more harm than good.
Can a drug for boosting sexual desire in women help increase your arousal?
How to spot, treat, and prevent urinary tract infections (UTIs).
How high is your cardiovascular risk? Use these tools to calculate it.
The best non-hormone treatments to get rid of hot flashes.
Are soy foods safe for women who have had breast cancer?
The newer alternative to Pap smears and who should consider it.
Should you have BRCA gene testing to calculate your risk of breast and ovarian cancer? And whats the deal with the new at-home tests that are available to detect this gene?
The three telltale signs of stroke that you must know (at least half of women dont).
Eleven essential screening tests every woman needs. Make sure you get them.
The keys to a truly healthy diet (theyre simpler than you may think).
Nine vaccines every adult woman should have at some point in her life. Are you up to date?
Are you getting enough exercise? And is it the right type?
What causes pain during sexual intercourse, and the best ways to treat it.
Whats the best type of calcium supplement?
And so much more.
The best bargain in women's healthcare today.
But that's not all! Order now, and you'll also receive this
FREE Digital Report as an instant download: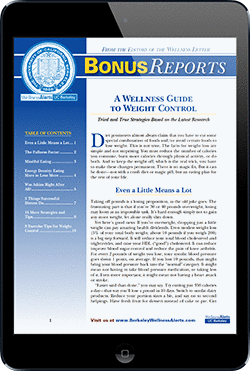 A Wellness Guide to Weight Control
Tried and True Strategies Based on the Latest Research
Even a Little Means a Lot.
Dropping just a little weight can pay amazing health dividends-improving cholesterol numbers, lowering blood pressure and blood sugar, and reducing the pain of arthritis.
The Fullness Factor.
Here are ways to promote satiety, the feeling of fullness. If you feel full longer, you are less likely to overeat later, yet not feel deprived.
Mindful Eating.
In this nondieting approach to weight loss, you do not count calories, measure food, or even restrict foods, but use internal cues to guide you about when and how much to eat.
Energy Density: Eating More To Lose More.
People tend to eat roughly the same amount of food a day, regardless of calories, so eating low-energy-dense foods allows you to fill up on fewer calories.
5 Things Successful Dieters Do.
How come some people successfully lose weight and keep it off, while so many others fail? Here's what the National Weight Control Registry has found out.
16 More Strategies and Tips.
From alcohol and high-fructose corn syrup to food scales and the DASH diet.
8 Exercise Tips for Weight Control.
The best advice for boosting the other side of the energy equation.
Just click below for your risk-free copy of the 2019 Women's Health Wellness Report.
Order now and download your FREE GIFT, A Wellness Guide to Weight Control. Keep the free gift even if you decide, for any reason, to return your Wellness Report.
The U.S. Department of Health & Human Services reports that the average annual expenditure for healthcare for American women ages 19 to 64 is $6,892 per person; for those 65 and older, it jumps to $19,110. Even a routine consultation at your doctor's office could easily cost $50 or more for a 10-minute visit.
But now, benefitting from today's latest research breakthroughs in women's healthcare won't cost you $3,200 … or $300 … or even $50.
That's because the University of California, Berkeley's Women's Health Wellness Report is just $19.95 -less than you'd spend to take a friend out to dinner tonight.
And that's what our report costs only if you agree that it's the most important-and valuable-Women's Health guide you read this year.
If you are not 100% satisfied with our 2019 Women's Health Wellness Report for any reason … or for no reason at all … simply request a refund for the report within 30 days for a full refund of the purchase price.
That way, you risk nothing.
Keeps you on the leading edge of women's health
Great strides are being made all the time in women's health.
Yet obstacles to living a full, healthy, and energetic life still remain:
Cardiovascular disease remains the #1 killer of women in America, with 400,000 killed each year.
More than 266,000 new cases of breast cancer were diagnosed last year.
About 22,000 American women are diagnosed with ovarian cancer each year.
Eight million American women age 50 and older suffer from osteoporosis.
Close to half of American women now qualify as having high blood pressure, a leading risk factor for stroke (which kills significantly more women each year than men).
New vaccines … prescription drugs … dietary supplements … hormone treatments … medical procedures … medical tests … and lifestyle changes are being found effective for early detection and treatment of everything from Alzheimer's disease to psoriasis.
But as a woman, you can't wait around for your doctors-even your gynecologist-to ferret it out for you. There's just too much medical information being created for even the best healthcare practitioner to keep up with all of it.

University of California, Berkeley,
School of Public Health
The Wellness Reports are published by the University of California, Berkeley, School of Public Health. These publications are an outgrowth of the Schools commitment to help improve the health and wellness of our community of readers by publishing expert advice on prevention, diagnosis and treatment for a wide range of ailments and disorders. We provide trusted, authoritative health guidance from leading physicians and researchers at Americas top medical centers and hospitals.
The School of Public Health is
consistently rated among the best in the nation
The faculty, consistently noted as among the leading scholars in their respective fields, comprises approximately 150 investigators. Among our faculty are Institute of Medicine members, American Association for the Advancement of Science fellows, Fulbright fellows, and National Academy of Sciences members. The School enrolls approximately 575 graduate students a year, as well as educating about 425 undergraduate students through the upper-division public health major. The School's more than 15,000 graduates can be found working throughout the world, both in the public and private sectors.
The School of Public Health believes that everyone,
everywhere has the right to a healthy life
Your purchase of the 2019 Women's Health Wellness Report supports the School of Public Health faculty and students in their work to confront the major health challenges of our generation. A portion of every sale goes to funding scholarships. Your purchase will directly benefit your own health as well as those in your community.
Thanks to this special offer, you can get the digital edition of the 2019 Women's Health Wellness Report now for only $19.95.
Order now and download the digital edition right away.
Our no-strings, can't lose, must-be-satisfied guarantee
You don't risk a penny to take a good, long look at the 2019 Women's Health Wellness Report. You must be 100 percent convinced this is essential information you can't do without, or you may request a refund within your 30-day preview period.
Just click below to order the digital edition of the 2019 Women's Health Wellness Report and your free gift, A Wellness Guide to Weight Control. Keep the free digital gift even if you decide, for any reason, to request a refund for your Wellness Report.
Your complete satisfaction is fully guaranteed. This urgent information belongs in your hands without another minute's delay.