Description
How to Take Control of Your Health
Receive Health News and Expert Advice
from the UC Berkeley, School of Public Health
Choose between Print, Digital or Print + Digital. Plus, receive access to the full archives!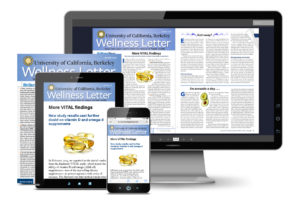 The Wellness Letter
Subscribe now and get full subscriber benefits!
For over 35 years, the Wellness Letter has translated leading-edge research into practical tips and helpful information for daily living. Each issue is brimming with research-backed, money-saving tips you can use today—at home, during your walk, at your fitness class, or in the grocery store. Put this invaluable information into action and you'll see results—from higher energy to lower doctor bills.
From the moment your first Wellness Letter arrives, you'll be in a stronger position to promote and protect your health. You'll find it's easier to make good choices, ask the right questions, and be more of a partner with your doctor.
You benefit from more than just "medicine"
One of the reasons the Wellness Letter is recognized as a leading source of useful health information is our emphasis on WELLNESS. We cover the latest medical research and the most effective ways to prevent some chronic ailments. But we look at your whole life. That's why we'll also give you practical tips and advice such as:
Best bets for protecting memory and brain health.
How to choose the most healthful chocolate bar.
What lack of sleep can mean to hand-eye coordination.
Seven myths about food safety guaranteed to give you pause.
What you must know about today's "pumped up" soft drinks and bottled waters.
The Wellness Letter translates even the most complex scientific findings into plain English. Our special relationship with our subscribers can be seen in every article, every month—especially in our ASK THE EXPERTS section—where readers ASK, experts ANSWER—and YOU BENEFIT.
Month after month, we help you look at all your options, incorporating mainstream medicine, alternative therapies, and preventive strategies. You'll have the information you need to make the best decisions based on your own lifestyle and health. And benefit from no-nonsense facts like these:
Taking low-dose aspirin to protect your heart? Don't take ibuprofen (such as Motrin) or naproxen (such as Aleve), as they can block the aspirin's anti-clotting effect.
Think you don't need a flu shot just because you're under 50 and healthy? Think again.
Wondering which garlic supplement to buy? Several well-designed studies showed no benefits from "garlic in a pill."
Want to know which plastic bottles are safe to use? Most of the rumors about dangers don't hold water, but you're better off avoiding one type of plastic.
Looking to lower your cholesterol? We rate the foods and supplements that can definitely help. You can count on the Wellness Letter to bring you health and medical information that is trustworthy, impeccably researched, and current. In every fact-packed issue, we'll brief you on two dozen health and wellness topics—far more than other newsletters!

University of California, Berkeley,
School of Public Health
The Wellness Letter is an outgrowth of the University of California, Berkeley School of Public Health's commitment to help overall health and wellness by publishing expert advice on prevention, diagnosis and treatment for a wide range of ailments and disorders. We provide trusted, authoritative health guidance from leading physicians and researchers at America's top medical centers and hospitals.
In addition, because a portion of every subscription is earmarked to fund scholarships, you will also be supporting graduate students in the School of Public Health, as they become the health professionals of tomorrow, confronting the major health challenges we all face. Thus, your purchase benefits you, your family, and your community—now and in the future.
You can count on the Wellness Letter to bring you information
that is trustworthy, impeccably researched and current.
You get a one year subscription.
Plus, you choose how you want to read: Print, Digital, or Print + Digital … AND Print + Digital subscribers get free access to the full archives!
Print + Digital: $19.95! Plus free access to the archives.
Print: $14.95
Digital: $9.95
Addition shipping applied to international orders.
Your satisfaction is guaranteed: if for any reason you wish to cancel your subscription, simply notify us to receive a full refund.