Description
How to Protect Your Sight as You Age
Most of us take our vision for granted until we develop a disorder like cataracts, glaucoma, age-related macular degeneration (AMD) or diabetic retinopathy. It's important to realize that early detection of disease is essential.
Fortunately, if you have one of these eye disorders and are treated early enough, the progression of disease often can be slowed or even halted, helping you return to daily activities such as driving, grocery shopping, reading and performing household tasks. Get the facts you need NOW to prevent vision loss, and learn about the most current and effective treatments for common eye disorders.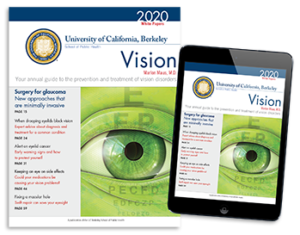 The 2020 Vision White Paper
Your Annual Guide to the Prevention
and Treatment of Vision Disorders
* * * * * * * * * *
The Expertise You Require in the Layperson's Language
You Can Understand and Apply
Introducing Your Vision Expert
Marlon Maus, M.D., Dr.PH, F.A.C.S., is Adjunct Professor of Public Health at the University of California, Berkeley, School of Public Health.
Dr. Maus is a board-certified ophthalmologist specializing in oculoplastic surgery. He received his medical degree from Jefferson Medical College and completed his residency at Wills Eye Hospital in Philadelphia, and a fellowship at Massachusetts Eye and Ear Infirmary in Boston.
He has been involved in numerous professional organizations, including the American Council of Graduate Medical Education, the American Medical Association, and the American Academy of Ophthalmology, where he held various positions related to medical education. He is also a member of the American Public Health Association.
Dr. Maus served as director of resident education at Wills Eye Hospital in Philadelphia before resuming postgraduate education at the School of Public Health at UC Berkeley, where he obtained a doctorate degree in public health. He is currently the co-director of the DrPH program in the School of Public Health. His research is focused on the relationship between public health and the built environment and aging, with a particular interest in the area of vision. He has lectured worldwide and has authored various articles in the areas of oculoplastics and public health.
Timely, accurate advice about what works
The goal of the Vision White Paper is to empower you with the best advice on the health conditions that impact your life. The editorial staff of the 2020 Vision White Paper has gathered research on the most important developments and medical advice in the past year. Order now and you will be able to read about these important topics:
Surgery for glaucoma: New approaches that are minimally invasive
When drooping eyelids block vision: Advice from your White Paper expert, Marlon Maus, M.D., about diagnosis and treatment for a common condition
Alert on eyelid cancer: Early warning signs and how to protect yourself
Keeping an eye on side effects: Could your medications be causing your vision problems?
Fixing a macular hole: Swift repair can save your eyesight
The following is more of what you'll read in the 2020 Vision White Paper—bringing you the latest news about preventing and treating vision disorders that threaten our sight as we age:
Retinal detachment after cataract surgery: A rare but vision-threatening emergency
Dry eye syndrome: If severe and left untreated, it may scar the cornea and cause permanent vision problems
Age-related macular degeneration: New medication approved for wet AMD
Floaters and flashes: Know when to get immediate medical attention
Cataracts: Can dietary supplements prevent them
Blepharitis: Keeping eyelid inflammation at bay to protect the cornea
Look to all of the White Papers for:
A thorough overview of the conditions, their causes and symptoms…
Research based on an understanding of the newest drugs, the latest treatments and the most promising research…
Groundbreaking new research and a review of the latest studies…
A glossary of medical terms you need to understand…
Lists of health information organizations and support groups that specialize in the disorder…
But that's not all! Order now, and you'll also receive this
FREE Health Tips as an instant download: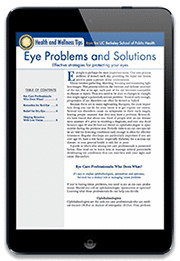 FREE Vision Health Tips:
Eye Problems and Solutions
Eye Problems and Solutions is our gift to you just for ordering the 2020 Vision White Paper. You'll discover:
Eye Care Professionals: Who Does What?


It's easy to confuse ophthalmologists, optometrists and opticians, but each has a distinct role in managing vision problems.

Remedies for Red Eye


Allergic conjunctivitis is a common cause of red, itchy eyes, but it is also highly treatable.

Helping Relatives with Low Vision


Having a family member with vision loss can be stressful, but knowing how to care for your loved one—as well as yourself—can help you cope.

University of California, Berkeley,
School of Public Health
The White Papers are published by the University of California, Berkeley, School of Public Health. These publications are an outgrowth of the School's commitment to help improve the health and wellness of our community of readers by publishing expert advice on the prevention, diagnosis and treatment for a wide range of ailments and disorders. We provide trusted, authoritative health guidance from leading physicians and researchers at America's top medical centers and hospitals.
The School of Public Health is
consistently rated among the best in the nation
The School's faculty members are leading scholars in their respective fields. Many of them are members of the prestigious National Academies of Medicine and Sciences. The School enrolls approximately 700 graduate students a year, and educates about 425 undergraduate students through the upper-division public health major. The School's more than 15,000 graduates can be found working throughout the world, both in the public and private sectors.
The School of Public Health believes that everyone,
everywhere, has the right to a healthy life
Your purchase of the Vision White Paper supports the School of Public Health faculty and students in their work to confront the major health challenges of our generation. A portion of every sale goes to funding scholarships. Your purchase will directly benefit your own health as well as the health of those in your community.
You can count on the White Papers to bring you medical information that is trustworthy, impeccably researched and current.
Order Today, You'll Save 50 Percent
and Get Free Health Tips
Thanks to this special offer, you can get BOTH the digital and print editions of the 2020 Vision White Paper now for only $19.95 plus shipping. That's a savings of 50 percent off the regular $39.95 cover price. Order now and download the digital edition right away AND we'll mail you the print edition of the White Paper. This way you'll have access to the digital edition immediately and you'll own a printed edition to refer to whenever necessary. Plus, get your free Vision Health Tips, Eye Problems and Solutions when you order now.
Our no-strings, can't lose, must-be-satisfied guarantee
You don't risk a penny to take a good, long look at the 2020 Vision White Paper. You must be 100 percent convinced this is essential information you can't do without, or you may return it within your 30-day preview period.
You don't have to take our word for it.
Just click below to order BOTH the digital and print editions of the 2020 Vision White Paper. As soon as you place your order you can download your digital edition of the White Paper and your free gift, Eye Problems and Solutions. Keep the free gift even if you decide, for any reason, to return your White Paper.
To keep you on the cutting edge of vision research, we offer an annual research update service to White Paper readers. That way, your White Paper is always current, never out of date.
A letter will be sent to you in advance and if you wish to examine the next year's Vision White Paper, do nothing and it will arrive automatically with an invoice. If you don't wish to see the new White Paper, simply return the letter within 30 days. You may notify us at any time if you don't want to continue in the program.
Your complete satisfaction is fully guaranteed. This urgent information belongs in your hands without another minute's delay.