Description
Are You Doing Everything You Can
to Take Charge of Your COPD?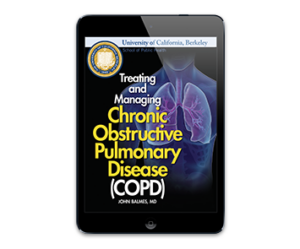 Treating and Managing Chronic Obstructive Pulmonary Disease (COPD)
A Digital Guide for COPD Patients and Their Families
Breathing: in with the good air and out with the bad. It's that simple.
But if you're one of the 16 million Americans with COPD, nothing is simple. Ordinary tasks like walking up a flight of stairs or making your bed can cause wheezing, coughing, and pronounced shortness of breath.
COPD is a progressive disease: It develops slowly and worsens over time. And, as COPD worsens, breathlessness may begin to severely limit your daily physical activities, leaving you tired, weak, and depressed.
COPD can be a debilitating and deadly disease — but it doesn't have to be this way. There are many steps you can take to identify and treat COPD at its earliest stages BEFORE it causes serious lung damage.
If you have chronic bronchitis or emphysema, it's critically important to learn everything you can about your condition so you can make informed decisions about your treatment — so you can partner with your doctor effectively, ask the right questions, and understand the answers.
Imagine having direct access to a leading expert in COPD! That's why we asked John Balmes, M.D., Professor in the Divisions of Occupational and Environmental Medicine and Pulmonary and Critical Care Medicine at Zuckerberg San Francisco General Hospital, to share his wisdom and experience with COPD patients in an important Special Health Report: Treating and Managing Chronic Obstructive Pulmonary Disease (COPD)
Dr. Balmes has been studying the respiratory health effects of various air pollutants for the past 38 years.
Treating and Managing Chronic Obstructive Pulmonary Disease (COPD) is written for YOU. This authoritative 79-page digital report is available to download and read immediately. It contains vital information you won't find in any other single source. Armed with this knowledge, you can work closely with your doctor to breathe easier, minimize restrictions, and maximize to whatever extent possible the quality of your life.
Advice That's Practical, Authoritative — and Compassionate
COPD is an obstructive lung disease. It includes chronic bronchitis or emphysema (or a combination of the two), both of which are characterized by airflow obstruction. Treating and Managing Chronic Obstructive Pulmonary Disease (COPD) gets to the heart of your concerns about living with this debilitating disease. It provides the latest thinking on the causes of COPD and the full range of your treatment options – with in-depth discussions of medications, oxygen therapy, pulmonary rehabilitation, and surgical interventions. Chapters include:
COPD: Causes and Symptoms
Diagnosing COPD
Building Your COPD Medical Team
Medications for COPD
Managing Severe COPD with Oxygen Therapy
Getting the Most From Pulmonary Rehab
Surgical Interventions for Severe COPD
Treating Depression After a Diagnosis of COPD
Treating and Managing Chronic Obstructive Pulmonary Disease (COPD) is designed to help you ensure the best outcome. Use what you learn in these chapters to help you:
Recognize and respond to symptoms and changes in your breathing and lung function as they occur.
Communicate effectively with your doctor.
Make the most informed decisions, based on an understanding of the newest drugs, the latest therapies, the most promising research.
Take control over your condition and act from solid, evidence-based knowledge, rather than myths.
The GOOD NEWS on Medications for COPD
While COPD is a serious progressive lung disease – it's eminently treatable. At every stage of the illness, there are medications to relieve symptoms and improve quality of life. In this section, Dr. Balmes answers patient questions on medication therapy, including:
What's the best treatment strategy for COPD?
What are bronchodilator drugs used for?
Who needs to take medication for COPD?
When is a long-acting bronchodilator prescribed?
What are corticosteroid medications and why are they used for COPD?
What is the role of a mucolytic drug in COPD management?
How do colds or other respirator infections affect someone with COPD?
When considering joining a clinical trial, whats the first step?
Treating and Managing Chronic Obstructive Pulmonary Disease (COPD) discusses these and other COPD treatment therapies. And that's just the start. We answer your questions about supplemental oxygen, commonly prescribed for severe COPD:
What is hypoxemia and how does oxygen therapy help?
Who is a candidate for oxygen therapy?
Will oxygen therapy cure my COPD?
Is it possible to be short of breath and still have adequate oxygen saturation?
What is LOTT (Long-term Oxygen Treatment Trial) and what will we learn from it?
If a little oxygen is good, is more better?
Is it possible to become "addicted" to oxygen?
How do portable compressed gas oxygen systems work? How do liquid oxygen systems work?
Is it possible to travel with oxygen?
Will Medicare cover the cost of my supplemental oxygen?
Beyond Medication – Your Comprehensive
Pulmonary Rehabilitation Program
Pulmonary rehabilitation is a critical part of COPD therapy. These special programs combine stretching, resistance training, and endurance training to get patients moving and boost sagging spirits.
In Treating and Managing Chronic Obstructive Pulmonary Disease (COPD) Dr. Balmes explains: The best way to find a pulmonary rehabilitation program and to pay for it. How pulmonary rehabilitation works, what to expect and who's a candidate. The 10 benefits of exercising regularly. How to start a walking program, how to stay motivated… and much more.
What If Medication and Rehab Are Not Enough?
Dr. Balmes Talks About Surgical Interventions
Lung-volume reduction surgery (LVRS) and lung transplant surgery can improve quality of life for select patients with severe emphysema. If you're considering one of these life-saving procedures, you may wonder:
What are the potential benefits of LRVS?
Who's a candidate?
What have we learned from the NETT (National Emphysema Treatment Trial) study?
How is lung-volume reduction surgery performed?
Do double lung transplants work better than single for long-term survival?
Can a person be too old for lung transplant surgery?

University of California, Berkeley,
School of Public Health
Treating and Managing Chronic Obstructive Pulmonary Disease (COPD) is published by the University of California, Berkeley, School of Public Health. This publication and others like it are an outgrowth of the School's commitment to help improve the health and wellness of our community of readers by publishing expert advice on prevention, diagnosis and treatment for a wide range of ailments and disorders. We provide trusted, authoritative health guidance from leading physicians and researchers at America's top medical centers and hospitals.
The School of Public Health is
consistently rated among the best in the nation
The School's faculty members are leading scholars in their respective fields. Many of them are members of the prestigious National Academies of Medicine and Sciences. The School enrolls approximately 700 graduate students a year, and educates about 425 undergraduate students through the upper-division public health major. The School's more than 15,000 graduates can be found working throughout the world, both in the public and private sectors.
The School of Public Health believes that everyone,
everywhere has the right to a healthy life
Your purchase of Treating and Managing Chronic Obstructive Pulmonary Disease (COPD) supports the School of Public Health faculty and students in their work to confront the major health challenges of our generation. All profits earned by the University of California, Berkeley, from the sale of this report fund scholarships, fellowships, and student grants, plus resources for student organizations and activities at the School of Public Health. Your purchase will directly benefit your health as well as the health of the greater community.
You can count on The School of Public Health to bring you medical information that is trustworthy, impeccably researched and current.
Still not sure you'll benefit from this Special Health Report?
No problem.
Our No-Strings, Can't Lose, Must-Be-Satisfied Guarantee!
Treating and Managing Chronic Obstructive Pulmonary Disease (COPD) comes with a risk-free guarantee of satisfaction: if you're not satisfied with your instant digital PDF download for any reason, simply contact Customer Service for a prompt refund of your full purchase price of $29.95. So you risk nothing. Don't hesitate-arm yourself with the facts about COPD. Place your risk-free order today.