Description
The Science of Happiness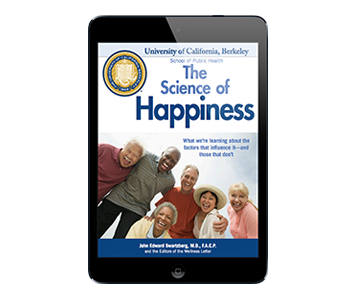 Mental and emotional well-being are essential components of wellness and, increasingly, linked to physical health and longevity. Yet these topics are notoriously difficult to study. Researchers can't measure happiness or well-being in the same way that they can measure, for instance, blood cholesterol levels.
Still, there have been significant and encouraging advances in this field of research.
It's not easy to change personality traits or your outlook on life. But you might have more control over your well-being than you realize. We invite you to purchase your copy of this Special Report, and join John Edward Swartzberg, MD and the editors of the Wellness Letter as we explore some of the fascinating research on emotional health, the harmful effects of anger, the benefits of mind-body exercise, how to boost your sense of well-being, and, yes, even the advantages of certain types of stress.
You may already know Dr. Swartzberg from the UC Berkeley Wellness Letter, where he is Chair of the Editorial Board and writes a regular column. Dr. Swartzberg is also Professor, Emeritus in the School of Public Health at the University of California, Berkeley.
A healthy mind goes with a healthy body. Of course, the reverse is also true: A healthy body goes with a healthy mind. It's a virtuous circle that's worth encouraging.
In easy-to-understand layman's language, this report on happiness explores many key issues related to emotional well-being.
In this report you'll read about some of the recent findings on which factors have the greatest bearing on happiness, and how much of your well-being is within your control. Many people may have more control over their happiness than they think.
We explore the impact of anger on happiness and provide tips to help tame it. Same for stress, the Report will explain how to recognize different kinds of stress, which kinds have the most impact on emotional well-being and we introduce plenty of healthy ways to let off steam.
There's a veritable mountain of research to support the physical benefits of regular exercise. But studying its effect on mental states is a lot harder. We'll walk you through what the research says about the connection between movement and emotional health as well as provide exercise tips.
Doing well by doing good? What does research say about ways in which giving to others rewards the giver?
Accumulating scientific evidence suggests that both tai chi and yoga can help improve physical and mental health across a wide range of ages and health statuses. We'll provide you with an overview of each practice, some recent findings on tai chi's and yoga's benefits, and pointers on how to get started.
Is laughter really the best medicine? In the report you'll read a sampling of research findings from over the years on the impact of laughter on health.
Researchers have looked at what happens to our brains and bodies when we're walking in a forest, in the mountains, or by the sea. The study of such "green exercise" usually falls under the umbrella of environmental psychology (or eco-psychology). Learn more about what studies have found about the proposed benefits of being in nature.
Why do some of us stick to, and enjoy, a sport or exercise program-or, for that matter, any type of activity-while others drop out? The feeling of being totally absorbed or in the "flow" has received much attention since the term "flow" was coined in the early 1970s, but the term can be misleading. We break down the components of flow and and provide some Wellness Letter bottom line advice on the topic.
Order your Report today and find out more about what we're learning about the factors that influence happiness-and those that don't.

University of California, Berkeley,
School of Public Health
The Science of Happiness is published by the University of California, Berkeley, School of Public Health. This publication and others like it are an outgrowth of the School's commitment to help improve the health and wellness of our community of readers by publishing expert advice on prevention, diagnosis and treatment for a wide range of ailments and disorders. We provide trusted, authoritative health guidance from leading physicians and researchers at America's top medical centers and hospitals.
The School of Public Health is
consistently rated among the best in the nation
The School's faculty members are leading scholars in their respective fields. Many of them are members of the prestigious National Academies of Medicine and Sciences. The School enrolls approximately 700 graduate students a year, and educates about 425 undergraduate students through the upper-division public health major. The School's more than 15,000 graduates can be found working throughout the world, both in the public and private sectors.
The School of Public Health believes that everyone,
everywhere has the right to a healthy life
Your purchase of The Science of Happiness supports the School of Public Health faculty and students in their work to confront the major health challenges of our generation. All profits earned by the University of California, Berkeley, from the sale of this report fund scholarships, fellowships, and student grants, plus resources for student organizations and activities at the School of Public Health. Your purchase will directly benefit your health as well as the health of the greater community.
You can count on The School of Public Health to bring you medical information that is trustworthy, impeccably researched and current.
Our no-strings, can't lose, must-be-satisfied guarantee
The Science of Happiness comes with a risk-free guarantee of satisfaction: if you're not satisfied for any reason, simply contact Customer Service for a prompt refund of your full purchase price of $9.95. So you risk nothing.