Description
Everything You Need to Know About Your Prostate
No matter what your prostate problem may be…
No matter if you've been diagnosed with prostate cancer…
Even if you think your prostate's just fine for now…
The 2020 Prostate Disorders White Paper is designed to help you become better informed and better prepared to deal with whatever prostate problem you may have now, or may develop in the future.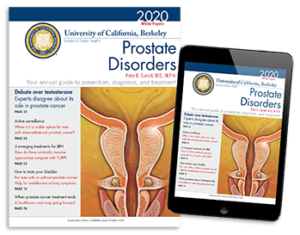 The 2020 Prostate Disorders White Paper
Your Guide to Prevention, Diagnosis and Treatment
Did you know …
Having sex within 72 hours of your PSA test can produce a false reading?
ED can be a symptom of prostate cancer?
By age 70, the average man's prostate has doubled in size.
Early detection of prostate cancer is a KEY factor in managing this disease successfully.
Being fully informed is also important-and that's where the 2020 Prostate Disorders White Paper comes in. It's your all-in-one comprehensive guide for everything you need to know about your prostate. From what it is and what it does, to what problems can develop and what to watch out for.
You'll learn:
Key facts about prostate health.
The warning signs and symptoms that could alert you that something might be wrong.
The latest treatments you never knew existed.
How to understand what your options are if you're ever diagnosed with prostate cancer or another prostate condition common to men as they grow older.
The 2020 Prostate Disorders White Paper is published as a means of sharing everything we know about conditions of the prostate in significant depth, yet in layman's language.
Prostate disorders experts and doctors review the major medical journals, clinical trials and research studies, and bring this cutting-edge health information straight to you.
Introducing Your Prostate Disorders Expert
Peter R. Carroll, M.D., M.P.H., is professor and chair of the Department of Urology at the University of California, San Francisco. He holds the Ken and Donna Derr-Chevron and Taube Family Distinguished Professorships and is a full member of the UCSF Helen Diller Family Comprehensive Cancer Center. He has written extensively on the early detection and treatment of prostate cancer, and his research has been published in leading medical journals.
Dr. Carroll chairs the National Comprehensive Cancer Centers guidelines on the early detection of prostate cancer. He has been the principal or co-investigator on numerous clinical trials examining novel treatment or diagnostic strategies for men with early and advanced prostate cancer. He leads one of the largest active surveillance programs in North America to monitor, rather than treat, men with early stages of the disease.
You won't find a more comprehensive, authoritative and reliable source than this for the vital information every man must have!
Highlights of the 2020 Prostate Disorders White Paper include:
The debate over testosterone: Experts disagree about its role in prostate cancer
Active Surveillance: When is it a viable option for men with intermediate-risk prostate cancer
3 emerging treatments for BPH: How do these minimally invasive approaches compare with TURP?
How to train your bladder: For men with or without prostate cancer, smart strategies to help overcome troublesome urinary symptoms
When prostate cancer treatment ends: A healthcare road map going forward
Common BPH drugs can delay a prostate cancer diagnosis: Fortunately, there's a simple fix
Should more men undergo genetic testing for prostate cancer risk?
What you should know about prostate cancer and the risk of shingles
Acupuncture: Is it worth a try for chronic prostatitis symptoms?
But that's not all. You'll also find "Ask the Doctor" columns in the 2020 Prostate Disorders White Paper, posing the same questions that are on your mind now as you're trying to make the best decisions possible about your prostate health, including what a Gleason score of 6 indicates about a man's prognosis. Read more about two treatment regimens that have been shown to prolong survival in men with advanced prostate cancer. You find this in the 2020 Prostate Disorders White Paper.
You'll get all this cutting edge information in the 2020 Prostate Disorders White Paper for the one low price of only $19.95 plus shipping. Order now and download the digital edition right away AND we'll mail you the print edition of the White Paper. This way you get the benefit of having both the print and digital editions. Best of all, this offer is risk-free. Your copy of the 2020 Prostate Disorders White Paper comes with a full money-back guarantee if you're not satisfied for any reason.
You'll learn to…
Recognize and respond to symptoms and changes as they occur.
Communicate effectively with your doctor, ask informed questions and understand the answers.
Make the right decisions, based on an understanding of the newest drugs, the latest surgical techniques and the most promising research.
Take control over your condition and act from knowledge rather than fear.
In this White Paper, you'll receive…
A thorough overview of the prostate condition, its causes and symptoms…
Treatment options with an expert recommendation on each…
Groundbreaking new research and a review of the latest studies…
Drugs used to treat the condition, with precautions on avoiding harmful side effects…
A glossary of medical terms you need to understand…
A listing of health information organizations and support groups…
…and more.
In the 2020 Prostate Disorders White Paper, you'll learn:
Key facts about your prostate, what it is and the role it plays in your overall health.
The signs and symptoms that something might be wrong.
How prostate cancer is diagnosed; what you need to know about:

The pros and cons of a PSA Test
The Digital Rectal Exam (DRE)
Your Prostate Biopsy and Gleason Score
The newest tests for diagnosing prostate cancer more accurately than ever before.
The latest treatment options available to you if you have prostate cancer, an enlarged prostate, or prostatitis.
Prostate disease prevention strategies.
Key research and studies on prostate cancer and BPH (also known as BPE or enlarged prostate).
Where to get further support and resources.
Why worry about my prostate health now?
New statistics tell us that a male born today has an 11 percent chance of being diagnosed with prostate cancer at some time in his life, but just a 2 to 3 percent chance of dying from the disease.
If you've recently been diagnosed with prostate cancer, you'll find the 2020 Prostate Disorders White Paper to be an invaluable resource for understanding and evaluating your treatment options.
You'll receive detailed descriptions of the three most common treatments: radical prostatectomy, external beam radiation therapy, and brachytherapy. Understand what they are, how they are performed, and the advantages and disadvantages of each.
You'll also learn whether your PSA and Gleason score make you a candidate for active surveillance so you can maintain a high quality of life without the often irreversible side effects of certain prostate cancer treatments.
You'll learn the most common side effects of each of the prostate cancer treatments detailed in this comprehensive White Paper.
You'll understand how doctors predict the seriousness of a cancer diagnosis, and how you can work in conjunction with your doctor to know all your options and decide which treatment is best for you.
You'll even learn how your doctor determines the extent of your cancer, and what the treatments and prognosis are for each stage of prostate cancer.
All in the 2020 Prostate Disorders White Paper-available to order now.
Learn what it means when you have to get up frequently at night to urinate…
What it means when it hurts to urinate or ejaculate…
Why your persistent lower back pain may be due to your prostate, rather than back strain or injury…
Rely on the 2020 Prostate Disorders White Paper to help you understand:
How prostate problems and treatments can affect sexual function…
The three kinds of prostate trouble…
The different kinds of prostatitis…
What actually causes an enlarged prostate…
Study the detailed color illustrations and comprehensive charts and tables in the 2020 Prostate Disorders White Paper, including:
An up-to-date 2020 chart of medications used in the treatment of benign prostatic hyperplasia, including information on how the drugs work, special instructions for taking the medications, and possible side effects.
An illustrated chart of the stages of prostate cancer. This chart explains the TNM staging system used to describe a cancer's clinical stage, or how far it has spread.
A chart of prostate cancer mortality rates 10, 15 and 20 years after radical prostatectomy.
An up-to-date 2020 listing of all medications used in the treatment of advanced prostate cancer.
The NCCN Risk Classification and Management chart that's used by physicians to help choose the correct prostate cancer treatment.
And these are just the highlights. Each chart and illustration is designed to help you gain a greater understanding of the vital information presented in the 2020 Prostate Disorders White Paper, so you can make the best decisions about your health care.

University of California, Berkeley,
School of Public Health
The White Papers are published by the University of California, Berkeley, School of Public Health. These publications are an outgrowth of the School's commitment to help improve the health and wellness of our community of readers by publishing expert advice on the prevention, diagnosis and treatment for a wide range of ailments and disorders. We provide trusted, authoritative health guidance from leading physicians and researchers at America's top medical centers and hospitals.
The School of Public Health is
consistently rated among the best in the nation
The School's faculty members are leading scholars in their respective fields. Many of them are members of the prestigious National Academies of Medicine and Sciences. The School enrolls approximately 700 graduate students a year, and educates about 425 undergraduate students through the upper-division public health major. The School's more than 15,000 graduates can be found working throughout the world, both in the public and private sectors.
The School of Public Health believes that everyone,
everywhere, has the right to a healthy life
Your purchase of the Prostate Disorders White Paper supports the School of Public Health faculty and students in their work to confront the major health challenges of our generation. A portion of every sale goes to funding scholarships. Your purchase will directly benefit your own health as well as the health of those in your community.
You can count on the White Papers to bring you medical information that is trustworthy, impeccably researched and current.
Take the Test
TRUE OR FALSE: Prostate cancer has a stronger hereditary component than breast and colon cancers.
TRUE OR FALSE: Lifestyle choices may be able to modify the effects of the genetic cards you are dealt at birth.
TRUE OR FALSE: Deaths from prostate cancer vary from region to region in the U.S.
TRUE OR FALSE: The most reliable way to detect prostate cancer in its early stages is to combine digital rectal exams with PSA testing.
Okay, let's see how you did. The answer to each of these questions is TRUE. Each question is taken from the pages of the 2020 Prostate Disorders White Paper. In it, you'll also learn what you can do to help protect yourself from prostate cancer:
Exercise helps, especially in older men. Learn how men 65 and older were able to reduce their risk of advanced prostate cancer by nearly 70 percent.
Foods that may reduce your risk of prostate cancer.
How excess weight can contribute to prostate cancer progression.
It's all in the 2020 Prostate Disorders White Paper.
Order now and you'll receive both a link to download the digital edition to read now AND we'll mail the print edition of the 2020 Prostate Disorders White Paper to explore and examine risk-free. Receive both the digital and the print editions for $19.95 plus shipping.
Our no-strings, can't lose, must-be-satisfied guarantee
You must be 100 percent convinced the 2020 Prostate Disorders White Paper contains essential information, or you may return it within your 30-day preview period.
Just click below to receive both the print and digital editions of the 2020 Prostate Disorders White Paper.
If you've just been diagnosed with prostate cancer…
If you've been struggling with prostate cancer treatments and their side effects…
If you're having problems urinating, or you're doing it too often at night…
If you're not sure if you should have your PSA levels tested…
Even if you're sure your prostate's doing just fine…
This information belongs in your hands.