Description
There are steps you can take, RIGHT NOW,
to lower your risk of getting cancer.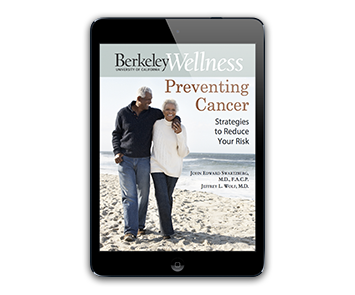 Preventing Cancer
Strategies To Reduce Your Risk
Written by John Edward Swartzberg, M.D., F.A.C.P.,
and Jeffrey L. Wolf, M.D.
Let the experts at the University of California
show you the way in this important report.
True or False?
Were in the midst of a cancer epidemic.
The risk of dying of cancer is greater than ever.
Pollution increases the risk of cancer more than smoking.
Cancer is inevitable; theres not much you can do to lower your risk.
Wrong. Wrong. Wrong. And wrong again. Many of us have mistaken ideas about cancer. We worry about unproven or disproved theories while ignoring or minimizing the major known risk factors.
Heres what we do know:
Experts estimate that 65 percent of all cancers, or about one million of the cancers diagnosed in the U.S. in 2010, might not have occurred if all Americans had quit (or never started) smoking … improved their diet … and got more exercise.
Of course, reducing your risk of getting cancer is not simple: We often hear conflicting advice about what we should, or should not, do to decrease our risk. Thats part of what makes cancer so scary. Moreover, there are plenty of people who seem to do everything right but are still diagnosed with cancer.
No wonder, so many of us feel anxious and confused about cancer.
To help dispel the myths and misconceptions about cancer, John Edward Swartzberg, M.D., F.A.C.P. and Jeffrey L. Wolf, M.D. share their wisdom and hands-on experience with cancer patients in a new Special Report, Preventing Cancer: Strategies to Reduce Your Risk.
Drs. Swartzberg and Wolf are ideally positioned to separate fact from fiction in cancer prevention.
You may already know Dr. Swartzberg from the UC Berkeley Wellness Letter, where he is Chair of the Editorial Board and writes a regular column. Dr. Swartzberg is also Clinical Professor of Medicine in the School of Public Health at the University of California, Berkeley.
An expert in cancer of the bone marrow and blood, Dr. Wolf is a Clinical Professor of Medicine at the University of California, San Francisco (UCSF), and directs the Myeloma Institute at UCSF.
Together, they have written a comprehensive primer on cancer prevention that belongs in the home library of everyone concerned with health and wellness.
Preventing Cancer puts the risks into perspective. It details lifestyle changes you can start today to help you reduce your risk of cancer in the future. It also tells you what you need to know about the screening tests that can help prevent cancer or increase the likelihood a tumor will be detected early, when it is most treatable.
This information is so crucial to your well being that Preventing Cancer is available instantly in a digital PDF download. Simply click the order button below, and in a few moments you can begin reading!
Your Mindset Matters: 12 Keys to Preventing Cancer
Misconceptions about cancer can hurt you. People who think that cancer is inevitable … or believe there is nothing they can do to prevent it … or have other misunderstandings about cancer may actually be at higher risk of getting cancer because they are less likely to take the steps that really matter.
Thats where Preventing Cancer can help! The report details 12 essential lifestyle recommendations to help you reduce your risk of cancer-providing data, research and bottom-line advice on each.
In Preventing Cancer youll learn:
How exercise lowers cellular growth factors and enhances the immune system
How a high-fat diet increases cancer risk
The surprising truth about beta carotene, folic acid and cancer
The role of vitamin D in cancer prevention
Why it makes sense to limit your intake of meat, fish and poultry cooked on the grill
How to minimize radiation exposure from CT scans, dental X-rays and other medical imaging tests
Five questions you should ask your doctor before undergoing a diagnostic test
Advice on reducing radon in your home
How to reduce your exposure to carcinogens at work
Why the air you breathe at home is probably more of a risk than the air outside – and what you can do about it
Emerging Issues: How Worried Should You Be?
Do cell phones cause cancer? What about deodorants? Theres so much conflicting health information in the media-findings that are described as groundbreaking but are very confusing to many of us. In Preventing Cancer we reveal the truth about a number of recent hot cancer topics and answer questions, such as:
Is Bisphenol-A (BPA) in hard plastics toxic? How can you limit your exposure to BPA?
Whats the connection between parabens (chemical preservatives used to keep bacteria from growing in cosmetics and other products, such as moisturizers, shampoo and shaving cream) and cancer?
Will eating organically grown fruits and vegetables reduce your risk of cancer? Its not as straightforward as you might think.
Do lawn pesticides cause cancer in humans?
Dioxins leaching from disposable plastic water bottles can cause cancer. True or false?
Does stress or a negative attitude increase the risk of cancer?
The latest research on artificial sweeteners and cancer
Is it safe to use a plastic container in the microwave, or is a glass or ceramic container safer?
Women who wear tight-fitting bras are more likely to get breast cancer than women who dont wear bras at all. True or false?
Does fluoride in water cause cancer in humans?
Theres more to Preventing Cancer. Much more. We explore prevention strategies and screening tests for seven individual cancers: breast, cervical, colorectal, liver, lung, prostate and skin cancer.
In addition, Preventing Cancer features answers to many commonly asked questions about cancer risk, including:
Since hormone therapy can increase the risk of breast cancer, what are some alternatives for treating hot flashes and night sweats?
Every time I go to the dentist Im told I need X-rays. Should I worry about this radiation?
My husband refuses to have a colonoscopy. What can I do to change his mind?
A friend told me to have a thermograph instead of a mammogram. Should I?
If I have dark skin do I still need to worry about skin cancer?
Do airport scanners increase the risk of cancer?
Will taking a cholesterol-lowering statin drug increase or decrease my risk of getting cancer?
Is there a Pap test for breast cancer?
Will taking selenium supplements reduce my risk of developing prostate cancer?
Does cows milk cause cancer … or protect against it? Ive heard both these claims.
Should I worry about nitrites in foods?
Does acrylamide in foods like French fries and chips cause cancer?

University of California, Berkeley,
School of Public Health
Preventing Cancer is published by the University of California, Berkeley, School of Public Health. This publication and others like it are an outgrowth of the School's commitment to help improve the health and wellness of our community of readers by publishing expert advice on prevention, diagnosis and treatment for a wide range of ailments and disorders. We provide trusted, authoritative health guidance from leading physicians and researchers at America's top medical centers and hospitals.
The School of Public Health is
consistently rated among the best in the nation
The faculty, consistently noted as among the leading scholars in their respective fields, comprises approximately 150 investigators. Among our faculty are Institute of Medicine members, American Association for the Advancement of Science fellows, Fulbright fellows, and National Academy of Sciences members. The School enrolls approximately 575 graduate students a year, as well as educating about 425 undergraduate students through the upper-division public health major. The School's more than 15,000 graduates can be found working throughout the world, both in the public and private sectors.
The School of Public Health believes that everyone,
everywhere has the right to a healthy life
Your purchase of the Preventing Cancer supports the School of Public Health faculty and students in their work to confront the major health challenges of our generation. A portion of every sale goes to funding scholarships. Your purchase will directly benefit your own health as well as those in your community.
You can count on The School of Public Health to bring you medical information that is trustworthy, impeccably researched and current.
Preventing Cancer is available to you instantly in a digital PDF download. Simply click the order button below, and in a few moments you can begin reading this important report!
Our no-strings, can't lose, must-be-satisfied guarantee
Preventing Cancer: Strategies to Reduce Your Risk comes with a risk-free guarantee of satisfaction: if youre not satisfied for any reason, simply contact Customer Service for a prompt refund of your full purchase price of $24.95. So you risk nothing.
Take the first step and place your risk-free order today. Download Preventing Cancer: Strategies to Reduce Your Risk in minutes and begin to take charge of your health today.