Description
How to Fight Age-Related Weight Gain
WHY is it so hard to eat right and control your weight? You know that eating right will help you maintain a healthy weight. You know that watching what you eat helps you stay fit and trim.
You also know that a healthy diet may even protect you against a variety of chronic health conditions:
Coronary heart disease
Diabetes
High cholesterol
High blood pressure
Arthritis
Certain types of cancer, like colon cancer
So WHY is it so hard to eat right and control your weight? Because there are so many obstacles to healthy eating:
Your busy lifestyle
The ready availability of high-calorie convenience foods
Super-sized portions
Too little time for physical activity
Conflicting information on what really works when it comes to nutrition and weight loss
Fortunately, help is at hand in your quest for good nutrition and safe, effective weight loss.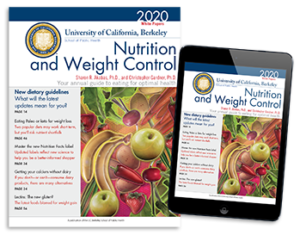 The 2020 Nutrition and Weight Control White Paper
Your annual guide to eating for optimal health
* * * * * * * * * *
The Expertise You Require in the Layperson's Language
You Can Understand and Apply
Despite the vast amount and variety of foods available, you might not be getting the best nutrition. In fact, just 1 in 10 adults meets the federal fruit or vegetable recommendations, according to a new study published by the Centers for Disease Control and Prevention (CDC). In addition, more than 2 in 3 adults in the U.S. are overweight or obese. Yet many don't realize that they have a weight problem, and so they ignore health advice and warnings.
You might think that dietary changes made later in life will have little effect on your health. But changing dietary habits and losing weight in middle or even old age can significantly improve how you feel and can decrease your risk of chronic diseases.
To help you in your quest for a healthier lifestyle, two leading authorities have joined together to bring you the 2020 Nutrition and Weight Control White Paper.
Introducing Your Nutrition and Weight Control Experts
Sharon R. Akabas, Ph.D., received her B.A. from Oberlin College, an M.A. in Exercise Physiology from Teachers College, and an M.S. and Ph.D. in Nutrition from Columbia University. During the past 38 years, she has taught more than 20 nutrition-related courses at Columbia, ranging from The Biochemical and Physiological Bases of Nutrition to Women and Weight, to Obesity: Etiology, Prevention, and Treatment. Most recently she is focusing on applying systems thinking to undergraduate and graduate food-related courses. This led to working with Dr. Eleanor Sterling to form a Community of Practice that focuses on applying systems thinking to food systems teaching. Dr. Akabas currently is the Director of the M.S. in Nutrition program at Columbia University's Institute of Human Nutrition.
Christopher Gardner, Ph.D., is a nutrition scientist and the Rehnborg Farquhar Professor of Medicine at Stanford University. For more than 25 years, his research has examined the health benefits of vegetarian diets, weight loss diets, and foods such as soy, garlic, antioxidants, and omega-3 fatty acids. Dr. Gardner has overseen more than a dozen randomized clinical trials involving more than 2,000 study participants. His research in nutrition and diet explores motivators of positive dietary change that also consider the impact of food choices on animal welfare, climate change, and social justice issues. An additional focus is on food systems and ways to improve the quality of food provided by institutions such as schools, worksites, senior centers, hospitals, and food banks.
These nutrition and weight control specialists show you how to:
Lose unwanted pounds.
Decide which weight loss tips are best for you and which likely won't work.
Choose exercises that help you lose weight and keep it off.
Shop for, prepare and enjoy a health-promoting, balanced diet.
Make healthier food choices using the USDA nutrition model
Order today… and these are just a few of the topics you'll read:
New dietary guidelines: What will the latest updates mean for you?
Eating Paleo or keto for weight loss: 2 popular diets may work short term, but you'll risk nutrient shortfalls
Master the new Nutrition Facts label: Updated labels reflect new science to help you be a better-informed shopper
Getting your calcium without dairy: If you don't – or can't – consume dairy products, there are many alternatives
Lectins – The new gluten?: The latest foods blamed for weight gain.
"Ultra-processed" foods may be shortening your life span
How antibiotics could be contributing to excess weight by affecting your gut microbiome
PLUS, our ever-popular "Ask the Expert" column in the 2020 Nutrition and Weight Control White Paper features expert answers to the questions on your mind as you look for the best healthy eating guidelines and the most successful weight loss strategies.

University of California, Berkeley,
School of Public Health
The White Papers are published by the University of California, Berkeley, School of Public Health. These publications are an outgrowth of the School's commitment to help improve the health and wellness of our community of readers by publishing expert advice on the prevention, diagnosis and treatment for a wide range of ailments and disorders. We provide trusted, authoritative health guidance from leading physicians and researchers at America's top medical centers and hospitals.
The School of Public Health is
consistently rated among the best in the nation
The School's faculty members are leading scholars in their respective fields. Many of them are members of the prestigious National Academies of Medicine and Sciences. The School enrolls approximately 700 graduate students a year, and educates about 425 undergraduate students through the upper-division public health major. The School's more than 15,000 graduates can be found working throughout the world, both in the public and private sectors.
The School of Public Health believes that everyone,
everywhere, has the right to a healthy life
Your purchase of the Nutrition and Weight Control White Paper supports the School of Public Health faculty and students in their work to confront the major health challenges of our generation. All profits earned by the University of California, Berkeley, from the sale of the White Papers fund scholarships, fellowships, and student grants, plus resources for student organizations and activities at the School of Public Health. Your purchase will directly benefit your health as well as the health of the greater community.
You can count on the White Papers to bring you medical information that is trustworthy, impeccably researched and current.
But that's not all! Order now, and you'll also receive this
FREE Health Tips as an instant download: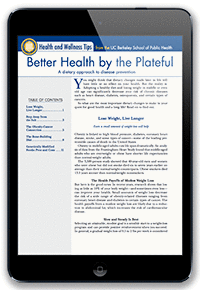 FREE Nutrition and Weight Control Health Tips:
Better Health by the Plateful!
A Dietary Approach to Disease Prevention
Better Health by the Plateful! is our gift to you just for ordering the 2020 Nutrition and Weight Control White Paper. You'll discover:
Lose Weight, Live Longer


Even a small amount of weight loss will help.

Step Away from the Salt


Cutting back on sodium can significantly lower your risk of a heart attack.

The Obesity-Cancer Connection


Ways to minimize the risk.

The Bone-Building Diet


The best foods for preventing bone loss and fractures.

Genetically Modified Foods: Pros and Cons


Weighing the potential benefits against the safety concerns.
Save 50 Percent and Get a FREE Health Tips!
When you order today you'll receive both the digital and print editions of the 2020 Nutrition and Weight Control White Paper, plus digital Health Tips Better Health by the Plateful!, all for only $19.95 plus shipping. That's a savings of 50 percent off the regular $39.95 cover price.
Order now and download the digital edition right away AND we'll mail you the print edition of the White Paper. This way you'll have access to the digital edition immediately and a printed edition to refer to whenever necessary. This is information you will not want to miss in your quest for better health for you and your loved ones.
Our no-strings, can't lose, must-be-satisfied guarantee
You must be 100 percent convinced this is essential information you can't do without, or you may return it within the 30-day preview period. Frankly, it's hard to imagine how anyone would part with this information. But you decide once you see it. You don't have to take our word for it.
Just click below to order the 2020 Nutrition and Weight Control White Paper.
To keep you on the cutting edge of nutrition and weight control research, we offer an annual research update service to White Paper readers. That way, your White Paper is always current, never out of date.
A letter will be sent to you in advance and if you wish to examine the next year's Nutrition and Weight Control White Paper, do nothing and it will arrive automatically with an invoice. If you don't wish to see the new White Paper, simply return the letter within 30 days. You may notify us at any time if you don't want to continue in the program.
Remember, your complete satisfaction is fully guaranteed.