Description
The No-Nonsense Guide to Staying Well
Just for Men!
Introducing a new authoritative report from the editors of the
University of California, Berkeley Wellness Letter
For many men in your father's and grandfather's generation, growing older was something to dread.
It often meant premature death from a heart attack or stroke, failing eyesight, loss of teeth, reduced muscle strength and energy, weight gain … If your father and grandfather regularly saw a physician, the advice they most likely heard was to "take it easy" and not "overdo it" on the tennis court or at work.
But this is no longer true-or it needn't be. If you are 50 you are young these days. Your sixties and seventies and even eighties should be prime years. Some say 70 is the "new middle age."
Heart disease and other conditions that once disabled men are now less likely to do so. For there have been incredible breakthroughs in medical treatments, new pharmaceuticals, and diagnostic tests that can predict disease or detect it early enough to prevent it or stop it in its tracks.
We know more about diet than ever before-and most importantly, we know that a healthy diet is a true key to longevity. And we know that a high fitness level and regular vigorous exercise are another true key.
The last two decades have seen an upsurge in medical research, and much of it has been about prevention-from a vaccine that prevents shingles and innovative ways of forestalling bone loss and restoring sex drive in men, to eye care that protects vision and dental care that has virtually made dentures a thing of the past.
And there's more news almost every day.
Exercise, for example, is now known to reduce the risk of some cancers. Staying physically active is also one of the best ways of preserving mental function and forestalling cognitive decline. Regular walking is good not only for the heart but for the brain.
Certain kinds of screening for cancer, particularly colonoscopy and other screening tests for colon cancer, have been shown to save lives. There are new ways to prevent heart attacks, and almost miraculous new treatments for cardiovascular disease.
There's no shortage of health news-on the internet, in the bookstore, on TV. Information and misinformation, truth and myth, fly from person to person and from computer to computer pretty fast. How can you sort through all this "information overload" so that you can make informed decisions about your own diet, your own exercise program, treatments, medications, dietary supplements, and other preventive steps?
Fortunately there's an authoritative resource, from one of the most respected health institutions in the world, the School of Public Health at the University of California, Berkeley. You can turn to this resource for the latest evidence-based guidance on how you can live a longer, more active, healthier life. And you may download this resource absolutely risk-free in the privacy of your home.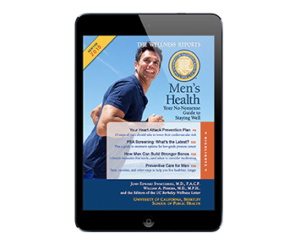 The 2019 Men's Health Wellness Report
Your No-Nonsense Guide to Staying Well
* * * * * * * * * *
With thousands of books … articles … advertisements … websites … magazines … and clinical studies published every month, no single person can keep up with all of the new developments in men's health. It would be a full time job, and I am guessing you already have too much to do.
And, unless you are an M.D. yourself, do you really have the background to separate the good science from the hype?
That's where the Wellness Report series from the University of California, Berkeley Wellness Letter can help save you time and money, while helping you live longer with optimal health and wellness.
Our editorial board, all M.D.s or Ph.D.s or both, with impressive credentials in their specialties, conduct exhaustive searches of the medical literature on a particular topic-in this case breakthroughs in men's health.
They then review the research to ensure that it's based on scientifically sound methods. They confirm the accuracy and reliability of the findings. They judge its practicality and usefulness.
Next, our editors painstakingly convert medical jargon, formulas, and statistics into clear, plain English. I know you will find it fascinating reading. And helpful. Practical advice you can use right now-not speculation about possible future discoveries.
Here's a small sampling of what you'll discover in the 2019 Men's Health Wellness Report.
Screening for cancer is always a good thing-or is it? Here's what you need to know about the latest recommendations on PSA testing for prostate cancer.
The 5 vaccines all men need. Are you up to date?
The best non-invasive treatments for benign prostatic hyperplasia (BPH), or enlarged prostate, plus when to consider surgery.
Are you taking a statin drug to lower LDL (bad) cholesterol? Should you be? Get the latest recommendations.
Should you be tested for "low T"? What every man should know about testosterone therapy.
The simple lifestyle step that may lower your level of triglycerides, a type of fat in the blood linked to elevated cardiovascular risk.
New blood pressure guidelines have expanded the number of men who qualify as having hypertension. Are your numbers still in the normal range?
Do you really need a colonoscopy to screen for colon cancer, or can less invasive tests suffice?
Can eating fatty fish help you prevent prostate cancer?
You've probably heard that moderate intake of alcohol has been linked to a lower risk of heart disease. But do you know what the definition of moderate is?
Are all carbs bad? Or just some carbs? What about good and bad fats? The answers may surprise you.
The 3 risk factors for a heart attack that cannot be changed-and the 5 that absolutely can.
These four lifestyle steps can cut your risk of many cancers. Are you practicing them?
When it comes to bone health, there's a major risk factor for fractures that's unique to men. Do you know what it is?
You have chest pain that seems to be spreading, and you are having trouble breathing. These are classic signs of heart attack-not to be ignored. What is the first thing you do? The second? Knowing the answers can save your life.
One more reason the Mediterranean diet is among the very best for mens hearts.
The 10 steps that can protect you from contracting or spreading a sexually transmitted disease.
What works-and what doesn't-for treating hair loss.
Are you getting enough exercise? And is it the right type? Find out.
Oral cancers are twice as common in men as in women-but did you know a simple vaccine might help prevent them?
Why most men should get their omega-3s from eating fatty fish two or three times a week, and not from fish-oil pills.
An enlarged prostate can cause painful symptoms and affect your quality of life. Learn 8 practical tips for managing the daily problems caused by this condition.
Osteoporosis isn't just for women. Follow these 6 lifestyle steps to help you build strong bones-and stave off fractures.
Should all former smokers be screened for lung cancer?
Should you have your bone density measured? How often?
The seven steps that can help ensure a long, fulfilling sex life.
Screening tests can find diseases early, when they are easier to treat. Do you know the eight major tests men should consider?
And so much more.
The best buy in men's healthcare today!
But that's not all! Order now, and you'll also receive this
FREE Digital Report as an instant download: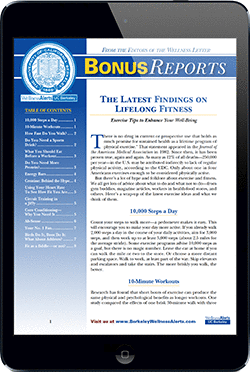 The Latest Findings on Lifelong Fitness
Exercise Tips to Enhance Your Well-Being
10,000 Steps a Day.
There's no magic number, but that's a great goal.
How Fast Do You Walk?
To get a rough estimate of your walking speed, count how many steps you take per minute.
10-Minute Workouts.
Research shows that short bouts of exercise can produce the same physical and psychological benefits as longer workouts.
Do You Need a Sports Drink?
Most exercisers don't need one-especially not when exercising for an hour or less. But if you want a designer sports drink, here's how to make your own.
What You Should Eat Before a Workout.
The goal is to maintain blood sugar and carbohydrate stores in the body, but not have much undigested food in the stomach.
Do You Need More Protein?
Endurance athletes may need more protein than the RDA, but their higher-calorie diet generally supplies it with no problem.
Creatine: Behind the Hype.
Of all supplements that are supposed to improve athletic performance, the amino acid creatine has probably gotten the most attention. Here's the bottom line.
Circuit Training in a Jiffy.
If you're often pressed for time at the health club or gym, try this form of "circuit training" that combines weight training and aerobic exercise.
Core Conditioning-Why You Need It.
The advantages of building a strong core are many. Such training focuses on developing the muscles at the center of your body, rather than working on isolated parts.
Ab-Sense.
Many people do sit-ups incorrectly and for the wrong reasons. Here's the way to go.
Birds Do It, Bees Do It: What About Athletes?
Does sex impair or help athletic performance the next day? What about more ordinary physical endeavors, such as a gym workout?
Just click below for your risk-FREE copy of the 2019 Men's Health Wellness Report.
Men are less likely to seek health care than women. They are more likely to die of injuries. More American men develop cancer and die of it than women, and they do so at earlier ages. Men develop cardiovascular disease 10 years earlier than women on average. Men are less likely to believe that diet and exercise will help prevent disease.
As a man, maybe in the prime of your life, maybe in perfect health, maybe with some health problems already, you will find our 2019 Men's Health Wellness Report a great way to begin setting things straight.
The U.S. Department of Health & Human Services reports that the average annual expenditure on healthcare for an American male is $6,313. Even a routine consultation at your doctor's office (and we are not suggesting that you fail to have this consultation) could cost $50 or more for a 10-minute visit.
But now, benefiting from the latest research breakthroughs in men's health (maybe including some advances your physician has not yet heard about) won't cost nearly that much. That's because Men's Health costs just $19.95 for the digital edition.

University of California, Berkeley,
School of Public Health
The Wellness Reports are published by the University of California, Berkeley, School of Public Health. These publications are an outgrowth of the Schools commitment to help improve the health and wellness of our community of readers by publishing expert advice on prevention, diagnosis and treatment for a wide range of ailments and disorders. We provide trusted, authoritative health guidance from leading physicians and researchers at Americas top medical centers and hospitals.
The School of Public Health is
consistently rated among the best in the nation
The faculty, consistently noted as among the leading scholars in their respective fields, comprises approximately 150 investigators. Among our faculty are Institute of Medicine members, American Association for the Advancement of Science fellows, Fulbright fellows, and National Academy of Sciences members. The School enrolls approximately 575 graduate students a year, as well as educating about 425 undergraduate students through the upper-division public health major. The School's more than 15,000 graduates can be found working throughout the world, both in the public and private sectors.
The School of Public Health believes that everyone,
everywhere has the right to a healthy life
Your purchase of the 2019 Men's Health Wellness Report supports the School of Public Health faculty and students in their work to confront the major health challenges of our generation. A portion of every sale goes to funding scholarships. Your purchase will directly benefit your own health as well as those in your community.
Thanks to this special offer, you can get the digital edition of the 2019 Men's Health Wellness Report now for only $19.95.
Order now and download the digital edition right away.
Our no-strings, can't lose, must-be-satisfied guarantee
You don't risk a penny to take a good, long look at the 2019 Men's Health Wellness Report. You must be 100 percent convinced this is essential information you can't do without, or you may return it within your 30-day preview period.
Just click below to order the digital edition of the 2019 Men's Health Wellness Report and your free gift, Exercise Tips To Enhance Your Well-Being. Keep the free digital gift even if you decide, for any reason, to request a refund for your Wellness Report.
Your complete satisfaction is fully guaranteed. This urgent information belongs in your hands without another minute's delay.