Description
Protect Your Memory As You Age
Even if you're over 40 and you haven't noticed a change in your mental alertness and memory, you're-unfortunately-likely to notice a shift sooner than you think.
Not a pleasant picture. But now there's hope-and good news-regarding memory and aging!
It's all detailed in an important new White Paper you'll want to read and share with family and friends.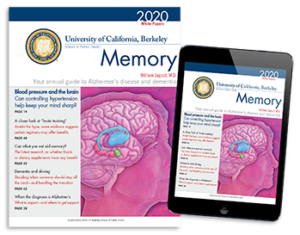 The 2020 Memory White Paper
Your Annual Guide to Alzheimer's Disease and Dementia
The 2020 Memory White Paper is authored by William Jagust, M.D., a professor of public health and neuroscience at the University of California, Berkeley, and a faculty senior scientist at Lawrence Berkeley National Laboratory. His work has been focused on understanding the aging brain-particularly, the borderland between brain aging and Alzheimer's disease.
Here are just a few topics we discuss in the 2020 Memory White Paper:
A wealth of research shows that people who follow the well-established health habits discussed in the White Paper have the best shot at remaining sharp-witted as they grow older.
Find out about recently developed advances in brain imaging that experts are calling a game changer. With a focus on biomarkers, not symptoms, they're helping to redefine what it means to have dementia and Alzheimer's disease.
Tips for figuring out if your medicines may be to blame for memory issues.
Expert advice on easing the toll of anticipatory grief, a complex phenomenon that can affect family members and others who care for people with Alzheimer's disease and other forms of dementia.
Learn exactly how and where memories are made.
Get strategies for boosting your memory power, no matter what age you are.
Live long enough and most of us have some cognitive decline. Get insights on whether what you're experiencing is normal, an early stage of mild cognitive impairment, or a form of dementia-and what you might be able to do about it.
Is there any research showing that physical activity protects against mental decline? Experts answer this question for you.
With your permission, we want to send you a copy of this breakthrough memory research to examine in the privacy of your home or office risk-free.
Breakthrough medical studies
and expert information reveal how you might:
Turn back the clock on your aging mind.
Recall names, dates, facts and figures-with greater ease.
Better retain what you read in newspapers, magazines and books.
Help keep dementia at bay.
To learn how you can receive a risk-free copy of this vital White Paper on enhancing mental capacity… preserving memory… and combating Alzheimer's disease, read on:
Have you ever experienced one of these discomforting "senior moments"?
You pick up the phone to call a friend you've known for years -and for the life of you, you can't recall the phone number even though you've dialed it hundreds of times.
You call people by the wrong name-or you forget their name altogether.
When you're talking, you can't think of the word you want to use – even if it's a familiar, everyday object.
When we reach middle age and beyond, our memory, mental acuity and cognitive powers may gradually diminish, sometimes to the point where it affects our work, our relationships and even our safety and health.
For each passing decade -into our 50s – 60s – 70s – our ability to recall dates, names, facts and figures fades – slowly at first, then sometimes more rapidly.
And that's assuming were lucky enough to be in good health.
If someone you love is one of the estimated 5.7 million Americans who has Alzheimer's disease, you can expect his or her loss of memory and mental function to grow progressively worse and, eventually, lead to the need for round-the-clock care.
It's not a pleasant picture. But there's hope-and good news-regarding memory and aging.
Each year, our team of expert medical editors spends countless hours searching through the major studies and research on memory, mental acuity in the aging, Alzheimer's, other forms of dementia and related medical topics.
From these, we pick the year's most important scientific papers. Then we edit them into plain English that's both easy to understand and compelling to read.
The 2020 Memory White Paper is essential reading for any man or woman looking to maintain optimal cognitive mental health throughout his or her lifetime.
In the 2020 Memory White Paper, you will discover:
An up-to-date listing of medications for treating Alzheimer's.
What effect alcohol has on your memory.
New findings on how keeping your mind active may stave off dementia.
Simple tests for measuring cognitive impairment.
Risk factors for Alzheimer's disease.
PLUS: you'll find "Ask the Doctor" columns throughout the White Paper with answers to many of your questions about Alzheimer's.

University of California, Berkeley,
School of Public Health
The White Papers are published by the University of California, Berkeley, School of Public Health. These publications are an outgrowth of the School's commitment to help improve the health and wellness of our community of readers by publishing expert advice on the prevention, diagnosis and treatment for a wide range of ailments and disorders. We provide trusted, authoritative health guidance from leading physicians and researchers at America's top medical centers and hospitals.
The School of Public Health is
consistently rated among the best in the nation
The School's faculty members are leading scholars in their respective fields. Many of them are members of the prestigious National Academies of Medicine and Sciences. The School enrolls approximately 700 graduate students a year, and educates about 425 undergraduate students through the upper-division public health major. The School's more than 15,000 graduates can be found working throughout the world, both in the public and private sectors.
The School of Public Health believes that everyone,
everywhere, has the right to a healthy life
Your purchase of the Memory White Paper supports the School of Public Health faculty and students in their work to confront the major health challenges of our generation. A portion of every sale goes to funding scholarships. Your purchase will directly benefit your own health as well as the health of those in your community.
You can count on the White Papers to bring you medical information that is trustworthy, impeccably researched and current.
"To live is to remember and to remember is to live," wrote Samuel Butler. If remembering is equated with living, no wonder memory is such a fundamental health concern.
And whether you're worried about Alzheimer's disease or just remembering where you left your car keys, eyeglasses, or TV remote, the vital research breakthroughs reported in the 2020 Memory White Paper could make an incredible difference in your life:
Blood Pressure and the brain: can controlling hypertension help keep your mind sharp?
A closer look at "brain training"
The latest research on whether foods or dietary supplements aid memory
Handling the transition when someone should give up their car keys
How to tell if it's a "senior moment" or something more worrisome
Advice for handling the emotional toll of an Alzheimer's diagnosis
Why depression is difficult to spot – and treat – in people with dementia
Keep your mind sharp
and clear well into your 80s and beyond
Whether it's you … your spouse … your mother … your father … an aunt or uncle … grandparent … or a best friend … everyone faces the possibility of diminishing memory, loss of optimal brain function and slowed mental capacity with age.
By 2050, it is projected that up to 16 million people will have Alzheimer's disease.
But now, not everyone must succumb to memory loss, dementia and other age-related losses of brain function.
Every day, scientists are uncovering evidence that diminished memory and mental capacity are NOT inevitable for everyone. Learn how nutrition and lifestyle habits can help improve the odds of warding off cognitive decline.
The 2020 Memory White Paper brings you the best and most powerful of the year's memory and mind breakthroughs from leading medical research facilities around the world.
And all with a full money-back guarantee if you are not satisfied with your 2020 Memory White Paper.
But that's not all! Order now, and you'll also receive this
FREE Health Tips as an instant download: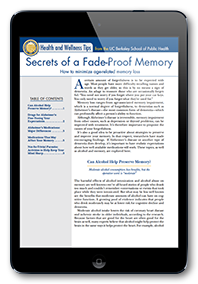 FREE Memory Health Tips:
Secrets of a Fade-Proof Memory
Hints and tips on avoiding age-related memory loss
Can Alcohol Help Preserve Memory?
Drugs for Alzheimer's: Fine-Tuning Your Expectations.
Not-So-Trivial Pursuits: Activities to Help Keep Your Mind Sharp.
Medications That May Affect Your Memory
Save 50 Percent and Get a FREE Health Tips!
That's right. You'll receive both the digital and print editions of the 2020 Memory White Paper, PLUS the Health Tips, Secrets of a Fade-Proof Memory, all for only $14.95 plus shipping. Order now and download the digital edition right away AND we'll mail you the print version of the White Paper. This way you'll have access to the digital edition immediately and a printed edition to refer to whenever necessary.
If you're not satisfied with your 2020 Memory White Paper for any reason, simply return it within 30 days. You may keep the Health Tips as a gift for just giving it a try.
But don't delay. Alzheimer's, dementia and other brain conditions affecting memory and thinking only get worse as time passes. The sooner you act, the better.
It is very important to seek early diagnosis and treatment of memory disorders. Ignoring the symptoms can compound your problems. Learn as much as you can about them now so you can be more proactive about your health.
Our no-strings, can't lose, must-be-satisfied guarantee
If you're not completely satisfied with the 2020 Memory White Paper, simply return your book within 30 days for a full refund. Best of all, the Health Tips is yours to keep FREE, even if you decide to return your White Paper.
You don't risk a penny to take a good, long look at the 2020 Memory White Paper. You must be 100 percent convinced this is essential information you can't do without, or you may return it within 30 days.
You don't have to take our word for it.
Just click below for your 30-day risk-free preview of the 2020 Memory White Paper. Order now and download your digital edition of the 2020 Memory White Paper and your FREE Health Tips, Secrets of a Fade-Proof Memory. Keep the free gift even if you decide, for any reason, to return your White Paper.
Your complete satisfaction is fully guaranteed. This urgent information belongs in your hands without another minute's delay.