Description
The Memory Medical Guidebook
Your Guide to Alzheimer's Disease and Dementia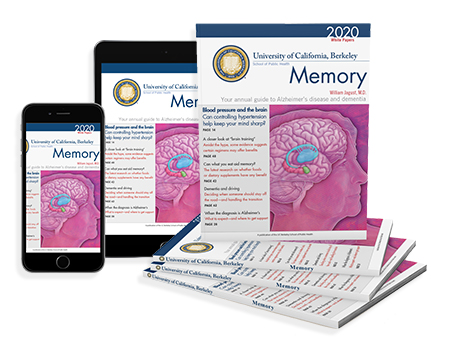 Published by the University of California, Berkeley, School of Public Health.
Here are just a few topics we discuss in the Memory Medical Guidebook:
The Biology of Memory
Health Conditions That Can Cause Memory Loss
Age-Associated Memory Impairment
Mild Cognitive Impairment (MCI)
Alzheimer's Disease and Other Irreversible Dementias
Diagnosing Alzheimer's Disease and Dementia
Risk Factors for Alzheimer's Disease and Dementia
Prevention Strategies: What You Can Do to Help Stay Mentally Sound
Treating Alzheimer's Disease and Dementia
Chart: Commonly Used Drugs for Treating Alzheimer's Disease 2020
Handling the Role of Caregiver
Health Information Organizations and Support Groups
Read More…
A wealth of research shows that people who follow the well-established health habits discussed in the Medical Guidebook have the best shot at remaining sharp-witted as they grow older.
Find out about recently developed advances in brain imaging that experts are calling a game changer. With a focus on biomarkers, not symptoms, they're helping to redefine what it means to have dementia and Alzheimer's disease.
Tips for figuring out if your medicines may be to blame for memory issues.
Expert advice on easing the toll of anticipatory grief, a complex phenomenon that can affect family members and others who care for people with Alzheimer's disease and other forms of dementia.
Learn exactly how and where memories are made.
Read More…
Get strategies for boosting your memory power, no matter what age you are.
Live long enough and most of us have some cognitive decline. Get insights on whether what you're experiencing is normal, an early stage of mild cognitive impairment, or a form of dementia-and what you might be able to do about it.
Is there any research showing that physical activity protects against mental decline? Experts answer this question for you.
Order the Memory Medical Guidebook today, and you'll also receive a FREE guide as an instant download.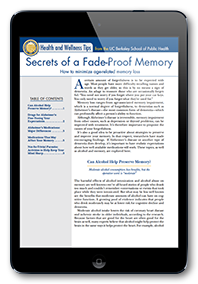 FREE Memory Health Tips:
Secrets of a Fade-Proof Memory
Hints and tips on avoiding age-related memory loss
Can Alcohol Help Preserve Memory?
Drugs for Alzheimer's: Fine-Tuning Your Expectations.
Not-So-Trivial Pursuits: Activities to Help Keep Your Mind Sharp.
Medications That May Affect Your Memory
It is important to seek early diagnosis and treatment of memory disorders. Ignoring the symptoms can compound your problems. Learn as much as you can about them now so you can be more proactive about your health.
Receive both the digital and print editions of the Memory Medical Guidebook, plus the Secrets of a Fade-Proof Memory digital guide, all for only $9.95 plus shipping. Order now and download the digital editions right away and we'll mail you the print version of the Medical Guidebook. This way you'll have access to the digital edition immediately and a printed edition to refer to whenever necessary.
Your complete satisfaction is fully guaranteed.