Description
You DON'T have to live with urinary incontinence …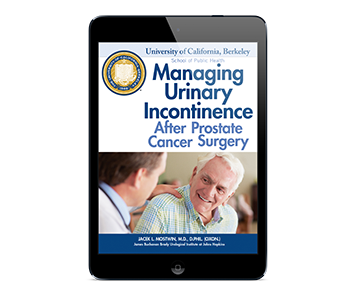 Managing Urinary Incontinence After
Prostate Cancer Surgery
Many men undergoing a radical prostatectomy for prostate cancer focus on erectile dysfunction as the major complication they face.
But in fact, following prostate surgery, men can confront another potentially more troubling complication: urinary incontinence. The incidence of serious incontinence at medical centers of excellence appears to be relatively low – in the 3 percent range. But if you look at overall national patient survey data, incontinence numbers are dramatically higher, in the range of 50 to 60 percent.
The good news is that most incontinence is temporary. However, for some men it persists – and will continue to persist unless you take the right steps to treat this condition, which if left untreated can lead to embarrassment and even social withdrawal.
Whether you are already experiencing incontinence symptoms — or you are a candidate for prostate cancer surgery and would like to take steps to reduce the risk of incontinence — this special health report provides the information you need.
Jacek Mostwin, M.D., D. Phil.(Oxon) is ideally positioned to write Managing Urinary Incontinence After Prostate Cancer Surgery. In addition to heading the Division of Reconstructive and Neurological Urology at Johns Hopkins Medicine, Dr. Mostwin has performed more than 3,000 radical prostatectomies and is an expert in bladder function in men and women.
From his extensive personal clinical experience, Dr. Mostwin understands firsthand the questions and concerns of patients just like you because he treats them every day in his practice.
Urinary Incontinence: Embarrassing and Life-Limiting
Although urinary incontinence is not a life-threatening problem, if left untreated it can become a life-limiting condition — one that affects quality of life and self-esteem. The stigma attached to wet clothing and offensive odor can have profound consequences, including an avoidance of everyday activities and encounters.
But you don't have to live with urinary incontinence. As Dr. Mostwin explains, treatments are available that can dramatically improve bladder control.
In this new special health report, you'll learn the components of the urinary system and how the bladder is affected by prostate cancer surgery. Dr. Mostwin also explains how choosing an experienced surgeon can markedly reduce the chances of severe incontinence occurring as a result of surgery.
You'll also read about nonsurgical therapies for chronic mild to moderate urinary incontinence. Topics include:
How to keep an intake and voiding diary to show your urologist
Behavioral therapy for post prostatectomy incontinence, as explained by Dr. Patricia S. Goode, an incontinence specialist at the University of Alabama at Birmingham
How to use Kegel exercises — before and after surgery – to target the right muscles for enhancing bladder control
Choosing incontinence pads and diapers to provide comfort in public
The injection of bulking substances such as collagen to improve resistance to outflow
For men with moderate stress urinary incontinence that hasn't gotten better a year after surgery, it may be time to consider medical treatments. Dr. Mostwin discusses the AdVance sling, which works by repositioning the urethra and sphincter to their original anatomical position.
He also answers questions about the artificial urinary sphincter (AUS) for persistent and severe incontinence:
When should a man consider having an AUS implanted?
What can a patient expect during AUS implant surgery?
What happens following the surgical implantation of an AUS?
Is an AUS a lifetime implant and what happens if something goes wrong?
What precautions should you take when you have an AUS?
What if you experience urinary urgency (overactive bladder) without full-blown incontinence? The special health report presents a multi-step bladder retraining program that offers effective strategies for treating the problem.
Dr. Mostwin also discusses medications that can be used in conjunction with bladder retraining to alleviate urinary symptoms — and explains sacral nerve stimulation with the FDA-approved InterStim device, which can be used to establish bladder control if behavioral therapy and medications aren't sufficient.

University of California, Berkeley, School of Public Health
Managing Urinary Incontinence After Prostate Cancer Surgery is published by the University of California, Berkeley, School of Public Health. These publications are an outgrowth of the School's commitment to help improve the health and wellness of our community of readers by publishing expert advice on the prevention, diagnosis and treatment for a wide range of ailments and disorders. We provide trusted, authoritative health guidance from leading physicians and researchers at America's top medical centers and hospitals.
The School of Public Health is
consistently rated among the best in the nation
The School's faculty members are leading scholars in their respective fields. Many of them are members of the prestigious National Academies of Medicine and Sciences. The School enrolls approximately 700 graduate students a year, and educates about 425 undergraduate students through the upper-division public health major. The School's more than 15,000 graduates can be found working throughout the world, both in the public and private sectors.
The School of Public Health believes that everyone,
everywhere has the right to a healthy life
Your purchase of Managing Urinary Incontinence After Prostate Cancer Surgery supports the School of Public Health faculty and students in their work to confront the major health challenges of our generation. All profits earned by the University of California, Berkeley, from the sale of the White Papers fund scholarships, fellowships, and student grants, plus resources for student organizations and activities at the School of Public Health. Your purchase will directly benefit your health as well as the health of the greater community.
Managing Urinary Incontinence After Prostate Cancer Surgery is designed to give you unprecedented access to the expertise you need to manage your condition.
You can count on Managing Urinary Incontinence After Prostate Cancer Surgery to bring you medical information that is trustworthy, impeccably researched and current.
This information is so crucial that Managing Urinary Incontinence After Prostate Cancer Surgery is available instantly as a digital download. Just click the order button below and in a few moments your guide will be delivered to your email address. It's that simple!
Just $19.95 with a FULL Money-Back Guarantee of Satisfaction
Managing Urinary Incontinence After Prostate Cancer Surgery comes with a risk-free guarantee of satisfaction: if you're not satisfied for any reason, simply contact Customer Service for a prompt refund of your full purchase price of $19.95.
So you risk nothing. Don't hesitate — place your risk-free order today.