Description
How to Greatly Improve Your Breathing
In the 2019 Lung Disorders White Paper, you will discover exciting advances and the most useful, current information to help you prevent or treat conditions affecting your lungs. You will learn how to prevent these diseases and, when symptoms arise, the best ways for you to work with your doctor to diagnose and treat them.
The 2019 Lung Disorders White Paper
Your Annual Guide to Prevention, Diagnosis and Treatment
* * * * * * * * * *
The Expertise You Need in Layperson's Language
You Can Understand and Use
Introducing Your Lung Disorders Expert
Stephen C. Mathai, M.D., M.H.S., is Associate Professor of Medicine, Division of Pulmonary and Critical Care Medicine, Johns Hopkins University School of Medicine, in Baltimore. He received his undergraduate degree from Rutgers College in New Brunswick, New Jersey, and he received his medical degree from Jefferson Medical College in Philadelphia. Dr. Mathai completed his internship and residency at Thomas Jefferson University Hospital in Philadelphia, where he also served as Chief Resident. He completed his fellowship in Pulmonary and Critical Care Medicine at Johns Hopkins and received his Master of Health Science degree from the Johns Hopkins Bloomberg School of Public Health. He is board certified in pulmonary and critical care medicine.
Dr. Mathai has a clinical and research interest in pulmonary vascular disease and holds several research grants supporting this work. He is a member and active participant in several medical societies, including the American Thoracic Society and the American College of Chest Physicians, where he is the Chairperson of its Pulmonary Vascular Disease Network. He was also elected to the Rare Disease Advisory Panel of the Patient Centered Outcome Research Institute. Dr. Mathai has been invited to speak nationally and internationally on pulmonary topics, and his work has been published in numerous journals, including Chest, the American Journal of Respiratory and Clinical Care Medicine, The Journal of Heart and Lung Transplantation, the Annals of the American Thoracic Society, and the European Respiratory Journal.
The 2019 Lung Disorders White Paper is your up-to-date guide to the prevention, diagnosis, and management of lung problems, ranging from emphysema, chronic bronchitis, and interstitial lung disease to asthma, lung cancer, sleep apnea, and pulmonary embolism. You'll receive a detailed overview of what the medical field knows about lung disorders. You'll also find reports on the latest studies and advances, answers to queries from patients, and much more.
Here's a sample of special topics that warranted particular attention this year:
Screening for lung cancer: Who can benefit from testing-and what to expect.
The bacteria in your lungs: New insights may lead to improved treatments for lung disease
Stem-cell therapy for lung disorders: Unproven (and costly) treatments can be ineffective or even dangerous
Is a damp house causing your cough? Mold and moisture can trigger or worsen respiratory symptoms
Can treating sleep apnea protect your heart? CPAP alone may not reduce heart attack and stroke risk
The 2019 Lung Disorders White Paper also features an illustration showing the respiratory system with an explanation about how each part works. Plus, the White Paper includes:
A chart of commonly used bronchodilators, updated for 2019. Including: Typical daily dosages, how to take, how they work, precautions, most common side effects, when to call your doctor.
A chart of anti-inflammatory drugs, updated for 2019.
A glossary of terms and an index to help you find the topics of interest to you.
The White Paper is designed to help you ensure the best outcome. As with any illness, deciding how to manage a lung disorder involves weighing the risks and benefits of all the options. Cures are available for many lung disorders; for all of them, treatment is available to alleviate the symptoms. Whatever your situation, it is important that your personal preferences are part of the decision-making process. Your doctor has the information, but it is your breath and your life.
Use what you learn in this year's White Paper to have an effective conversation with your doctor.
Recognize and respond to symptoms and changes in your breathing and lung function as they occur.
Communicate effectively with your doctor, ask the right questions about your symptoms and treatment options, and understand the answers.
Make the most informed decisions, based on an understanding of the newest drugs, the latest therapies, the most promising research.
Take control over your condition and act from solid, evidence-based knowledge, rather than myths…and you'll also learn:
A new device for treating emphysema
The possible link between sleep apnea and Alzheimers disease
Are e-cigarettes any safer than traditional ones?
Why the whooping cough vaccine is so important–and not just for your health

University of California, Berkeley,
School of Public Health
The White Papers are published by the University of California, Berkeley, School of Public Health. These publications are an outgrowth of the Schools commitment to help improve the health and wellness of our community of readers by publishing expert advice on prevention, diagnosis and treatment for a wide range of ailments and disorders. We provide trusted, authoritative health guidance from leading physicians and researchers at Americas top medical centers and hospitals.
The School of Public Health is
consistently rated among the best in the nation
The faculty, consistently noted as among the leading scholars in their respective fields, comprises approximately 150 investigators. Among our faculty are Institute of Medicine members, American Association for the Advancement of Science fellows, Fulbright fellows, and National Academy of Sciences members. The School enrolls approximately 575 graduate students a year, as well as educating about 425 undergraduate students through the upper-division public health major. The School's more than 15,000 graduates can be found working throughout the world, both in the public and private sectors.
The School of Public Health believes that everyone,
everywhere has the right to a healthy life
Your purchase of the Lung Disorders White Paper supports the School of Public Health faculty and students in their work to confront the major health challenges of our generation. A portion of every sale goes to funding scholarships. Your purchase will directly benefit your own health as well as those in your community.
You can count on the White Papers to bring you medical information that is trustworthy, impeccably researched and current.
The 2019 Lung Disorders White Paper covers the latest research on:
Asthma
COPD, including Chronic Bronchitis and Emphysema
Influenza
Interstitial Lung Disease
Lung Cancer
Sleep Apnea
Pulmonary Embolism
Respiratory Infections
For each of these diseases covered, you'll get:
A thorough overview of the condition, its causes and symptoms…
Treatment options, with expert recommendations…
Groundbreaking new research and a review of the latest studies…
The 2019 Lung Disorders White Paper also includes:
A glossary of medical terms you need to understand…
Lists of health information organizations and support groups that specialize in the disorder…
But that's not all! Order now, and you'll also receive this
FREE Health Tips as an instant download: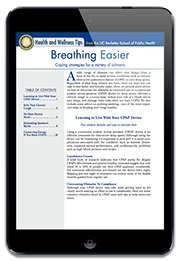 FREE Lung Disorders Health Tips:
Breathing Easier
Coping Strategies for a Variety of Ailments
Learning to live with your CPAP Device
Kick that chronic cough
No more runny nose!
Debunking smoker's myths
Conserving energy if you have COPD
Thanks to this special offer, you can get both the digital and print editions of the 2019 Lung Disorders White Paper now for only $19.95. That's a savings of 50 percent off the regular $39.95 cover price.
Order now and download the digital edition right away.
Our no-strings, can't lose, must-be-satisfied guarantee
You don't risk a penny to take a good, long look at the 2019 Lung Disorders White Paper. You must be 100 percent convinced this is essential information you can't do without, or you may rrequest a refund within your 30-day preview period.
Just click below to order the digital edition of the 2019 Lung Disorders White Paper. As soon as you place your order you can download your digital edition of the White Paper and your free gift, Breathing Easier. Keep the free gift even if you decide, for any reason, to return your White Paper.
Your complete satisfaction is fully guaranteed. This urgent information belongs in your hands without another minute's delay.