Description
How to Dramatically Reduce Your Risk of Stroke
If you have hypertension (high blood pressure), you have one of the most prevalent disorders in the United States. Many people with hypertension don't even know they have it. That's because hypertension is a "silent disease" and usually gives few or no warning signs before it erupts with major complications such as a stroke.
Avoiding hypertension or detecting it early can dramatically reduce your risk of stroke, heart attack and kidney disease. Fortunately, in most cases, the condition can be easily detected and is usually controlled with a combination of diet, exercise and medication.
The 2020 Hypertension and Stroke White Paper provides you with valuable insights on managing hypertension and preventing stroke.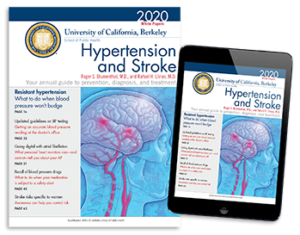 The 2020 Hypertension and Stroke White Paper
Your Annual Guide to Prevention, Diagnosis, and Treatment
* * * * * * * * * *
Get the Latest Information on How You Can Lower Your High Blood Pressure and Prevent Stroke
The 2020 Hypertension and Stroke White Paper has just been released and is designed to help you ensure the best outcome.
Introducing Your Hypertension and Stroke Experts
Roger S. Blumenthal, M.D., F.A.C.C., F.A.H.A., F.A.S.P.C., F.N.L.A., is the Director of the Johns Hopkins Ciccarone Center for the Prevention of Cardiovascular Disease, a Professor of Medicine in the Division of Cardiology, and the inaugural Kenneth Jay Pollin Professor of Cardiology at the Johns Hopkins University School of Medicine. His principal clinical and research interests involve the optimal management of atherosclerotic vascular disease, noninvasive detection of coronary atherosclerosis, and strategies to determine who is at high—as well as very low—risk of future cardiovascular disease.
He is on the national spokesperson panel for the American Heart Association (AHA). An accomplished writer, Dr. Blumenthal has co-authored more than 500 original research articles, state-of-the-art reviews, and editorials dealing with many aspects of cardiovascular risk assessment and atherosclerosis management. Dr. Blumenthal is on the editorial board of Circulation, Cardiology Today, the American Heart Journal, and the American College of Cardiology Extended Learning Center (ACCEL). He is the co-editor-in-chief of the textbook Preventive Cardiology: A Companion to Braunwald's Heart Disease and the ASPC Manual of Preventive Cardiology. He was chair of the American College of Cardiology (ACC) Committee on Prevention of Cardiovascular Disease for four years and is the dyslipidemia section editor for the ACC's website.
Dr. Blumenthal served as co-chair of the ACC/AHA committee that developed the 2019 Guideline on the Primary Prevention of Cardiovascular Disease. He was also a co-author of the 2018 AHA/ACC Guideline on the Management of Blood Cholesterol.
In 2018, Dr. Blumenthal was awarded the Landon School's Kupka Distinguished Alumnus Award, and in 2019 he was awarded the Arthur S. Agatston Award for outstanding contributions to preventive cardiology by the Society of Cardiovascular Computed Tomography.
Rafael H. Llinas, M.D., F.A.H.A., F.A.A.N, is Professor and Chair of the Department of Neurology at Johns Hopkins Bayview Medical Center. He also serves as Director of the Johns Hopkins Neurology Residency and is a member of the Johns Hopkins Acute Stroke Team.
Dr. Llinas received his B.A. from Washington University in St. Louis and his M.D. from the New York University School of Medicine. He completed his residency in neurology
at the Harvard Longwood Program based at Brigham and Women's Hospital. He also completed a two-year fellowship in cerebrovascular medicine at Beth Israel Hospital in Boston.
Dr. Llinas is a member of the American Heart Association Stroke Division and the Maryland Stroke Task Force. His research interests include neurosonology, diffusion/perfusion imaging, the use of neuroprotective agents, and secondary stroke prevention. He has published articles in Stroke, Neurology, The New England Journal of Medicine, AJNR, Journal of Cerebrovascular Disease, and Annals of Neurology.
Drawing on the latest clinical studies and research findings, our experts explain:
What to do when your blood pressure medications are recalled
Women-only stroke risk factors and how to reduce them
Resistant hypertension: When blood pressure won't budge
What personal heart monitors can and cannot tell you about atrial fibrillation
Do fish oil and vitamin D supplements prevent cardiovascular disease?
How to get an accurate blood pressure reading
Yoga: A natural blood pressure reducer
Lower your chance of developing small vessel disease in the brain
The latest recommendations for treating atrial fibrillation
Deciphering the numbers in your blood pressure measurement
…and much more.
PLUS, we've updated our popular feature in the 2020 Hypertension and Stroke White Paper. "Ask the Doctor" provides expert answers to patients' questions. These may be the questions on your mind now as you seek the best treatment for your high blood pressure. Plus, you'll find out about the latest thinking on whether or not strokes are hereditary and how much exercise you need to reduce the risk of stroke.

University of California, Berkeley,
School of Public Health
The White Papers are published by the University of California, Berkeley, School of Public Health. These publications are an outgrowth of the School's commitment to help improve the health and wellness of our community of readers by publishing expert advice on the prevention, diagnosis and treatment for a wide range of ailments and disorders. We provide trusted, authoritative health guidance from leading physicians and researchers at America's top medical centers and hospitals.
The School of Public Health is
consistently rated among the best in the nation
The School's faculty members are leading scholars in their respective fields. Many of them are members of the prestigious National Academies of Medicine and Sciences. The School enrolls approximately 700 graduate students a year, and educates about 425 undergraduate students through the upper-division public health major. The School's more than 15,000 graduates can be found working throughout the world, both in the public and private sectors.
The School of Public Health believes that everyone,
everywhere, has the right to a healthy life
Your purchase of the 2020 Hypertension and Stroke White Paper supports the School of Public Health faculty and students in their work to confront the major health challenges of our generation. A portion of every sale goes to funding scholarships. Your purchase will directly benefit your own health as well as the health of those in your community.
You can count on the White Papers to bring you medical information that is trustworthy, impeccably researched and current.
Look to all of the White Papers for:
A thorough overview of medical conditions, their causes and symptoms…
Treatment options, with expert recommendations…
Groundbreaking new research and a review of the latest studies…
A glossary of medical terms you need to understand…
Lists of health information organizations and support groups that specialize in the disorders…
But that's not all! Order now, and you'll also receive this
FREE Health Tips as an instant download: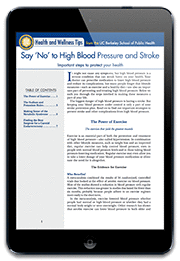 FREE Hypertension and Stroke Health Tips:
Say No to High Blood Pressure and Stroke
A healthy approach to lowering blood pressure and preventing stroke
When you order today, you'll receive free Health Tips—our gift to you just for taking a look at the 2020 Hypertension and Stroke White Paper!
Topics include:
The Power of Exercise


The exercises that yield the greatest rewards

The Sodium and Potassium Rules


Getting just the right amount

Making Sense of the Metabolic Syndrome


Gain control of this deadly cluster of symptoms

Finding the Best Surgeon for a Carotid Endarterectomy


The types of questions to ask, and the answers you want to hear
Our no-strings, can't lose, must-be-satisfied guarantee
Thanks to this special offer, you can get BOTH the digital and print editions of the 2020 Hypertension and Stroke White Paper now for only $14.95 plus shipping. Order now and download the digital edition right away. This way you'll have access to the digital edition immediately and you'll own a printed edition to refer to whenever necessary.
The 2020 Hypertension and Stroke White Paper gives you timely information, resources and expertise. It's available to order now, so you can start applying what you learn straightaway in your quest for getting those high blood pressure numbers down safely and effectively.
Plus, get your free Health Tips, Say No to High Blood Pressure and Stroke, when you order now.
You don't risk a penny to take a good, long look at the 2020 Hypertension and Stroke White Paper. You must be 100 percent convinced that this is essential information you can't do without, or you may return it within your 30-day preview period.
Just click below to order BOTH the digital and print editions of the 2020 Hypertension and Stroke White Paper. As soon as you place your order you can download your digital edition of the White Paper and your free gift, Say No to High Blood Pressure and Stroke. Keep the free gift even if you decide, for any reason, to return your White Paper.
Your complete satisfaction is fully guaranteed. This urgent information belongs in your hands without another minute's delay.