Description
Key Strategies for Preventing a Heart Attack
This year, approximately 605,000 Americans will have a heart attack for the first time, and 200,000 will experience a repeat heart attack.
Will YOU be one of them?
Do you know:
What the risk factors are for a heart attack?
The signs and symptoms of a heart attack?
How heart attack symptoms can be DIFFERENT in women than in men?
What to do IMMEDIATELY if you think you're having a heart attack?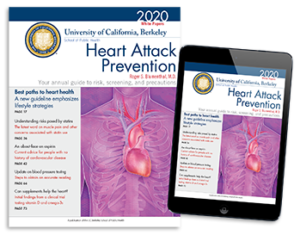 The 2020 Heart Attack Prevention
White Paper
Your Annual Guide to Risk, Screening, and Precautions
If you're like most people over age 50, avoiding a heart attack is probably one of your major health concerns—and understandably so. Heart disease is the leading cause of death in Americans. As a result, you might think that heart attacks can be an inevitable part of growing older. But there's nothing inevitable about them at all.
In fact, heart attacks are highly preventable. Regardless of your gender or age, you can dramatically reduce your chances of having a heart attack by incorporating into your everyday life the information you'll find in the 2020 Heart Attack Prevention White Paper.
The death rate from heart attacks has been declining steadily for many years, in large part because people are receiving better medical care. Yet too many men and women are not taking the steps that could help protect them.
It's easier than you may think. But you'd be amazed how many people ignore the No. 1 tool to use for preventing a heart attack:
Timely, accurate advice about WHAT WORKS
Simply put, you need to learn everything you can about how to slow the progress of cardiovascular disease. And then do everything that modern medicine recommends to reduce your heart attack risk factors.
Clearly, saving your heart starts with the facts. When you are serious about preventing a heart attack, knowledge can give you some of the best protection available.
But who's going to tell you what you need to know? Where can you turn to learn as much as possible about your condition so that you are a truly well-informed health consumer?
You could try the library or the internet. But how will you know what's current… what's accurate… what's even safe?
Sure, you could talk with a friend or relative who has a similar condition. But while social support is important, the choices you make should be based on solid, state-of-the-art scientific research.
As soon as you receive the 2020 Heart Attack Prevention White Paper, you will learn about:
A new guideline that emphasizes lifestyle strategies
The latest word on muscle pain and other concerns associated with statins
Current advice concerning aspirin therapy for people with no history of cardiovascular disease
Steps to take to obtain an accurate blood pressure reading
Initial findings from a clinical trial testing vitamin D and omega-3 supplements for the heart
Introducing Your Heart Attack Prevention Expert
Roger S. Blumenthal, M.D., F.A.C.C., F.A.H.A., F.A.S.P.C., F.N.L.A., is the Director of the Johns Hopkins Ciccarone Center for the Prevention of Cardiovascular Disease, a Professor of Medicine in the Division of Cardiology, and the inaugural Kenneth Jay Pollin Professor of Cardiology at the Johns Hopkins University School of Medicine. His principal clinical and research interests involve the optimal management of atherosclerotic vascular disease, noninvasive detection of coronary atherosclerosis, and strategies to determine who is at high—as well as very low—risk of future cardiovascular disease.
He is on the national spokesperson panel for the American Heart Association (AHA). An accomplished writer, Dr. Blumenthal has co-authored more than 500 original research articles, state-of-the-art reviews, and editorials dealing with many aspects of cardiovascular risk assessment and atherosclerosis management. Dr. Blumenthal is on the editorial board of Circulation, Cardiology Today, the American Heart Journal, and the American College of Cardiology Extended Learning Center (ACCEL). He is the co-editor-in-chief of the textbook Preventive Cardiology: A Companion to Braunwald's Heart Disease and the ASPC Manual of Preventive Cardiology. He was chair of the American College of Cardiology (ACC) Committee on Prevention of Cardiovascular Disease for four years and is the dyslipidemia section editor for the ACC's website.
Dr. Blumenthal served as co-chair of the ACC/AHA committee that developed the 2019 Guideline on the Primary Prevention of Cardiovascular Disease. He was also a co-author of the 2018 AHA/ACC Guideline on the Management of Blood Cholesterol.
In 2018, Dr. Blumenthal was awarded the Landon School's Kupka Distinguished Alumnus Award, and in 2019 he was awarded the Arthur S. Agatston Award for outstanding contributions to preventive cardiology by the Society of Cardiovascular Computed Tomography.
What really triggers a heart attack?
What you need to know sooner rather than later
See who's most likely to have a heart attack. You'll learn the most common risk factors and how to minimize them. You'll also learn the importance of primary prevention if you haven't been diagnosed with coronary heart disease (CHD) or suffered a heart attack.
For example:
Discover the changes that take place in the coronary arteries leading up to a heart attack.
Learn what happens during a heart attack, and how the steps you take during the first hour can affect survival.
Find out why a yearly flu shot can protect your heart.
Learn about the importance of taming inflammation.
Know how kidney function affects the heart.
Find out which tests you should undergo to determine your risk of a heart attack.
Learn the heart attack risk factors that can be controlled—or, even better, avoided or eliminated altogether.
But this is only the beginning. Here is just a small sample of the topics we discuss:
Does chronic stress really lead to heart disease?
What the numbers in your blood pressure readings mean
When to be tested for lipoprotein(a), the other bad cholesterol
Best ways to help your heart: Evidence-based strategies to prevent cardiovascular disease
Even light activity is better than none for reducing disease risk
Should you stop taking a statin after age 75?
What to do if your medications are recalled
Explore new technologies that are now available to assess the health of your coronary arteries. Find out how the tests are done and how they compare to traditional methods of predicting future heart attacks.
You will feel far better prepared to have an intelligent conversation with your doctor about the issues that concern you most.
How great is your risk?
A close look at the factors
that set the stage for heart attack
You will take a close look at the different types of lipids. Understand cholesterol's role in your body… the difference between "good" HDL and "bad" LDL cholesterol… why reducing cholesterol levels can help prevent coronary heart disease and heart attacks… how triglycerides differ from other lipids.
You will see how inflammation and high levels of C-reactive protein are associated with the risk of heart disease and heart attack. Examine the role of blood clots and coronary artery spasms in triggering heart attacks.
You will learn which risk factors (like age and family history) can't be changed, although knowing about them can motivate you to take the preventive steps that can LOWER your risk of heart attack.
More important, you will learn which risk factors are within your control. You'll be able to set clear, practical goals for yourself with guidance from medical specialists. And you'll discover what to do if you have risk factors like high blood pressure, abdominal obesity or metabolic syndrome working against you.
Drug-free steps to take RIGHT NOW
to lower your risk of a heart attack
The right lifestyle changes can go a long way toward bringing down high blood pressure and cholesterol levels. These simple changes may be enough to let you avoid medication altogether. But if not, making a few well-chosen adjustments in your habits can boost the effectiveness of the medications you take, perhaps even reducing the dosage you require.
What counts as "exercise"?
Do you have to break a sweat before it's good for your heart?
You've heard it before: regular exercise can raise "good" HDL cholesterol, help control your weight, improve the work capacity of your heart, reduce your blood pressure and blood glucose and relieve stress.
So why is it so difficult to get up off the couch and get moving?
You'll learn how often to exercise. Whether short bursts of activity can offer the same protection as longer exercise periods when it comes to reducing the risk of coronary heart disease.
And you will find out how to exercise safely—a must-read if you are concerned about having a heart attack or cardiac arrest during physical activity.
"Alcohol to protect my heart? I'll drink to that!"
Should you? Will drinking alcoholic beverages really lower your risk of heart attack, as the headlines proclaim? The 2020 Heart Attack Prevention White Paper looks at how a small amount of alcohol can help raise "good" HDL cholesterol. Discover what the research says is "enough" alcohol to reduce your risk of heart attack, and what's "too much."
See your heart's health in a whole new way
With the 2020 Heart Attack Prevention White Paper, you have the power to affect your health care as never before. Use what you learn to:
Recognize and respond to symptoms and significant changes in your heart health as they occur.
Make conscious, deliberate choices in what you eat and drink and do, based on what is known to lower the risk of cardiovascular disease.
Communicate effectively with your doctor. A helpful glossary takes the mystery out of "medical-speak." Words like ischemia and ejection fraction will lose their power to intimidate or confuse you.
Become better equipped to ask informed questions and to understand the answers.
Make the right decisions, based on a better understanding of the newest drugs, the latest surgical techniques and the most promising research.
Take control of your condition and act out of knowledge, rather than fear.
Who will benefit from this timely intelligence?
The fact that you are reading this suggests that you're not willing to leave your fate in others' hands. You want to know more. You need to know more. And you're willing to seek out the best and most current information so that you can raise important issues with your own doctors.
The 2020 Heart Attack Prevention White Paper will prove valuable to you if any of the following criteria describes your personal situation.
You are being treated for high cholesterol or high blood pressure, or have other cardiovascular risk factors such as diabetes, smoking, obesity or a sedentary lifestyle.
You have a family history of heart disease and want to break the pattern.
You want to reduce the likelihood of needing bypass surgery or other invasive procedures.
You realize that first heart attacks often prove fatal to women because the early warning signs—which may be different from men's—may be misunderstood or ignored.
You live with or care for someone with cardiovascular risk factors and want to do everything possible to prevent a heart attack.

University of California, Berkeley,
School of Public Health
The White Papers are published by the University of California, Berkeley, School of Public Health. These publications are an outgrowth of the School's commitment to help improve the health and wellness of our community of readers by publishing expert advice on the prevention, diagnosis and treatment for a wide range of ailments and disorders. We provide trusted, authoritative health guidance from leading physicians and researchers at America's top medical centers and hospitals.
The School of Public Health is
consistently rated among the best in the nation
The School's faculty members are leading scholars in their respective fields. Many of them are members of the prestigious National Academies of Medicine and Sciences. The School enrolls approximately 700 graduate students a year, and educates about 425 undergraduate students through the upper-division public health major. The School's more than 15,000 graduates can be found working throughout the world, both in the public and private sectors.
The School of Public Health believes that everyone,
everywhere, has the right to a healthy life
Your purchase of the 2020 Heart Attack Prevention White Paper supports the School of Public Health faculty and students in their work to confront the major health challenges of our generation. A portion of every sale goes to funding scholarships. Your purchase will directly benefit your own health as well as the health of those in your community.
You can count on the White Papers to bring you medical information that is trustworthy, impeccably researched and current.
When you order the 2020 Heart Attack Prevention White Paper, you'll receive free Health Tips with practical, specific advice on how you can slow the progression of cardiovascular disease and decrease your future risk of heart attack, stroke, bypass surgery or angioplasty.
But that's not all! Order now, and you'll also receive this
FREE Health Tips as an instant download: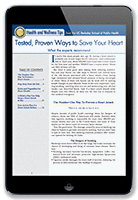 FREE Heart Attack Prevention Health Tips:
Tested, Proven Ways to Save Your Heart
You'll discover:
The Number One Way to Prevent a Heart Attack


The importance of smoking cessation cannot be underestimated.

Step Away from the Salt


Cutting back on sodium can significantly lower your risk of a heart attack.

Fruits and Vegetables for Heart Health


Can consuming more produce really ward off a heart attack?

A Drink a Day for Heart Health?


Moderate alcohol intake has been suggested as a way to ward off a heart attack. Health Tips discusses the pros and cons.

Your Action Plan if a Heart Attack Strikes


The crucial symptoms to look out for and what to do and NOT do if you or a loved one starts to show the telltale signs.
Whatever you decide please keep your free Health Tips, Tested, Proven Ways to Save Your Heart, with our thanks for recognizing the value of the 2020 Heart Attack Prevention White Paper for your own cardiovascular health.
If you want the tools, the understanding and the know-how to take the very best care of your heart, it's time to get the 2020 Heart Attack Prevention White Paper.
If you are ready to play a more active role in slowing the progress of heart disease and preventing a heart attack—this year, a year from now, or five or 10 years down the line—it's time to put your hands on the 2020 Heart Attack Prevention White Paper.
If you are serious about wanting a heart-healthy future, and you refuse to let fate, genetics or bad habits call the shots, please order the 2020 Heart Attack Prevention White Paper right now.
Our no-strings, can't lose, must-be-satisfied guarantee
You don't risk a penny to take a good, long look at the 2020 Heart Attack Prevention White Paper. You must be 100 percent convinced that this is essential information you can't do without, or you may return it within your 30-day preview period.
Think it's too late to reverse the risk factors for heart disease? Think again! Order the 2020 Heart Attack Prevention White Paper and learn the specific ways in which you can slow the progression of cardiovascular disease and reduce your risk factors for a heart attack. Let the healing begin!
Just click below to order BOTH the digital and print editions of the 2020 Heart Attack Prevention White Paper for $19.95 plus shipping. As soon as you place your order you can download your digital edition of the White Paper and your gift,Tested, Proven Ways to Save Your Heart. Keep the free gift even if you decide, for any reason, to return your White Paper. Your print edition will be mailed.
To keep you on the cutting edge of heart attack prevention research, we offer an annual research update service to White Paper readers. That way, your White Paper is always current, never out of date.
A letter will be sent to you in advance and if you wish to examine the next year's Heart Attack Prevention White Paper, do nothing and it will arrive automatically with an invoice. If you don't wish to see the new White Paper, simply return the letter within 30 days. You may notify us at any time if you don't want to continue in the program.
Your complete satisfaction is fully guaranteed. This urgent information belongs in your hands without another minute's delay.