Description
Subscribe to HEALTH AFTER 50!
Receive Health News and Expert Advice from the UC Berkeley, School of Public Health
Choose between Print, Digital, or Print + Digital.
Plus, Print + Digital subscribers get free access
to the full archives!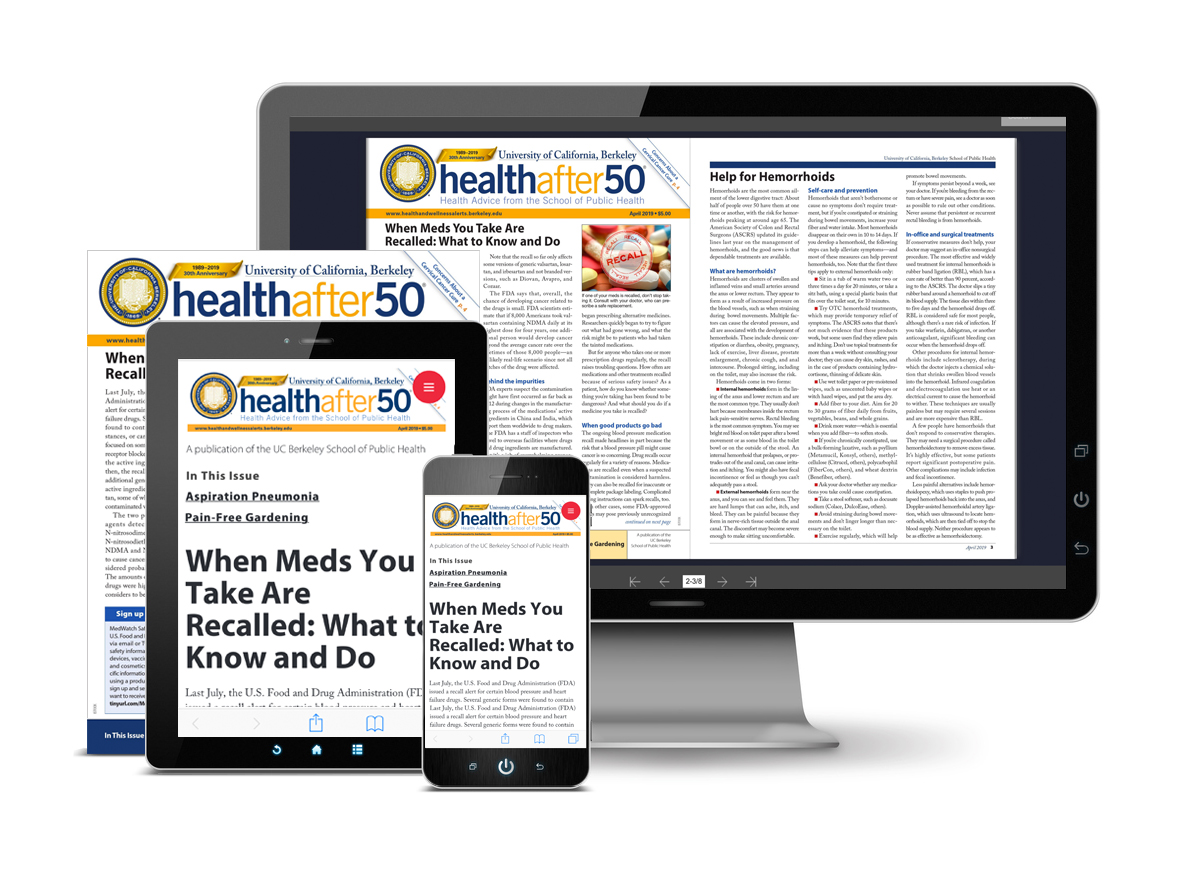 Subscribe now and get full subscriber benefits!
In every issue of HEALTH AFTER 50, you'll discover the latest information about health issues you care about. You'll get new research findings, drug news, home remedies, and expert advice from doctors to help you take control of your health like never before. For example, by reading HEALTH AFTER 50, you could:
Reduce your stroke risk. If you have atrial fibrillation, you may need these medications that help to prevent blood clots from forming and causing a stroke.
Zap away joint pain with a transcutaneous electrical nerve stimulation device. TENS may help relieve various types of pain, say some, but not all, studies. Learn which features to look for when shopping for a TENS device while not breaking your budget.
Keep your brain sharp. A recent study found that following these 8 healthy lifestyle habits could cut dementia risk by one third.
Take the sting out of sciatica. New research shows that these remedies work better at relieving pain than prescription medications.
Relieve your seasonal allergy symptoms. The best defense against sniffling and sneezing is right under your nose with this doctor-approved remedy.
Subscribe to HEALTH AFTER 50 today and you'll receive a one year subscription, each newsletter is packed with the latest scientific breakthroughs in medicine.
You'll discover the best possible treatments for the medical conditions you care about and get tons of expert health advice that could save you an amazing amount of time and money. You won't see any advertising or fluff – just the hard-hitting health information you need to help you stay healthy for years to come.
As a subscriber to HEALTH AFTER 50, you'll immediately see how this valuable newsletter could help protect your health and maybe even save your life. You'll get expert advice to help you prevent many of the common diseases and conditions that affect people age 50 and over, like:
Is pain keeping you up at night? Sleep-inducing drugs aren't the solution, but these nondrug therapies might help you sleep better and longer.
Should you get a PSA test? Some experts say yes, others say no. HEALTH AFTER 50 sorts through the conflicting recommendations and evidence to help you decide whether you need to be screened for prostate cancer.
A type of knee surgery you may not need. Repairing a meniscus that's been damaged by age-related wear and tear often has no more long-term benefit than undergoing physical therapy, says new research.
This simple breathing technique could banish your burps. So says a new study that suggests heartburn sufferers can squelch their belch with "belly breathing," which you'll learn how to perform.
Stay steady on your feet. Did you know that falls are the leading cause of fatal and nonfatal injuries among Americans 65 and older? Here's how to keep your balance and avoid a trip to the ER.
Are you a pet caregiver? If so, experts say caring for a sick dog or cat can take a toll on your health, too. Here's what you can do to take care of yourself while tending to your loyal companion.
How low should you go? Updated blood pressure guidelines have redefined hypertension, so what you once thought were normal BP levels are now too high. Find out if you've entered a danger zone where you need to be treated.
Heart disease is not just a man's disease. It's the number one killer of women—and heart attack symptoms may be more subtle and different in women than in men. Learn the warning signs and symptoms that could save your life.

University of California, Berkeley,School of Public Health
HEALTH AFTER 50 is an outgrowth of the University of California, Berkeley School of Public Health's commitment to help overall health and wellness by publishing expert advice on prevention, diagnosis and treatment for a wide range of ailments and disorders. We provide trusted, authoritative health guidance from leading physicians and researchers at America's top medical centers and hospitals.
In addition, because a portion of every subscription is earmarked to fund scholarships, you will also be supporting graduate students in the School of Public Health, as they become the health professionals of tomorrow, confronting the major health challenges we all face. Thus, your purchase benefits you, your family, and your community – now and in the future.
You can count on Health After 50
to bring you medical information that is trustworthy,
impeccably researched and current.
You get a one year subscription. Plus, you choose how you want to read: Print, Digital or Print + Digital … AND Print + Digital subscribers get free access to the full archives!
Print + Digital: $19.95! Plus free access to the archives.
Print: $14.95
Digital: $9.95
Addition shipping applied to international orders.
Your satisfaction is guaranteed: if for any reason you wish to cancel your subscription, simply notify us to receive a full refund.