Description
A Special Report from
University of California, Berkeley, School of Public Health, Health & Wellness Publications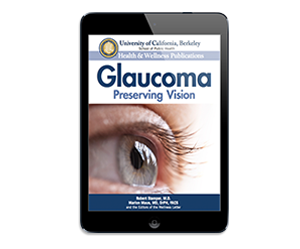 Glaucoma
Preserving Vision
Written by Robert Stamper, M.D.
and Marlon Maus, MD, DRPH, FACS
Straightforward, informed answers to your most important questions about managing glaucoma, a condition that affects an estimated 3 million Americans.
If you have glaucoma, our new Report will give you the information you need to make informed treatment decisions that could save your sight. Glaucoma: Preserving Vision is written for you.
Your eyesight is a precious gift that should last a lifetime. Unfortunately, for many people with glaucoma, the loss of vision is a very real threat.
Glaucoma causes a loss of peripheral vision that can lead to all sorts of problems – from having to give up driving to the increased risk of falls and fractures. The end result is often a loss of independence, a significant diminution in quality of life – even blindness.
But there is good news: Vision loss from glaucoma is preventable as long as people with glaucoma are diagnosed early, treated effectively, and then follow through with the treatments prescribed by their doctors.
If you're reading this letter right now, chances are you have glaucoma or may be at risk for glaucoma. If so, it's critically important to learn everything you can about your condition so you can make informed decisions, partner with your doctor effectively, ask the right questions about your treatment, and understand the answers.
To help you, we have asked Robert Stamper M.D. and Marlon Maus, M.D., to share their wisdom and hands-on experience treating glaucoma patients like you in a new in-depth Report, Glaucoma: Preserving Vision.
Drs. Stamper and Maus are ideally positioned to help you understand and manage your glaucoma.
Dr. Stamper is an ophthalmologist who specializes in glaucoma and cataract surgery. He is the Fortisure Distinguished Professor of Clinical Ophthalmology at the University of California, San Francisco, School of Medicine. In addition, he was the Director of the Glaucoma Service in the Department of Ophthalmology there from 1998 to 2014.
Dr. Maus is a board-certified ophthalmologist specializing in oculoplastics surgery. His research is focused on the relationship between public health and the built environment and aging, with a particular interest in the area of vision. He has lectured worldwide and has authored various articles in the areas of oculoplastics and public health.
Like an in-depth consultation with your personal physician, Glaucoma: Preserving Vision gives you unprecedented access to the extensive knowledge and experience of Drs. Stamper and Maus and other noted specialists in treating glaucoma successfully.
This information is so critical to your well-being that Glaucoma: Preserving Vision is available to you instantly in a digital PDF download. Simply click the order button below, and in a few moments you can begin reading this important Report.
The Knowledge You Need
In this Report, you will find critical information you need to know about glaucoma: possible causes, the current methods for diagnosing it, and the options that you have to treat it, from eye drops to laser treatment to operative surgery. You'll also read of the surge in research into the diagnosis and treatment of glaucoma including the introduction of optical scanning of the optic nerve, two new medications and several new forms of surgical intervention. You'll find out what you can expect over the next several years in the way of further advances.
Indeed, it's a new world in glaucoma research, and Glaucoma: Preserving Vision will put you in the forefront of what we know. In page after page of this comprehensive Report, we address your most serious concerns about living with glaucoma:
How the eye works
Glaucoma – What is it?
Who is on your eye care team?
Will I still be able to read? How long is it safe for me to keep driving?
Could I have prevented my glaucoma?
Is glaucoma inherited?
What are the first signs that glaucoma is developing?
Are there new advances in detecting glaucoma?
What is IOP? What is considered a normal IOP?
And that's just the start. We also discuss the different kinds of glaucoma.
Normal pressure glaucoma, secondary open angle glaucoma, exfoliation glaucoma, pigmentary glaucoma, and inflammatory glaucoma
How does glaucoma damage the eye?
What is the fastest way of distinguishing between open and closed angle
Important risk factors for glaucoma to be aware of
Specific genetic mutations that are associated with glaucoma
Are some groups of people at higher risk for glaucoma?
We explore how glaucoma affects your ability to function:
Lifestyle issues and what to do more of and what to avoid
Advice on diet and fluid intake, and exercise
And we take a close look at the diagnostic tools your ophthalmologist may use to establish a diagnosis of glaucoma: tonometer, ophthalmoscope, gonioscopy, visual field test, optical coherence technology, pattern electroretinogram (pERG) and visual evoked potential (VEP).
Treating Glaucoma: What You Should Know to Stop Glaucoma in Its Tracks
While glaucoma cannot be cured, it can be treated safely and effectively with medication or surgery.
What are the primary goals of glaucoma treatment?
Are all glaucoma therapies equally effective? What are the reasons to choose eyedrops over surgery – or vice-versa?
Once therapy has begun, what type of follow-up monitoring is needed?
Are there other drugs in the glaucoma pipeline that can play a future role in treatment?
And speaking of drugs, Glaucoma: Preserving Vision explains the benefits and risks of the medications used to treat glaucoma used singly or in combination. Including: prostaglandins and beta-blockers.
Latanoprost
Bimatoprost
Travaprost
Tafluprost
Latanoprostene bunod
Timolol
l-bunalol
betaxalol
Side effects to watch for and understand
What can I do to make sure I take my eyedrops correctly and regularly?
Laser surgery is often used in open angle glaucoma when medications do not work or are likely to produce intolerable side effects.
What the surgery accomplishes and what to expect
If laser surgery has not adequately lowered the eye pressure or can't be done for some reason, surgical techniques requiring microscopic incisions are usually recommended. The Report contains a crucial section that includes a discussion on various surgeries:
Trabectome
Trabeculotomy
IStent
Cypass shunt
Xen implant
Santen microshunt
As well as other surgical treatments, including the benefits of surgical options, the risks, and a discussion of surgical alternatives
There's more to Glaucoma: Preserving Vision much more. We provide a list of resources to help you cope with the cost of your glaucoma drugs, advice to help you make the most of limited vision and mobility and a detailed glossary of glaucoma terms used.
Glaucoma: Preserving Vision is designed to give you unprecedented access to the expertise of Drs. Stamper and Maus and the experts at the UC Berkeley School of Public Health. The Report is full of knowledgeable, trustworthy medical information you require.

University of California, Berkeley,
School of Public Health
Glaucoma: Preserving Vision is published by the University of California, Berkeley, School of Public Health. This publication and others like it are an outgrowth of the Schools commitment to help improve the health and wellness of our community of readers by publishing expert advice on prevention, diagnosis and treatment for a wide range of ailments and disorders. We provide trusted, authoritative health guidance from leading physicians and researchers at Americas top medical centers and hospitals.
The School of Public Health is
consistently rated among the best in the nation
The faculty, consistently noted as among the leading scholars in their respective fields, comprises approximately 150 investigators. Among our faculty are Institute of Medicine members, American Association for the Advancement of Science fellows, Fulbright fellows, and National Academy of Sciences members. The School enrolls approximately 575 graduate students a year, as well as educating about 425 undergraduate students through the upper-division public health major. The School's more than 15,000 graduates can be found working throughout the world, both in the public and private sectors.
The School of Public Health believes that everyone,
everywhere has the right to a healthy life
Your purchase of Glaucoma: Preserving Vision supports the School of Public Health faculty and students in their work to confront the major health challenges of our generation. A large portion of every sale goes to funding scholarships. Your purchase will directly benefit your own health as well as those in your community. You can count on The School of Public Health to bring you medical information that is trustworthy, impeccably researched and current.
Still not sure you'll benefit from this Special Report?
Glaucoma: Preserving Vision comes with a risk-free guarantee of satisfaction: if you're not satisfied for any reason, simply contact Customer Service for a prompt refund of your full purchase price of $19.95.
You risk nothing. Don't hesitate — place your risk-free order today.
Remember, this offer is completely risk-free. If for ANY reason you are not satisfied with your instant digital PDF download of Glaucoma: Preserving Vision, simply contact Customer Service for a prompt refund.