Description
How To Eat For Optimal Health
Introducing a new authoritative report from the editors of the
University of California, Berkeley Wellness Letter
You've heard it a thousand times.
"You are what you eat."
The idea of eating right for better health has been pounded into our heads for decades.
Today, it's an idea whose time has come and one that's right on the money. For eating healthy can pay big dividends-in improved health, increased vitality, and greater longevity-to men and women who are choosy and deliberate about what they pile onto their plates.
Unfortunately, many of us "talk the talk" when it comes to eating right but don't "walk the walk."
It's not simply a matter of will power. Though it can take a fair amount of that to bypass your favorite "guilty pleasures" in favor of safer-and healthier foods.
But most of us simply aren't up to date on how to shop, cook, and serve balanced, nutritious meals for optimal health and wellness.
Take a simple snack food like nuts. You've probably read that they are fatty and high in calories. And indeed, they are.
But studies have consistently linked nuts to a reduced risk of heart disease, largely because nuts have a favorable effect on blood cholesterol.
What about fruits and veggies? Many people think raw is best. Cooking boils the nutrients out.
But cooking also makes some carotenoids more available to the body. For example, you absorb 2 to 10 times more lycopene from cooked and processed tomatoes than you do from fresh tomatoes. Moreover, cooking destroys potentially harmful bacteria.
Hardly a week passes without headlines announcing some new study or discovery in the field of nutrition.
Fortunately, there's an authoritative, absolutely current resource you can turn to for evidence-based guidance on how to eat for optimal health. And you may preview it risk-FREE in the privacy of your home or office …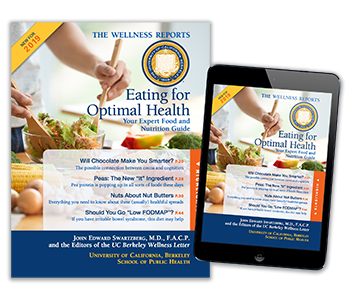 The 2019 Eating for Optimal Health
Wellness Report
Your Expert Food and Nutrition Guide
* * * * * * * * * *
With thousands of books … articles … websites … reports … and clinical studies on eating for optimal health, no single person can keep up with all of the new developments in nutritional research. It would be a full-time job-and you probably already have one of those!
Also, unless you're an M.D. yourself, do you really have the background to separate the good science from the hype?
That's where the Wellness Report series from the University of California, Berkeley Wellness Letter can help save you time and money while improving your health.
Our editorial advisors, all M.D.s or Ph.D.s with impressive credentials in their specialties, conduct an exhaustive search of the medical literature on a particular topic-in this case, eating for health and wellness.
They then review the research to ensure that it's based on scientifically sound methods … and to confirm the accuracy and reliability of the findings.
Next, our editors painstakingly convert medical jargon, formulas, and statistics into clear, plain English. I know you'll find it fascinating reading-and useful.
Here's a sampling of what you'll discover in our just published 2019 Eating for Optimal Health Wellness Report:
Chocolate: Will it really make you smarter-or is that just wishful thinking? We present an update of the research on cocoa flavanols and cognition.
One of the latest It ingredients is pea protein, found in an increasing number of packaged foods, including meat substitutes, yogurt, and even mayo and ice cream. Good idea or not?
A 2018 science advisory from the American Heart Association affirms that eating fish is good for your heart. Heres how to get the most benefits (and least risk) from fish.
Does alcohol deserve its healthy buzz? The risks of alcohol are well known, but the proposed benefits have never been unequivocally established.
Got IBS? This relatively new diet, called Low FODMAP, has been making headlines. Heres what it is and what studies have found about its effectiveness.
Do people with diabetes need to restrict their intake of eggs? Heres what the latest study says.
Its finally the end of the road for unhealthy trans fats in the U.S. food supply, thanks to this FDA regulation that went into effect in 2018-with a few exceptions.
Are some nut butters more nutritious than others? What are all those other ingredients in nut butters? Is low-fat peanut butter a healthier choice? We provide answers to these and other questions about nut butters.
Got nut allergies? Try these 6 spreads instead, from chickpea butter to watermelon seed butter (yes, there is such a thing).
Why that red snapper you ordered may not really be red snapper. Two words: fish fraud. We provide advice on how to avoid bait-and-switch at the market.
Long-awaited restaurant calorie labeling on menus is finally the law in every state. But do diners really make better choices when calorie information is available? Heres what the research shows.
Trying to get more whole grains into your diet but dont know where to find them? This seal on food packages makes it easier.
Peanuts are back on the menu for babies. Get the latest guidelines from the National Institute of Allergy and Infectious Diseases, endorsed by the American Academy of Pediatrics.
Is there really such a thing as humane veal? Steps are being taken to ensure better treatment of these baby animals, but not all animal rights groups are buying the idea.
These four studies lend more support that fatty fish may be good for your eyes.
How to choose the best fish-for you and the environment.
Does acrylamide in coffee cause cancer? Or are the warnings about this substance in Americas favorite wake-up beverage overhyped?
Whos ensuring the safety of food ingredients? The answer may surprise you (no one, really).
Is alcohol good for the brain? Maybe, maybe not. We reviewed recent research.
Low-fat versus low-carb diets: Which fare better? Heres what a stellar Stanford study found.
Following a vegetarian diet may help you lose weight, this study found.
Constipated? This refreshing fruit may be a sweet way to help get things moving.
Antibiotics used to fatten up livestock are contributing to the growing problem of antibiotic resistance. Heres how they became ubiquitous on farms-and what you can do to be part of the solution.
Fluid consumption and bladder cancer. Is there a connection?
Gotcha matcha! Foods that boast matcha in the name may sound healthy, but heres why theyre often not.
Lentils and rice are a good combination for reducing blood sugar, this new study found.
Too much sugar may bring on the blues. Heres how little it takes, according to this study.
Soy foods: They may help reduce the risk of prostate cancer AND help in weight loss, these two recent studies found.
What is PGPR-and what is it doing in your chocolate bar?
Why leafy greens may help slow age-related cognitive decline.
Moving toward a plant-based diet-for health, environmental, religious, or animal welfare reasons? Our list of plant sources of protein can help you get started.
Just a handful of pecans a day . . . may keep diabetes away, according to this clinical trial, which compared nut-rich diets with nut-free diets over four weeks.
Whether made from ground nuts, seeds, or legumes, all nut butters have something to offer. Our chart shows how they compare.
Organic eggs may not be all that theyre cracked up to be. This scorecard, from a nonprofit food and farm policy watchdog group, rates more than 100 egg producers.
More reason to prepare your own food: Restaurant meals were found to have higher levels of hormone-disrupting chemicals in this study in Environmental International in 2018.
Which American president can be considered the first celebrity dieter? The answer is not Donald Trump but rather William Howard Taft, who enlisted a medical doctor in the early 1900s to help him slim down. Heres what President Tafts weight-loss diet looked like.
PLUS…
In our exclusive interview, food and nutrition expert Dr. Marion Nestle shares her thoughts about the U.S. food system, the thriving food movement, and her bottom line advice for how to eat healthfully.
A look at the best diets of 2018-from DASH and MIND to Volumetrics and Weight Watchers.
Our 16 keys to a healthy diet. How many of them are you following?
Our 6 tips for selecting the healthiest chocolate.
Alcohol: What is moderation?
Seeking nutrition advice for losing weight, lowering your cholesterol, getting your blood sugar under better control, or easing IBS or other digestive woes? Heres a good place to start.
Updated thinking about cholesterol: Why you dont have to stick to the old 300-milligram-a-day limit anymore.
Protein does a body good. Are you getting enough? These five foods supply all you need for the day.
Why its not so nutty to be a walnut lover.
Why its good to be a slowpoke when it comes to eating.
Want to reduce your blood pressure? Try this food.
These 7 grilling tips will reduce your exposure to potential carcinogens in your cooked food.
Our rough guide to the benefits of fiber. The different types, where to get it, and how much to aim for.
Figuring out fats: The world of fats can be confusing, so we sort out the differences between saturated and unsaturated fats, trans fats, omega-3 fats, and tropical oils.
You should get your vitamins and minerals from foods as much as possible, rather than supplements. But for many people, these two supplements may be appropriate.
Stop eating "junk food"-and start eating healthy!
The National Center for Health Statistics reports that 34 out of 100 American adults 20 years of age and older-over 60 million people-are obese. That means they are 30 or more pounds over a healthy body weight.
But the good news is: you don't have to be fat … or sick … or unhealthy any longer.
Because right now, the 2019 Eating for Optimal Health Wellness Report can help you make better, healthier eating choices-at the grocery store, in the kitchen, or when dining out.
But that's not all! Order now, and you'll also receive this
FREE Digital Report as an instant download: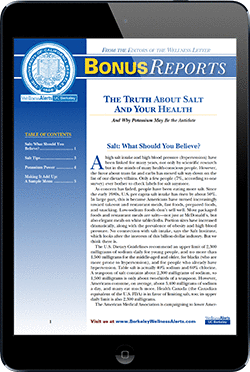 The Truth About Salt and Your Health
And Why Potassium May Be the Antidote
What Should You Believe About Salt?
A low-salt diet benefits many people with hypertension. But cutting down on sodium is important even if you don't have high blood pressure.
Salt Tips.
Sodium lurks in unexpected places. Some fast food meals have three to five days' worth of sodium, in one sitting. What to watch out for.
Sodium Substitutes.
These are a good option for many people. They help reduce blood pressure and heart disease deaths when used in place of table salt. But they are not for everyone.
Potassium Power.
If sodium is a bad guy, then potassium is a good guy, since it helps lower blood pressure. Unfortunately, most of us consume far too little of this vital mineral. Here's why you should get your potassium from food, not supplements.
Making It Add Up: A Sample Menu.
How can you get up to the recommended 4,700 milligrams of potassium a day? A sample menu shows you how it can be done.
You can literally "eat your way" to better health, more energy, and a trimmer, slimmer you!
When your Wellness Report on Eating for Optimal Health arrives, examine it carefully.
Read about the studies. Examine the facts and recommendations about the foods you eat.
I'm betting our report will be one of your most valuable-and important-health resources.
If not, simply return it within 30 days for a full refund of the purchase price.
But don't delay. The longer you keep eating "junk food," the longer you could be throwing your good health down the drain.

University of California, Berkeley,
School of Public Health
The Wellness Reports are published by the University of California, Berkeley, School of Public Health. These publications are an outgrowth of the Schools commitment to help improve the health and wellness of our community of readers by publishing expert advice on prevention, diagnosis, and treatment for a wide range of ailments and disorders. We provide trusted, authoritative health guidance from leading physicians and researchers at Americas top medical centers and hospitals.
The School of Public Health is
consistently rated among the best in the nation
The faculty, consistently noted as among the leading scholars in their respective fields, comprises approximately 150 investigators. Among our faculty are Institute of Medicine members, American Association for the Advancement of Science fellows, Fulbright fellows, and National Academy of Sciences members. The School enrolls approximately 575 graduate students a year, as well as educating about 425 undergraduate students through the upper-division public health major. The School's more than 15,000 graduates can be found working throughout the world, both in the public and private sectors.
The School of Public Health believes that everyone,
everywhere has the right to a healthy life
Your purchase of the 2019 Eating for Optimal Health Wellness Report supports the School of Public Health faculty and students in their work to confront the major health challenges of our generation. A portion of every sale goes to funding scholarships. Your purchase will directly benefit your own health as well as those in your community.
Thanks to this special offer, you can get both the digital and print editions of the 2019 Eating for Optimal Health Wellness Report now for only $14.95 plus shipping.
Order now and download the digital edition right away and we'll mail you the print edition of the Wellness Report. This way you'll have access to the digital edition immediately and you'll own a printed edition to refer to whenever necessary.
Our no-strings, can't lose, must-be-satisfied guarantee
You don't risk a penny to take a good, long look at the 2019 Eating for Optimal Health Wellness Report. You must be 100 percent convinced this is essential information you can't do without, or you may return it within your 30-day preview period.
Just click below to order BOTH the digital and print editions of the 2019 Eating for Optimal Health Wellness Report and your free gift, The Truth About Salt and Your Health. Keep the free digital gift even if you decide, for any reason, to return your Wellness Report.
Your complete satisfaction is fully guaranteed. This urgent information belongs in your hands without another minute's delay.