Description
How To Regain Control of Your Digestive System
Remember when standard advice for many digestive disorders was a bland diet? Recent advances have led to radically improved treatments for people who suffer from conditions affecting the gastrointestinal tract.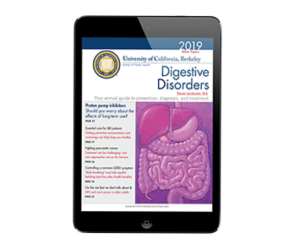 The 2019 Digestive Disorders White Paper
Your Annual Guide to Prevention, Diagnosis and Treatment
* * * * * * * * * *
The Expertise You Need in Layperson's Language
You Can Understand and Use
The encouraging news is that the symptoms of digestive disorders can be alleviated, and often completely eliminated, with the right combination of medication, dietary changes, exercise, weight loss, stress reduction and surgery.
It's all detailed in the 2019 Digestive Disorders White Paper.
In the 2019 Digestive Disorders White Paper, you will discover exciting advances and the most useful, current information to help you prevent or treat conditions affecting the digestive tract.
You'll find a thorough overview of what the medical field knows about upper and lower digestive tract disorders, including gastroesophageal reflux disease (GERD), peptic ulcers, irritable bowel syndrome, colorectal polyps and conditions that affect the liver, gallbladder and pancreas.
You will learn how to prevent these diseases and, when symptoms arise, the best ways for you and your doctor to diagnose and treat them.
Introducing Your Digestive Disorders Expert
Introducing Your Digestive Disorders Expert Steven Jacobsohn, M.D., is Professor Emeritus, Gastroenterology, at the University of California San Francisco (UCSF) Medical Center. Dr. Jacobsohn received his medical degree from the State University of New York (SUNY) Downstate College of Medicine. He completed his internship and residency at Maimonides Medical Center in Brooklyn and at UCLA. He then completed a fellowship in gastroenterology at UCSF. While serving in the Army, he co-directed the gastroenterology fellowship program at William Beaumont Medical Center in El Paso, Texas.
Dr. Jacobsohn spent 34 years in the full-time practice of gastroenterology, with a subspecialty in the care of patients with inflammatory bowel disease (IBD). Throughout his career, he has been involved in academic activities that included teaching gastroenterologists, GI fellows, residents, nurses, and medical students about the many facets of IBD as well as general gastroenterology. In 1975, he also developed protocols for initiating and maintaining intravenous nutrition in both a community hospital setting and at home.
In June 2006, Dr. Jacobsohn retired from private practice to join the faculty at UCSF at the Center for Colitis and Crohns Disease. In 2008, he established an IBD program at San Francisco General Hospital. He retired from the hospital in July 2018. Dr. Jacobsohns research activities have included drug treatment studies in ulcerative colitis, Crohns disease, and proton pump inhibitors.
Dr. Jacobsohn has been a longtime member of the Crohns and Colitis Foundation (CCFA) and has served on its editorial board and medical advisory committee. He received the Pre-mier Physician of the Year Award from the CCFA in 2001. Since 2011, he has been a member of the University of California Berkeley Wellness Letter editorial board. In 2013, the Steven Jacobsohn, M.D., Endowment for Excellence in Gastroenterology was established. It provides funding for IBD and colon cancer research to Zuckerberg San Francisco General Hospital and Trauma Center.
In the 2019 Digestive Disorders White Paper, Dr. Jacobsohn provides a thorough overview of what the medical field knows about the most common digestive disorders today:
Celiac disease
Constipation
Crohn's disease
Diarrhea
Diverticulosis and diverticulitis
Gallstones
Gastritis
GERD
Hiatal hernia
Irritable bowel syndrome
Ulcerative colitis
Peptic ulcer disease
Learning as much as possible about the causes, effects and treatments for your digestive disorder is the first step toward living a fuller life with minimal discomfort and physical limitations.
Thanks to this special offer, you can get the digital edition of the 2019 Digestive Disorders White Paper for only $19.95. That's a savings of 50 percent off the regular $39.95 cover price. Order now and download the digital edition right away. And it comes complete with a money-back guarantee if you are not fully satisfied for any reason-you risk nothing!
The 2019 Digestive Disorders White Paper is designed to help you ensure the best outcome. Use what you learn to help you:
Recognize and respond to symptoms and changes as they occur.
Communicate effectively with your doctor, ask informed questions and understand the answers.
Make the right decisions, based on an understanding of the newest drugs, the latest treatments and the most promising research.
Take control over your condition and act out of knowledge rather than fear.
Order Your Copy of the 2019 Digestive Disorders White Paper … and this is just some of what you'll read:
How to find relief for indigestion. Find out when to seek medical attention, how to talk with your doctor about your symptoms, and learn which therapeutic options may be helpful.
Higher vitamin D levels may lower your risk of colon cancer
Should you worry about the effects of long-term use of proton pump inhibitors for GERD?
How diaphragmatic breathing may help reduce burping
Essential care for IBD patients. Getting preventive immunizations and screenings can help keep you healthy
Fighting pancreatic cancer. Treatment can be challenging-but new approaches are on the horizon
Controlling a common GERD symptom Belly breathing may help squelch belching (and has other health benefits)
Find out about a little-talked-about cancer thats on the rise
Get expert answers to questions like this one: "My cousin was recently diagnosed with celiac disease. Should I be tested for it even though I dont have symptoms?"
Updated for 2019 "Prescription Drugs for the Treatment of Gastroesophageal Reflux Disease" as well as "Drug Therapy for Crohns Disease and Ulcerative Colitis" including typical daily dosages, side effects, how to take, and precautions.
How to improve chances of survival after colon cancer

University of California, Berkeley,
School of Public Health
The White Papers are published by the University of California, Berkeley, School of Public Health. These publications are an outgrowth of the Schools commitment to help improve the health and wellness of our community of readers by publishing expert advice on prevention, diagnosis and treatment for a wide range of ailments and disorders. We provide trusted, authoritative health guidance from leading physicians and researchers at Americas top medical centers and hospitals.
The School of Public Health is
consistently rated among the best in the nation
The faculty, consistently noted as among the leading scholars in their respective fields, comprises approximately 150 investigators. Among our faculty are Institute of Medicine members, American Association for the Advancement of Science fellows, Fulbright fellows, and National Academy of Sciences members. The School enrolls approximately 575 graduate students a year, as well as educating about 425 undergraduate students through the upper-division public health major. The School's more than 15,000 graduates can be found working throughout the world, both in the public and private sectors.
The School of Public Health believes that everyone,
everywhere has the right to a healthy life
Your purchase of the Digestive Disorders White Paper supports the School of Public Health faculty and students in their work to confront the major health challenges of our generation. A portion of every sale goes to funding scholarships. Your purchase will directly benefit your own health as well as those in your community.
You can count on the White Papers to bring you medical information that is trustworthy, impeccably researched and current.
But that's not all! Order now, and you'll also receive this
FREE Health Tips as an instant download: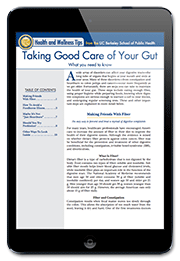 FREE Digestive Disorders Health Tips:
Taking Good Care of Your Gut
Tips for Optimal Digestive Health
Making Friends With Fiber


An easy way to prevent and treat a myriad of digestive complaints

How To Avoid a Foodborne Illness


Guidelines for choosing, storing, preparing, cooking and serving food

Maybe It's Not "Just Heartburn"


When to call your doctor-or even an ambulance

Should You Try Probiotics?


Friendly bacteria for your gut

Other Ways To Look Inside


The benefits and drawbacks of the latest diagnostic exams
Our no-strings, can't lose, must-be-satisfied guarantee
You don't risk a penny to take a good, long look at the Digestive Disorders White Paper. You must be 100 percent convinced this is essential information you can't do without, or you may request a refund within your 30-day preview period.
Just click below to order the digital edition of the Digestive Disorders White Paper and your free gift, Taking Good Care of Your Gut. Keep the free digital gift even if you decide, for any reason, to request a refund for your White Paper.
Your complete satisfaction is fully guaranteed. This urgent information belongs in your hands without another minute's delay.